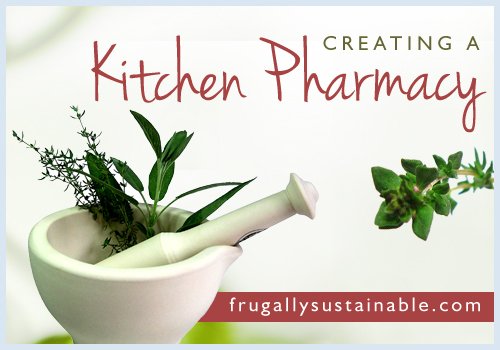 uring these uncertain times — times of change — there are many individuals and families in search of an altogether different approach to treating minor illnesses and ailments.
For some, this is the next step in their natural-living lifestyle, for others it's all about self-sufficiency, and concern over the rising cost of healthcare dominates the thoughts of others.
No matter what your motivation, the question remains — how can we achieve our goal?
I believe the answer to be in three parts:
We can add medicinal herbs and plants to our garden landscape.
We can learn the benefits of the plants that grow freely in our local and regional area.
We can create a kitchen pharmacy.
Long before the new technologies of conventional science and medicine were available, people possessed the knowledge of beneficial plants — those plants that could be used for healing a variety of ailments. Additionally, there were those special people in the local community who were experts in identifying, harvesting, and using the herbs that grew wild the area.
With a bit of preparation, research, and knowledge, any number of us can become one of those people!
Getting Started
I strongly believe that we have not only been given plants as a food to nourish our bodies, but I also believe that they have been given to us — as a gift — to assist in our healing. And as it's been my experience, these medicinal plants — along with the entirety of the Earth — must be used with respect, precision, and a heart of thanksgiving.
Therefore, during this series on "Creating a Kitchen Pharmacy," we will learn:
how to prepare herbal teas, oils, salves, syrups, tinctures, and pills
what equipment and supplies are needed for a kitchen pharmacy
best practice guidelines
ways of measurement
and much, much more…
Additionally, there will be opportunities for you to win some pretty awesome giveaways that will help and empower you along your journey.
It should be a great few weeks of learning!
Disclaimer
Throughout this series I need for you to understand that I do, very much,  appreciate modern healthcare (I myself practiced as a registered nurse for eight years and my husband is still currently working in the medical field.). I am grateful for the emergency services that conventional medicine has provided — and I'm sure will provide in the future — for my family. This is not an attempt to discredit, or speak out against it.
However, I am concerned over the increasing focus on the symptomatic treatment of disease rather than prevention. Even more so, I am concerned over the loss of skill that we are experiencing in the home for treating minor wounds and illnesses.
It is a combination of these things, and many others, that has lead me to find medicinal herbs and natural remedies very appealing! They are so affordable and readily available for such a large portion of the population…and they work!
You must also know that although I am, by my educational credentials, a nurse I am not a doctor nor am I a trained herbalist. But what I am is a well-read, self-taught, lover of herbs. I surround myself and my family with herbs at all times. At any given moment on any given day, you will find my kitchen laced with homegrown herbs drying on the rack, tinctures steeping, and salves setting. I use them…I use them on myself, my husband, and my children. I also give them away to my friends, neighbors, and extended family members. I also sell a small portion of them.
I love herbs… and studying them has been a regular part of my daily life for many, many years.
These posts will help you build your own kitchen pharmacy:
Now it's your turn! What do you hope to learn from this series? Are there tips you can share with us about your own kitchen pharmacy?