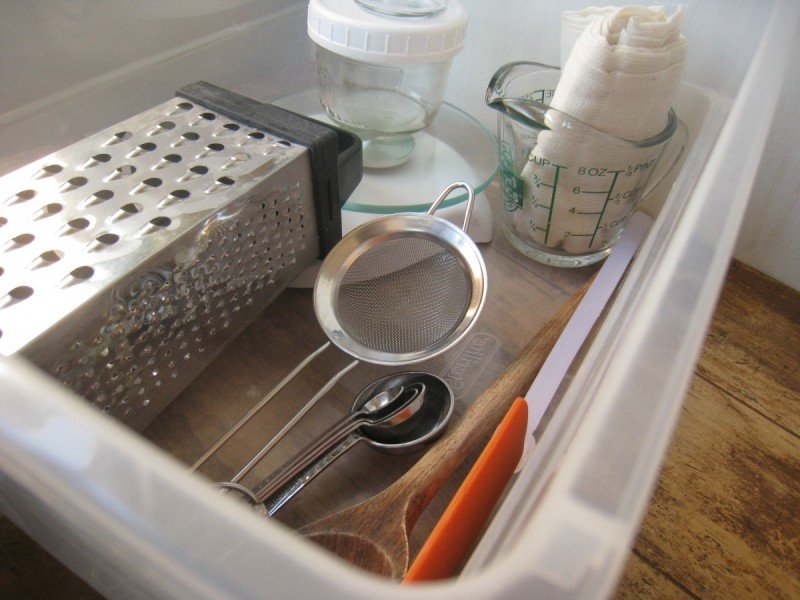 When preparing your kitchen for a return to home-based medicine — and for making a variety of medicinal herbal remedies — you may be relieved to discover that you already have most of the equipment needed. Simple, common kitchen tools are often all that is required.
These are the supplies that I have found very useful in setting up my own kitchen pharmacy:
 1. Non-reactive and non-toxic implements. It is best to prepare herbal remedies with bowls, pots, and utensils that are made from materials that are non-reactive and as non-toxic as possible. Materials such as glass, stainless steel, ceramic, marble, wood, or cast iron are all excellent choices. Please note: Never use aluminum.
2. Cheesecloth. Multiple pieces of cheesecloth, muslin, or hemp fabric are perfect for straining out herbs from your formulations. You can even re-purpose old t-shirts by cutting them into sizeable squares.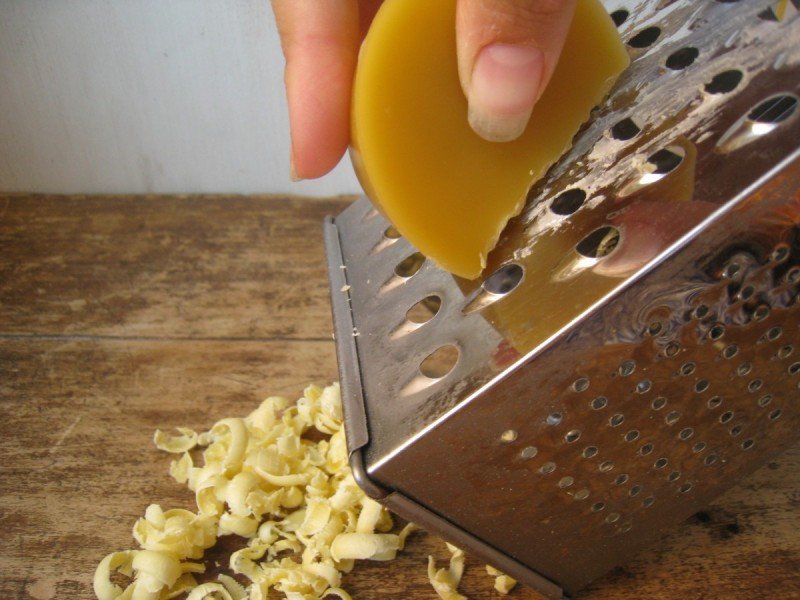 3. A grater. Having a grater that you can reserve only for the use of grating beeswax is a wonderful addition to the kitchen pharmacy.
4. Glass jars and tins. Can you ever have too many glass jars? A variety of glass jars (small ones and big ones) and tins are necessary for storing dried herbs, salves, teas, syrups, and tinctures. Although not absolutely necessary — so long as you have a dark place to store your jars (i.e. pantry or kitchen cabinet) — consider saving and collecting colored glass bottles as well. Darker colored glass containers help to protect your products from the light. Note: Click here for medicinal glass jar supplies, click here for medicinal glass bottle supplies, and tins can be found here. Otherwise, check out antique shops, thrift stores, estate sales, and basements…good glass bottles could be anywhere.
5. A fine mesh strainer. Very beneficial when straining a variety of infusions.
6. A grinder. This could be a pestle and mortar or a coffee grinder and it's purpose is to powder herbs. If you choose to stock a coffee grinder, be sure that it is one dedicated to grinding herbs only…otherwise your herbs will taste like coffee.
7. Measuring utensils. Your standard measuring cups and spoons are sufficient here.
8. A small kitchen scale. Due to the difference in weight and volume of herbs, having a kitchen scale can be very helpful in creating appropriate proportions in recipes.
As you can see, many of the supplies you will need to get started with home-based medicine may easily be found in your kitchen. Assembling a storage box full of herbal remedy specific equipment would make preparing your remedies that much easier; however, it is not vital for success.
So that's it! Now's a great time to look in the cabinets and gather your supplies.
What's missing on this list? Share with us your equipment "must-haves"…the ones that are found in your kitchen pharmacy!