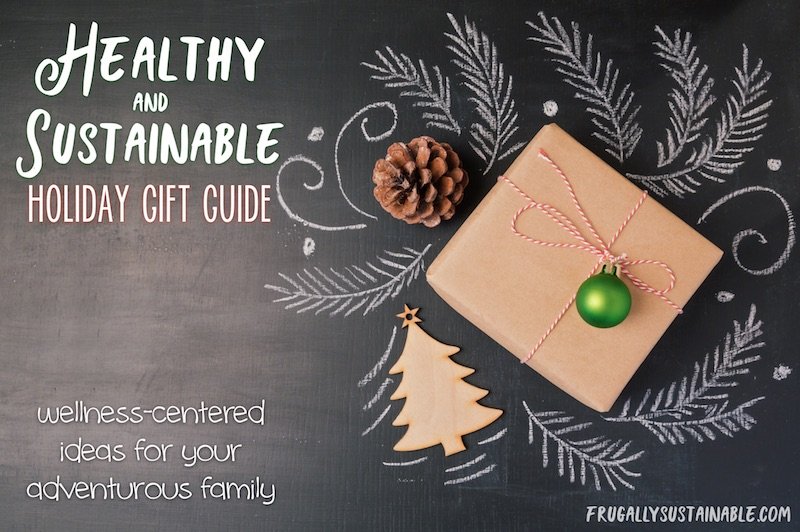 My family has always celebrated the holidays a bit differently than some others. We do our best to keep our focus on our family and spending time together, and not so much on the commercial aspects of Christmas that often assault our senses during this time of year. We don't want too much focus on material possessions that won't bring ultimate happiness.
That being said, I do give the children a few gifts on Christmas morning for them to enjoy and share throughout the year and beyond. We always make sure these gifts are
1) eco-friendly and sustainable
2) useful (not toys that will just be used once and tossed aside)
3) a good investment (again, not spending hundreds of dollars on a plastic toy that doesn't encourage creative play).
We also get a few small gifts for one another and extended family members. I thought I'd put together a little holiday gift guide with some of our favorite gifts we've ever given/received, and some that we are giving this year!
Remember, it's all about intentionality in gift giving!
Gifts for Women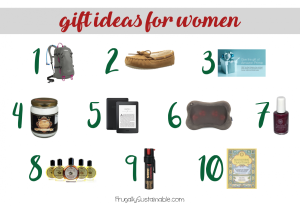 Hydration Pack | This is the backpack I use when hiking or camping. Enough hydration for a 3 hour-full day hike.
Slippers | Ahhh, a good pair of slippers is hard to beat. The hard sole makes them practical for daily use and the fur-lined interior is so cozy.
Amazon Prime Membership | If you have a mom in your life, chances are her happiness can be increased with a membership to Amazon Prime. Free, 2-day shipping plus lots of free streaming of music and movies.
Coconut Oil | She can use it in her food, on her face, and in her hair!
Kindle | I'm a fan of old fashioned paper books, but I admit motherhood has made it less-convenient to read any time. Having a Kindle to bring with me everywhere has helped me sneak more reading into the pockets of time I find throughout the day.
Shiatsu Massage Pillow with Heat | I can pretty much guarantee that you won't find a woman who wouldn't want this massage pillow for Christmas. It's amazing.
Nail Polish | This non-toxic nail polish has become my favorite. I don't paint my nails often, and I can't justify spending money on a manicure or pedicure, so I use this polish when we have a nice event to attend or when I'm needing some extra self-care time.
Aroma Oil | I use this as a natural perfume and really like it!
Pepper Spray | A must-have for all women, I think. This is the one I have, and while I (thankfully) haven't needed to use it myself, it has great reviews.
Nourishing Traditions | This is one of the books that really made a real food diet an obvious choice for me and my family. I think all women and moms could benefit from this knowledge. It's very empowering.
Gifts for Men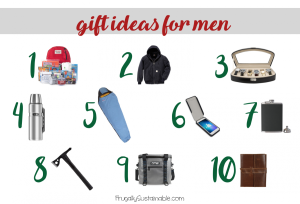 Gifts for Kids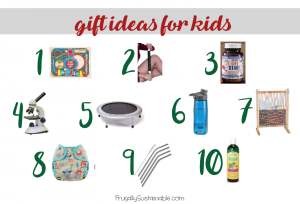 Gifts for the Natural DIY Lover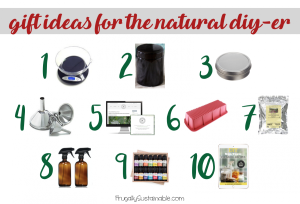 Gifts for the Real Food Lover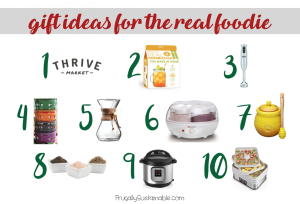 Thrive Market Membership | We've been using this service this year, and I admit I love it more than I thought I would. It's a perfect gift for a real-food lover who wants to save some money on nutritious ingredients.
Kombucha Starter Kit | Everything you need to wade into the exciting waters of homemade healthy kombucha.
Immersion Blender | I never thought an immersion blender was vital until I had one for myself. If you are a home cook at all, this makes life so much easier when making soups, sauces, and more.
Lifefactory Glass Storage | We use these multiple times, every day. We eliminated plastic food storage in our home and uses these break-protected storage containers for leftovers and lunches. They come in different sizes, too.
Chemex | This has become our very favorite way to make coffee. It doesn't take too long, and the quality of the coffee is upheld much better than with regular coffee pots or k-cups.
Yogurt Maker | This tool is very affordable and helps us make homemade yogurt weekly!
Le Creuset Honey Pot | A bright a cheery holder for local, raw, organic honey.
Culinary Salts | Did you ever know there were so many different kinds of salt? Your cook-friends will love experimenting with these (the smoked sea salt – so good!!
Instant Pot | It really is as life-changing as everyone says. No longer am I out of luck if I forget to throw dinner in the crockpot in the morning.
Food Dehydrator | Perfect for making fruit snacks or jerky.
Gifts for the Garden Lover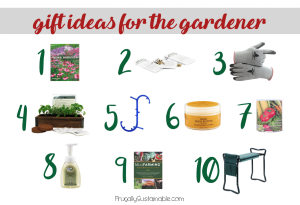 Perennial Garden Design | I love this book. It provides specific guidance for creating a perennial garden on your land. It's really helped my own gardening style!
Medicinal Herb Seed Packets | We've really enjoyed experimenting with these different medicinal herbs. The company is very impressive, too.
Gardening Gloves | These are highly recommended, have strong grips, and are machine-washable.
Barnwood Herb Planter | A gorgeous herb window box that can contain several herbs indoors for quick access.
Trigger Point Therapy Self-Massage | You know how your back is sore after a long afternoon gardening? This tool is the answer. It works out kinks like no other and helps me sleep so much better.
Shea Butter Lotion | The antidote to dry, cracked hands. Shea butter intensely moisturizes and essential oils heal and restore.
Canned Heirloom Garden Seeds | I keep these on hand as a "just in case" supply of non-GMO seeds. These varieties were specifically chosen for short growing seasons and a wide variety of climates.
Foaming Hand Soap | Every gardener knows how dirty one's hands can get after a good day in the dirt. We love this gentle foaming hand soap because it's naturally scented and provides a good lather.
Mini Farming | Tips, advice, and instruction on being self-sustaining on just 1/4 acre.
Garden Kneeler/Seat | Takes the pressure off your knees and back, which brings relief, especially if you are already sore.
Stocking Stuffers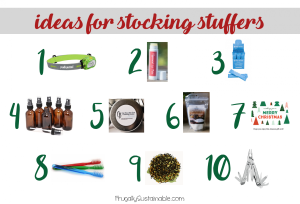 Budget-Friendly Gifts (under $20)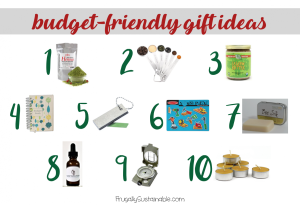 Natural Hair Dye | Someone in your life color their hair? This company creates natural henna hair dyes that are formulated for a variety of hair color without any chemicals.
Stainless Steel Measuring Spoons | These are the highest quality measuring spoons I've ever owned, and they get used every day.
Nut Butters | We eat various nut butters all the time with fruits and veggies. My kids love getting their own special favorite each year.
Budget Book | Everyone has their own system when it comes to budgeting, but this one is pretty universal, very straightforward, and super easy to use/navigate.
Emergency Fire Starter | We like to bring this gift to white elephant exchanges because it's something everyone could use. It's a practical tool that is great to keep in a car or bring when camping.
Wooden Puzzle | We have so many of these I've lost count. They're our favorite for littler kids.
Beesilk Bar Family Size | We've become big fans of the portability of hard lotion. This is easy to carry out on the land with us and always gets passed around after a long day of hard labor.
Royally Flawless Facial Oil | An organic facial oil made with restorative essential oils. This is my favorite facial oil and it works wit ha wide variety of skin types.
Military Sighting Compass | The perfect gift for the explorer in your life!
Beeswax Tea Light Candles | Non-toxic candles that can adapt to be used for dinner parties, relaxing bubble baths, or simply to provide more natural light in the evenings.
DIY Gift Ideas
What are some of the best sustainable gifts you've ever received? What's on your list this year?