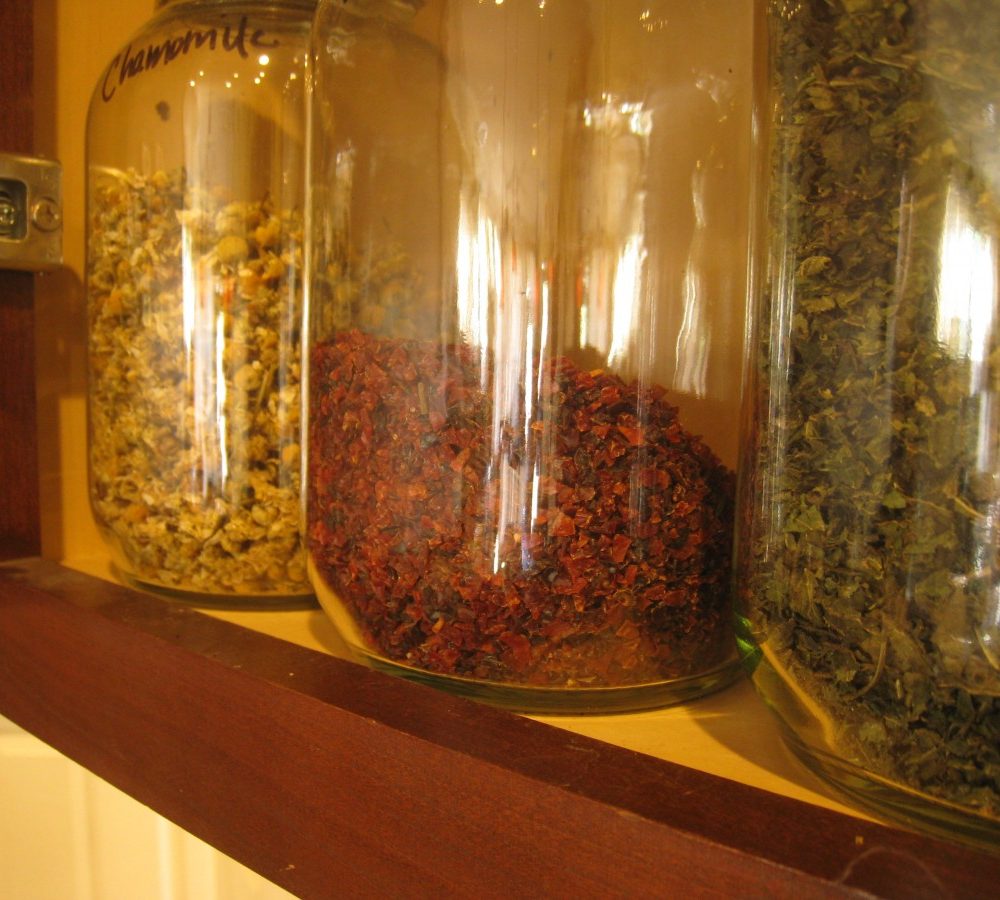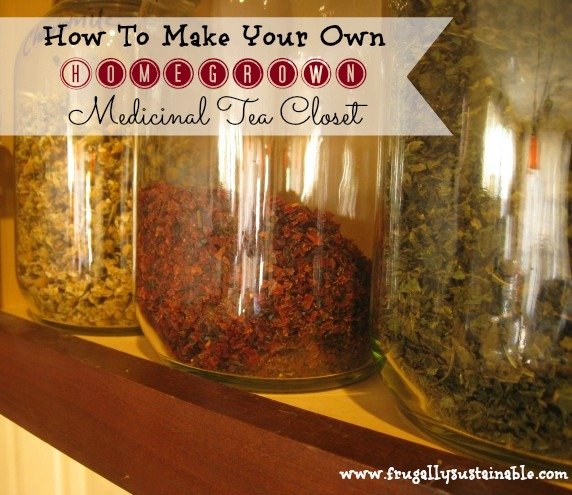 Adding an herbal tea closet to your kitchen can be as simple as clearing a shelf in one of your kitchen cabinets and filling it with a few jars full of dried medicinal herbs.
Love the idea of having an herbal tea closet, but don't know where to start?
Below I have listed the 10 herbs that I use the most for tea making. They include common medicinal herbs that are known to nourish and treat a variety of minor ailments. They also represent a wide base of plant material…from roots and leaves to flowers and berries.
Build your family's resistance to disease and be prepared — at a moments notice — to create a healing remedy.
1. Nettle Leaf. Ahhh…nettles! I love them! Nutritionally speaking, nettle leaf contains an extremely high chlorophyll content along with being a substantial source for vitamins C and A, calcium, silicon, potassium chloride, protein and fiber. Some type of nettle infusion, when consumed daily, can be the catalyst to overall vitality.
2. Lemon Balm. This leaf teas has been historically used to treat all kinds of nervous system ailments. Lemon balm is known for it's ability to calm an irritable child, act as an antiviral in treating cold sores due to the herpes virus, heal wounds and protect the skin, treat the symptoms of the common cold and flu when combined with other medicinal herbs, and it can relieve the symptoms of migraine headaches, anxiety, depression, and insomnia.
3. Chamomile. Safe for the whole family, this gentle herb will forever hold it's value. Traditionally chamomile tea is used to help the body unwind and induces a restful sleep. Additionally, the soothing effects of chamomile can stop spasms in the smooth muscle lining of the digestive tract…relieving stomachaches and calming the bowels. Chamomile tea has also been proven to contain antibacterial, anti-inflammatory, antiviral, and anti-parasitic properties.
4. Dandelion Root. When prepared as a decoction, dandelion root tea will revitalize the liver and aids the body in the removal of toxins. This medicinal herb has the ability to detox while maintaining the proper balance of electrolytes and nutrients our bodies need.
5. Echinacea Root. One of the most common root teas used for the treatment of colds. Echinacea stimulates the immune system, and has proven to possess antibacterial properties. When taken internally at the first sign sickness, this tea has the ability to help boost the body's immune system and shorten the duration of symptoms. A strong decoction may also be made and applies externally for the treatment of skin ailments such as sores, bug bites, stings, minor wounds, and burns.
6. Peppermint. Just at the thought of a cup of peppermint tea…all my troubles are set at ease. This leaf tea is truly a stress reliever and cure-all. Minor aches and pains, headaches, and tension are no match for peppermint tea. Also a proven digestive aid, take a cup after a nutritious meal and help your body absorb all of the vitamins and mineral necessary for health.
7. Plantain. Plantain tea is a great herbal blood purifier and excellent to have on hand for your family's first-aid needs. A plantain leaf infusion can used as a wash or compress to clean wounds and likewise applied to relief the itching from poison ivy/oak/sumac, bug bites, and bee stings.
8. Elderberries. Traditionally elderberries have been used medicinally in teas and syrups. They are also often added to jellies and wines to and are known to increase flavor. But that's not what makes the berry a must-have in my tea closet…I use elderberries primarily to prevent illness. And should we fall ill, a strong tea made of elderberries and raw honey will treat fevers and bring healing for the flu.
9. Rose Hips. This fruit of the rose is one of the most concentrated plant sources of vitamin C known. They can be easily included in many cold prevention teas and medicinal remedies. Rose hips are also an excellent source for a variety of antioxidants. In fact, they make a great sustainable source of vitamin C for those who may not have citrus fruits available.
10. Seasonal. With every season comes a different need. Right now I'm loving the addition of alfalfa to our daily infusions, but sometimes it's astragalus or raspberry leaf…it could even be sage or oatstraw.
***Many of these herbs can be foraged for or easily grown at home.
Click here to read more about buying and storing dried bulk herbs…
Notes
-I personally trust the quality and integrity of the products from Mountain Rose Herbs. The herbs that I receive from them always far exceed my expectations. I love that they label when the herbs were harvested and packaged! And I love that anytime I've ever had a question they answer it promptly. Not to mention, their prices are the best I've found.
-When purchasing from Mountain Rose Herbs, bulk purchases are rewarded with significant discounts. Save even more by asking your like-minded friends if they'd be interested in placing an order with you for bulk medicinal herbs.
-Grow your own by purchasing non-GMO, purely medicinal herbal seeds here…
Now it's your turn! What are your favorite herbal teas? Do you have a tea closet?
Be sure not to miss a single post in the series…click this link and subscribe to the blog.