I raise sheep, goats, llamas, angora rabbits, and poultry; as well as dogs and cats at Joybilee Farm, where we make our full-time living. Healthy animals are the mainstay of our business, and we maintain their health with the use of herbs, and a natural diet, that enhances their natural species-specific well-being…what Joel Salatin calls "the chicken-ness of the chicken."
Although, I am not a veterinarian, I have used herbal medicine with my pets and livestock for more than a decade. I offer these recommendations as a neighbor, not as a professional herbalist. To treat specific diseases contact a reliable veterinary herbal, such as The Complete Herbal Handbook for Farm and Stable by Juliette de Bairacli Levy or your holistic veterinarian.
Home-based Medicine for Pets and Livestock
While many of us want to bring home-based, herbal medicine to our families, we hesitate to offer the same level of care to our pets and livestock. This isn't because of a lack of willingness, but rather because we don't know how.
The situation is complicated because animals are not simply humans with four legs. And what works for one species may not be helpful for another. Some medications that one might use on humans may be toxic to an animal – Tea Tree for instance is beneficial to humans being antiviral, and antibiotic, but it is toxic to cats and rabbits. So when making an herbal salve for rabbits, you would substitute lavender, a less toxic essential oil, in order to fight infection.
The good news is that by learning about herbs and their beneficial effects, you will be knowledgeable about a wide variety of herbs and be able to make wise substitutions in any herbal recipe. In this way you will be able to make specific remedies for each of your pets and livestock, based on herbs growing in your neighborhood or herbs available through your local health food store or online.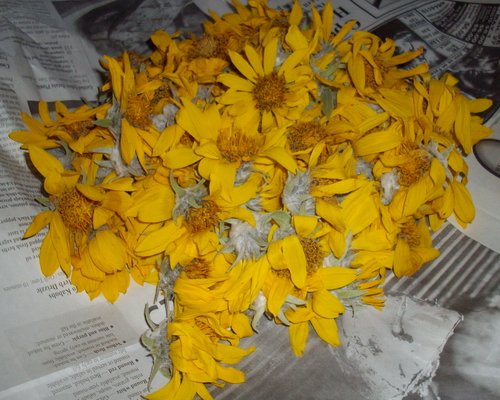 Herbal treatments often require a longer application than veterinary medicine, weeks instead of days, however, herbs can often cure an ailment, where veterinary medicine only suppresses the symptoms. So if a problem isn't cured in a day or two, with herbal treatment, but the animal is comfortable, you may only need to persist to gain a complete cure.
In an emergency situation, don't hesitate to contact your veterinarian, herbal remedies can be an adjunct to conventional treatments, as well, and sometimes it is wise to use antibiotics or chemical wormers in the short term to alleviate an acute infection or infestation, while you work with herbs to support the animal's immune system and heal the underlying condition.
Natural Diet is the First Defense
The first step in livestock or pet health is to offer a diet that is natural to the species. Commercial food that sits at room temperature and never decays is not food. It will not give optimal health to your dogs and cats. Nor is it natural for ruminants, poultry, or rabbits to consume commercial pellets, instead of their natural diet. Many trace minerals will be missing from the diet, and debility and a shortened lifespan is sure to result.
Take time to learn about the natural diet of your animals and try as much as possible to offer that. For instance, chickens are natural omnivores. Most commercial chicken feed is vegetarian. In the old days, chickens were offered dead animals — possums, mice, etc. — to peck at during the winter, when bugs were dormant, to help them get ready for spring egg laying. Free range chickens will consume a huge number of bugs, fly larvae, grubs, and grasshoppers when they are allowed.
By offering a natural diet to your animals, suited to their unique species, you will be doing the best thing you can to give them strong health and vitality.
Herbal Remedies for 10 Common Animal Ailments
Sometimes no matter how careful you are with diet, your animal will have problems that require nursing care.
Here are 10 common ailments that you will find in your pets and livestock and some herbal remedies that you can make at home to help them find relief.
1. Dry, Itching Skin
Add coconut oil to the diet. Changing your pet's diet from commercial pet food to a natural raw food diet will help. A lot of dry, itchy skin is allergies related to the unnatural feeding of GM grains, rendered garbage proteins, and chemicals. Support your pet's immune system during the change by adding minerals in the form of herbs, and sea weed. Calendula salve can be rubbed into hot, scaly areas to begin the healing. Your pet will lick the cream adding the benefits of the herbs to their internal system, as well.
You can make up a vitamin and mineral supplement by combining the following dried herbs to your pet's diet:  Chickweed, dandelion leaf, nettle leaf, kelp meal, garlic, chives, (etc.). Use the dried form of the herb and powder well. Sprinkle 1 tsp. to 1 tbsp. on top of your pet's food, depending on size.
2. Flea Repellent
Chemical flea repellents are toxic to dogs' and cats' immune system. You can make a bug spray in an olive oil base:  Ratio is 1 cup of olive oil and 5 drops each of tea tree (omit for cats), pennyroyal, lemon verbena, lavender, eucalyptus, and cedarwood essential oil. Spritz along your pet's top line and work into the coat. Avoid eyes and mucous membranes.
Make a dusting powder of dried wormwood leaves, dried Shasta daisies (contains pyrethrum), dried lavender blossoms, dried lemon balm or lemon thyme, ½ cup tapioca starch as a carrier. Add 5 drops of tea tree, cedarwood, and eucalyptus eo. Put all ingredients in a food processor and process until it is evenly blended and of even consistency. Sprinkle on your pet's bedding. May also be sprinkled on your pet's coat, and worked in with your fingers.
3. Ear Mites or Ear Irritation
Mix 1/4 cup of olive oil, 1 tbsp. calendula infused oil, 1 tsp. balm of gilead infused oil, 5 drops tea tree eo, and 5 drops lavender eo. Place 1 ml into your pet's ear and massage the base of the ear. Stand back and let your pet shake its head. Repeat in the other eat. Use of this oil will kill ear mites. Use it for a week. If symptoms abate, leave off a week and repeat for another week to kill any new mites before they lay eggs. (For cats omit tea tree eo and use only lavender oil).
4. Wounds
Minor wounds can be treated at home using herbal ointments and salves. For a serious wound requiring stitches, see your veterinarian. Make a first aid salve using 1 tbsp. each:  pine pitch oil, calendula infused oil, comfrey infused oil, St. John's Wort infused oil, and balm of gilead infused oil. ¼ cup bees wax, and ¼ cup virgin coconut oil. This will heal inflammation, draw out infection, encourage healing of the skin, and reduce pain. It is also antimicrobial and will reduce the chance of infection and inflammation.
5. Periodontal Disease
Dogs and cats that eat a natural diet, with raw food, bones, and probiotics, rarely suffer from plaque or periodontal disease. Offer your dog raw bones on a regular basis to remineralize their teeth and strengthen their jaws. Cats may be more finicky, preferring smaller bones, giving them raw milk and raw eggs, with the shells will keep their teeth clean and remineralized. Livestock that are fed their natural diet of pasture and herbs, do not suffer from periodontal disease.
6. Upset Stomach
Probiotics like yogurt, whey left from cheese making, or kefir will help the stomach to work strongly. Herbs such as Oregon grape root, nettles, chick weed, marsh-mallow, and chamomile, can sooth upset stomach. I make a mash of whey and raw oatmeal and then add the herbs in powdered form to the mash. Add a tsp. of honey to make it more palatable. Animals that are given access to the outside will naturally eat quack grass to cleanse their stomach.
7. Limping, Tender Paws or Hoof
Bathe and soak the affected paw or hoof in warm water to which 1 tbsp. sea salt and 1 tbsp. Epsom salt has been added. Dry thoroughly. Apply a salve made up of bees wax, coconut oil, infused oils of Balm of Gilead, comfrey leaf, calendula blossoms, and St. Johns Wort. Add 2 drops tea tree and lavender essential oil. Reapply twice a day. For open wounds wrap the paw in gauze and an elastic bandage to keep it dry and clean. Most livestock feed stores carry self-adhesive stretch bandages for wrapping sprains and supporting wobbly legs. Find it where they sell horse bandages.
8. Anxiety
Sometimes animals are anxious because they need you with them. Most animals are herd or pack animals and if left alone they become anxious. Loud noises can also make an animal anxious. Like children, animals will be calmer when they are around familiar surroundings. So give them a place that is safe where they can go when they are afraid, a dog house, inside the barn, or a small stall. Talking softly and reassuringly can also help your animal know that there is nothing to be afraid of and you are in charge. If you raise your voice or scold in these circumstances, you may escalate your animal's fear, so it's important to be calm and to talk reassuringly. Where the anxiety is long term, herbs may help bring peace to an anxious animal. Make a strong tea of chamomile blossoms, or skull cap and add it to your pet's food. Don't add it to the water, as your pet may avoid the water and become dehydrated. Instead mix it in with a mash of oatmeal, herbal tea, and your pet's natural diet – whether meat or vegetarian.
9. Arthritis
For dogs and cats, remove their diet of commercial pet food. Change to a raw food diet that is high in animal proteins like raw eggs, raw meat, raw bones, raw milk and raw milk whey. Add yogurt or other probiotic foods to the diet, to increase the healthy bacteria in the gut. Take wheat completely out of the diet. Oatmeal can be used to make liquid proteins like whey and raw eggs more palatable. Add dried, powdered herbs to the food:  Kelp meal, nettle, comfrey, willow bark, chickweed, plantain, and dandelion leaf. Add virgin coconut oil to the evening meal 1 tsp. up to 1 tbsp. depending on the size of your pet. Coconut oil lubricates the joints, improves coat condition and overall health.
10. Rough Coat
Rough coat is similar to dry, itchy skin and is related to diet. Change your pet's diet and support the immune system and you will find that the rough coat is transformed to a glossy, healthy coat. Even older animals will respond to a change in the diet. When fed a natural diet, older spayed females will respond by taking on a more energetic, slim shape – without any caloric control. Add coconut oil and raw egg yolks to your animals' feed to increase the protein and healthy fats needed to grow strong hair, teeth and nails.
How have you used herbs to treat pet and/or livestock ailments?