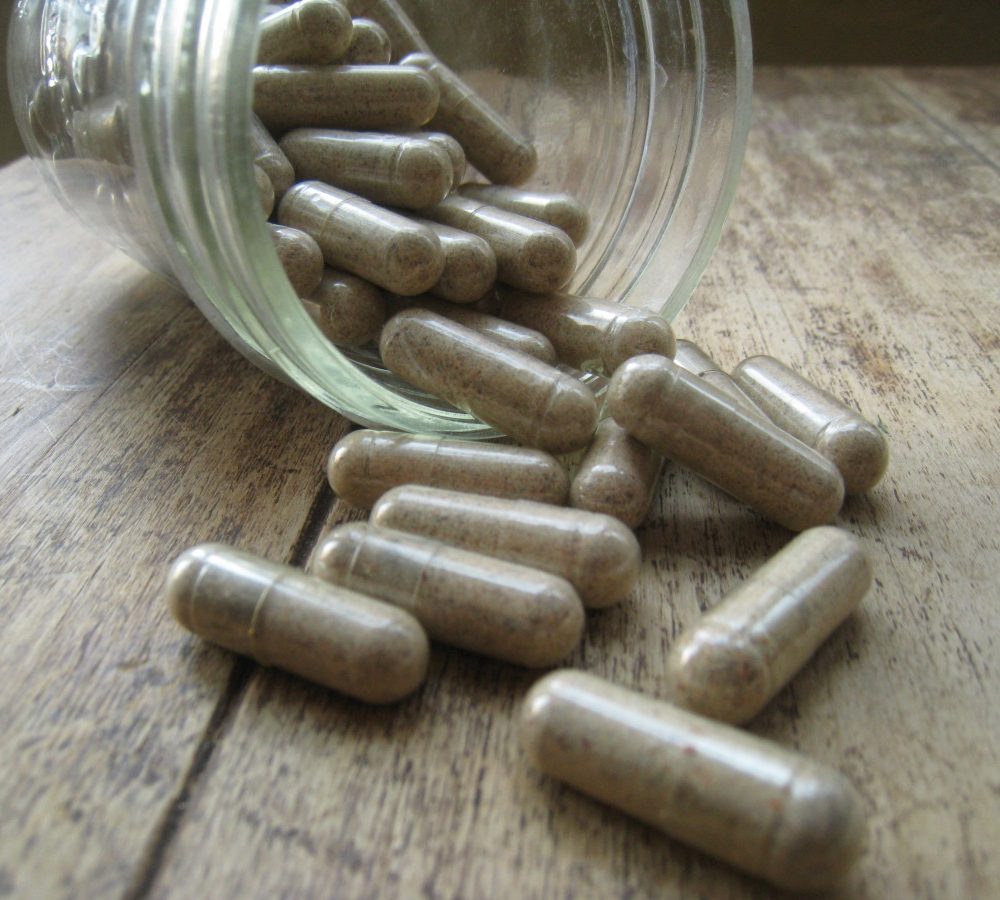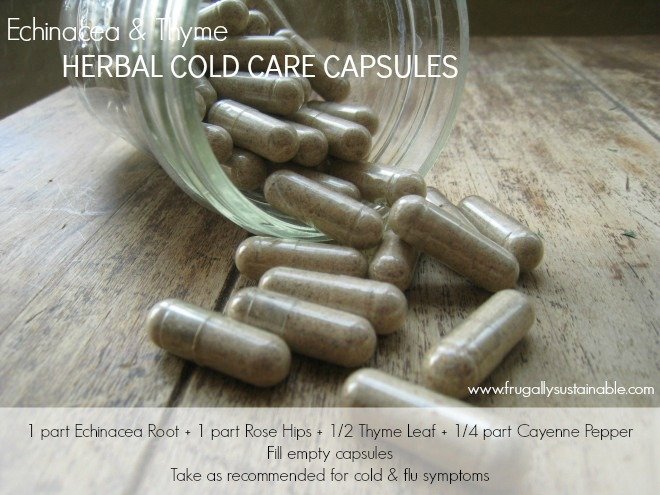 I feel like my medicine chest isn't complete without these herbal cold care capsules.
This is one of my most effective and favorite remedies for combating minor cold and flu symptoms.
Making my own allows me the freedom and joy of controlling the quality of ingredients!
In fact, most of the herbs I use in this recipe come from my small backyard medicinal herb garden and are dried here in my own home.
There's nothing like knowing beyond a shadow of a doubt their potency!
Herbal Cold Care Capsules
Supplies Needed
The Capsule Machine (optional)
"00" vegetable capsules
Ingredients
1 part Echinacea angustfolia root powder
1 part Rose hips powder
1/2 part Thyme leaf and flower powder
1/4 part Cayenne pepper powder
Method
In a non-reactive bowl, mix all of the herbal powders together until well combined.
With the use of The Capsule Machine, fill as many capsules as you think your family will use within a 6-12 month period. Note: Don't have a Capsule Machine? It's okay…simply scoop the powder into each piece of the capsule and pack it tight prior to recapping the ends.
Store the capsules in a small glass mason jar and place the lid on tight. Keep in a cool, dark, dry place. These capsules should stay fresh for 6-12 months.
Click here to read more about making your own homemade herbal capsules…
To Use
A couple of weeks ago I was beginning to develop a scratchy throat (The way my body warns me of a coming illness). After drinking a immunity-building tea, I took 2 of my Herbal Cold Care capsules and went to bed early. Upon rising in the morning I took 2 more capsules and that was the end of that!
According to Rosemary Gladstar in her book Medicinal Herbs: A Beginner's Guide, at the onset of illness :: take 1-2 capsules every 2-3 hours (do not take more than 9 capsules a day). This regime may be continued for 2 days — after that you should reduce the dosage to 2-3 capsules two to three times a day (taking no more than 6 caps a day).
Notes
-Based on what you have growing in your garden or in a local field, you may use a variety of medicinal herbs in combination to create your own Herbal Cold Care capsules. Philip Fritchey's book Practical Herbalism: Ordinary Plants with Extraordinary Powers can be very helpful in learning safe and effective herbal combos.
-As an alternative, you may consider using powdered herbs such as:
Elderberries
Marshmallow root
Goldenseal root
Lemon balm
Sage
Ginger root
Where Can I Get This Stuff
–Mountain Rose Herbs…they have everything you'll need by way of Organic Bulk Herbs, Capsule Making Supplies, and Natural Products for Healthy, Natural Living! It's your one-stop-shop!
Be sure not to miss a post, click this link to receive my free eBook and Frugally Sustainable tips by email.
DISCLOSURE: In order for me to support my knowledge-sharing/writing/blogging activities, I occasionally may receive monetary compensation for my endorsement, recommendation, testimonial and/or link to any products or services from this article. However, I only recommend products or services I have personally used myself and trust.