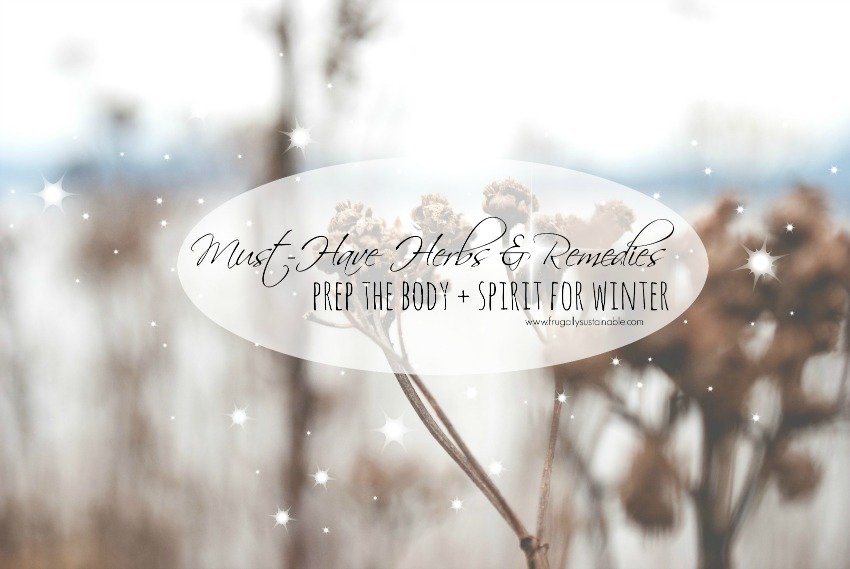 Yes!
Even during the darkest season of the year…
Winter
…our days can be full of life and good health.
For those of us who carry the burning fire of natural health, we have herbal medicine.
Which makes us — during a time when ailments, fever, and illness abound — prepared to fend off and/or treat these maladies.
Here's a list of the best, must-have herbs and remedies to stock now!
Must-Have Herbs & Remedies for Winter
Master Tonic (a.k.a. Fire Cider)
Fire Cider is a traditional remedy with deep roots in folk medicine. The tasty combination of vinegar infused with powerful anti-microbial, decongestant, and spicy circulatory movers makes this recipe especially pleasant and easy to incorporate into your daily diet to help boost natural immune system processes, stimulate digestion, and get you nice and warmed up on cold days.
Neti Pot
For the treatment of infections and allergies alike…neti pots are fast becoming a super popular, mainstream remedy for stuffy sinuses across the board. Neti pots work by rinsing your nasal cavity with a saline solution, it's a natural way to cleanse your nasal passages from bacterial/viral pathogens, pollen, pollution, dust, a variety of allergens, and loosens mucus.
Using a Neti pot is simple…here a some great tips for the proper use of a neti pot.
Note: I've used several types (of nasal passage rinse contraptions) and brands of neti pots over the course of the past few years…this one's the BEST. I also keep this Neti Pot Wash on hand (it's made with himalayan salts and essential oils) and these Neti Pot Salts.
Read more :: How to Treat Respiratory Illness with Herbs
Herbs
This is by no means an exhaustive list of wonderful roots, berries, leaves and flowers beneficial during the months of winter. However, these are my must-haves:
Read more :: Herbal Decongestant Salve: A Recipe for a Homemade Vapor Rub
Colloidal Silver
The article "Research on Antibiotics Reveals Silver Acts as a Booster" states:
The use of silver in the battle against pathogenic bacteria goes way back into antiquity. Hippocrates was one of the first to describe its antimicrobial properties in 400 B.C. Over the past few years, several studies have demonstrated the fact that silver is indeed one of the most effective agents in the battle against antibiotic-resistant super pathogens. Yet conventional medicine has largely dismissed such claims, relegating colloidal silver to the "woo-woo" section of medical myth. They may be inclined to change their tune however, in light of the latest research which shows that low doses of silver can make antibiotics up to 1,000 times more effective, and may even allow an antibiotic to successfully combat otherwise antibiotic-resistant bacteria.
Note: This is the colloidal silver I keep stocked in our wellness pantry at home…Colloidal Silver Immune Support
Sage Smudge Sticks
Our own North American native traditions speak to the many benefits of smudging by burning white sage bundles or sticks. Burning sage has been used for centuries in practices and rituals to clear a space (i.e. home, office, room, body, and spirit) of stale and/or negative energy. This could include: negative emotions of fear, anger, tension, anxiety, and stress (can anyone say winter holiday family gatherings?!?!).
Holding on to these emotions, and allowing them to influence our homes (the most sacred of spaces), can have a strong impact on our health.
Not to mention, it is good to open the windows and doors — especially during winter when our tendency is to close everything up — and allow the smudging smoke to clear the stale air. Lest we forget the anti-bacterial properties of sage.
Note: These are the sage smudge sticks I use in my home.
Manuka Honey
Manuka honey is so much more than just a natural sweetener. Manuka honey, which has not been pasteurized or filtered, can be especially useful for medicinal, antibiotic purposes. Manuka honey can be used: as a preservative, to sooth a sore throat and ease a cough (source). Note: This is the only Manuka Honey I use. It is approved by the Unique Manuka Factor® Honey Association (UMFHA) and holds a separate license to use the UMF® trademark. Only organizations with a license are allowed to use the UMF® trademark. Note: I use this honey to sweeten medicinal teas and to make this most excellent remedy.
Read more :: Make Your Own Herbal Lotion Bars for Dry, Cracked Winter Skin
Essential Oils
Essential oils are a great way to strengthen the body during winter. They work to lift our spirits while preventing and healing illness. I use essential oils internally, via diffusion, and topically.
Although my wellness pantry is ridiculously full of oils, if I had to keep only a few…these would make the cut:
For pure, safe essential oils you can trust, choose :
Homeopathic Remedies
Homeopathic remedies are just another staple in my wellness pantry. Working with our bodies' ability to heal itself, homeopathic remedies are super effective and quick and easy to get on board as soon as symptoms hit.
Here are the few must-haves:
WHY HERBS?
+Because they work gently and effectively.
+Because you can grow many yourselves, right outside your front door or even in your kitchen.
+Because it's our birthright to use the gifts of nature with respect and wisdom.
+Because up until relatively recently, at least in the western world, herbs were an integral part of taking care of ourselves.
Health doesn't come from plastic bottles. Vitality grows naturally from the way you live your life. Deep down, people already know this.
If you want to learn more about herbs as medicine and as food, and if you're just too busy to enroll in an in-person program, join the Herbal Academy of New England for a comprehensive and convenient online herbal course you can complete anywhere and anytime!
Learn what your great ancestors knew about the natural world and begin to build your own apothecary.
Start classes anytime! Click this link to learn more and register.
What are your must-have herbs and remedies for winter? Share them with us in the comments!