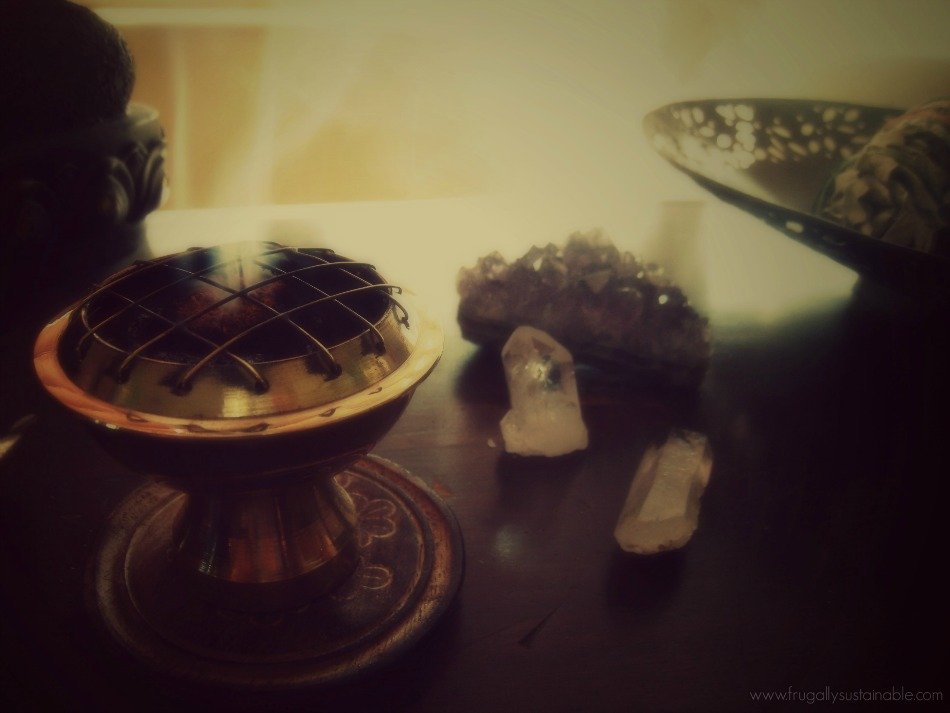 I'm in love with incense…
…I mean, super in love!
As a recovering candle-holic (side note: I have not abandoned all candles — just the toxic ones — I burn these babies like mad), I've awakened to the spiritual, mental, and healing benefits of diffusing essential oils, smudging, and burning raw incense in my home.
The Four Thieves + Winter
Most of us are familiar with the story of "The 4 Thieves."
Herbal lore has it, that as the plague of the 15th century was ravaging humanity in Europe…
…four thieves burglarized the homes of those who succumbed to the illness.
Not much was done to the thieves initially, as the authorities assumed they too would surely contract the deadly disease.
Protected by a potent combination of herbs — the robberies continued.
We know today, that the herbal formula used by the thieves has the power to protect and heal the body from the threats caused by most viruses, fungi, and bacteria — this because all of its' ingredients are either strong anti-bacterial agents or possess anti-viral properties.
Read more :: All-Natural Antimicrobial/Disinfecting Spray
As been my practice for many years — I have a large jar of herbal vinegar on the kitchen counter ready for straining.
With the darker days of winter well on their way, my desire for a non-conventional protective, healing element sparked a bit of creativity.
Four Thieves Medicinal Incense was born.
This incense is wonderful to use all winter long. Burn it in new spaces, after illness, after de-cluttering or deep cleaning, and/or after stressful events/gatherings in the home.
Along with the anti-septic, anti-microbial, anti-bacterial, and anti-viral blessings of the following plants, each herb when used as incense imparts:
Red Sandalwood — Is the perfect all-purpose catalyst for almost all incense recipes. Used commonly to heal and protect, also for purification.
Lavender — Used for Love, Sleep, Protection, Purification, Peace, and Happiness.
Rosemary — Rosemary is burned as an incense to remove negative energy.
Thyme — Thyme incense's benefits include: healing, love, and purification. The ancient Greeks burnt it as incense in their temples, believing it was a source of purification, strength, and courage.
Sage — Clears out stale and negative energy out of the body, space, and spirit.
Peppermint — Peppermint possesses strong healing vibes and protective powers.
It is important to note, that I always burn this loose incense with care and reverence, and with an intention of protection and healing. Be sure to honor the plants in the recipe below, and they will keep you healthy and free from disease and negative energy all winter long.
Four Thieves Incense Recipe
Ingredients
Optional Add-ins
3-4 drops essential oils (any combination of lavender, rosemary, thyme, sage, or peppermint), optional
Method
Measure first 5 ingredients into electric grinder or mortar+ pestle (omit sandalwood powder at this time).
Grind herbs until fine.
If using a mortar + pestle, add sandalwood powder and essential oils and combine. If using an electric grinder, transfer herbs to a glass bowl, add sandalwood powder and essential oils, use a small wire whisk to combine.
Store incense in a glass container, in a cool, dark place.
To Burn
*See my Pin on Pinterest for a picture tutorial.
Place a layer of sand and then a charcoal disc in a heat-proof dish. Note: These are the charcoal discs and the sand I use, and the brass incense burner I have in my home.
Light the charcoal disc. Note: You will know that it has caught light because the disc will start to crackle a bit.
Add a small-ish amount of loose incense atop the center of the disc. Repeat as often as desired.
Enjoy the aroma.
Read more :: Follow my "Sacramental Smoke" Pinterest Board for continued inspiration along your incense burning journey!
What type of incense are you making and enjoying these days?