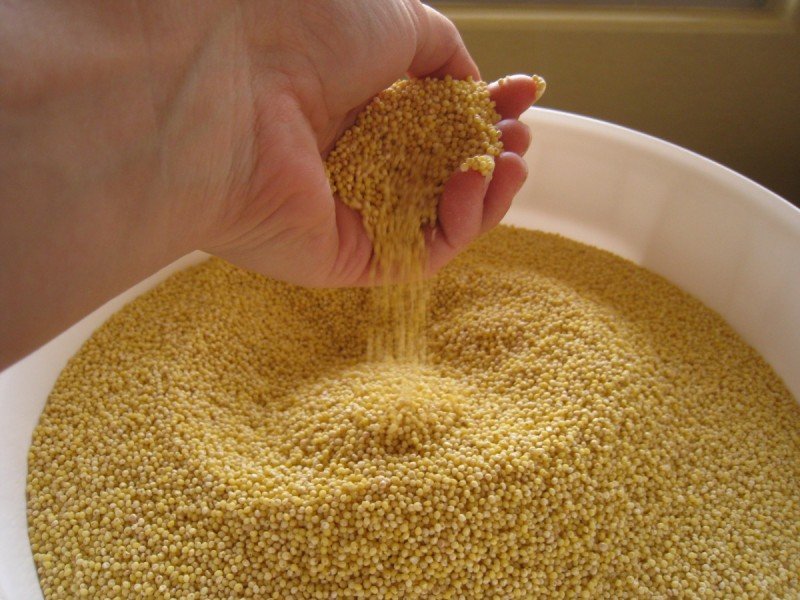 Dear Andrea,
I need to understand what items should always be in the pantry. Do you have a suggested items list?
-Shelly in Canada
I definitely wasn't ready for the response that was received earlier in the week when I published my thoughts on meal planning and keeping a stocked pantry! So many of you are discovering the freedom, peace, and flexibility that comes through living by The Pantry Principle. But in our world full of "come and get it whenever you want it" big box grocery stores, many of you — like Shelly — are wondering what pantry items bring simplicity to meal planning under this method of food shopping.
The whole premise behind using The Pantry Principle (a term I learned from reading The Complete Tightwad Gazette by Amy Dacyczyn, as opposed to long-range meal planning, is that we will save tons of money and time by learning to grocery shop in order to replenish our pantries', not to purchase specific ingredients for specific meals.
We Are All Different
I find it near impossible to create a list of pantry staples that is appropriate for every family. All of us are so different. We all live in different areas that effect our resources — some rural, some city. And we all experience very different climates. Not to mention all of our different nutritional needs, diets, and preferences.
So instead, I thought that I would simply share with you the contents of my pantry. Remember: By pantry I mean freezer, refrigerator, closets, kitchen cabinets, and the space under the beds.
A List of Pantry Staples
Generally these are the items that I keep in order to create all meals — breakfast, lunch, and supper. Of course there are deviations and special purchases, but this is pretty much sums it up.
Baking Goods: aluminum-free baking powder, baking soda, salt, cacao powder (or cocoa powder), yeast, shredded coconut, arrowroot powder, apple cider vinegar, and homemade vanilla extract.
Beans and Legumes: lentils, red beans, black beans, split peas, adzuki beans, garbanzo beans, white navy beans, 10 bean soup blend, pinto beans.
Beverages: coffee and herbal teas.
Breads: sprouted wheat bagels. (All other breads I make.)
Condiments: mayonnaise, mustard, nut butter. (We make our own ketchup, barbecue sauce, jellies, relishes, salad dressings, and pickles.)
Dariy: raw whole milk, yogurt, grass-fed block cheese, cream, grass-fed butter, Parmesan, Gouda, and feta
Fruits: dates, apples, pears, bananas, and a variety of other fresh fruits depending on the season. (I dehydrate, can, or freeze our homegrown and CSA seasonal fruits for use in smoothies, baking, and oatmeal throughout the year. We are also a foraging family, and use this method heavily for gathering wild edibles such as prickly pear, blackberries, grapefruit, lemons, oranges, and apples.)
Grains: quinoa, rice, millet, amaranth, barley, whole wheat berries, popcorn, oatmeal, bread flour, whole-wheat flour.
Homemade cleaners: borax, castile soap, baking soda, washing soda, white vinegar. (Learn more about my method for making homemade cleaners for the entire house using these 5 simple ingredients in my ebook "Simply Clean".)
Meats: pastured whole chickens, chicken liver, chicken feet, grass-fed ground beef, beef stew meat, beef organ meats, beef bones, tuna, bacon, salmon.
Medicine Making: medicinal herbs, essential oils, gelatin capsules, 100 proof vodka, and vegetable glycerin. (I get the herbs and essential oils in bulk from Mountain Rose Herbs; the gelatin capsules come from The Bulk Herb Store; and the vodka and vegetable glycerin can be purchased locally.)
Oils: olive, grapeseed, and coconut.
Pasta: A variety of different pastas depending on the sales. (We're not picky about the "style" of pasta we use. If we want pasta and elbow noodles is what we have the most of…then elbow noodles is what we cook.)
Snacks: dehydrated fruits, nuts. (Combined with other pantry staples such as oatmeal, dates, and cacao powder I am able to make a variety of snacks, i.e. granola, popcorn, energy bars.)Spices: There's no way I could list all of the spices I keep in my pantry! I love cooking with different spices and herbs. It's the difference between just beans and rice and "WOW Mom! What is this? It's amazing!" My favorites are cumin, onion, garlic, chili powder, celery seed, cumin seed, turmeric, bay, lemon pepper…just to name a few. Likewise, my kitchen herb garden keeps us in fresh tarragon, oregano, basil, thyme, sage, parsley, and rosemary year 'round. (We make all of our own seasoning blends and I purchase all of our spices and seasonings in bulk, primarily from Mountain Rose Herbs. The best part about purchasing in bulk from Mountain Rose Herbs is the savings! Wow! The more bulk herbs and spices you purchase in 1 pound quantities, the more you save — it can even be up to 20% off depending on how many 1 pound units you buy! ) 
Sweeteners: molasses, maple syrup, local raw honey, and sugar.
Vegetables: potatoes, onions, garlic, canned tomato products (i.e. paste, diced, whole, sauce). (Additionally, we purchase fresh veggies from a local CSA farmer each week all year around. During peak harvest, when the prices are low, I buy in extreme bulk and dehydrate, can, and freeze the bounty. We also grow celery, tomatoes, lettuce, peas, squash, and a variety of other veggies depending on the season.)
Note: In case you are wondering, we are pretty much a paper-free home so that eliminates the need to shop for and spend money on disposable products. Read more here…
Learning to Stock Your Own Pantry
Focusing your grocery shopping efforts on simple, staple pantry items will not only save you time, but it will also slash your monthly grocery bill! However, be patience with yourself…as we have allowed our budget to adjust, it has taken our family the course of a year to slowly morph into this way of buying food. (Read more about shifting your grocery budget to accomodate buying in bulk in my free ebook.)
You can begin learning how to keep your pantry stocked by:
Researching what grows in your region and learn to eat that. Chances are those foods contain the nutrients your body needs to thrive in your climate.
Preserving the harvest. The books Putting Food By and Preserving Food without Freezing or Canning have dramatically changed the way I stock my pantry!
Finding independent farmers in your area and make fast friends with them. Here's a tip for ya' I found a direct source for organic, non-GMO bulk grains by searching Craigslist. Local Harvest and Eat Wild are also a few other excellent ways to source out pantry staples.
Asking around the farmer's markets this spring and summer in order to find local co-ops and buying groups. Also look into bigger organizations that delivery locally such as Azure Standard.
Buying as a group. Sometimes it just takes a village to make things happen! Take the first step by asking a few like-minded friends if they would be interested in buying and splitting bulk food orders. This would be a great thing to do for items like spices! You all could even get together after the supplies arrive and make a day of preparing your own homemade spice mixes!
All in all, if simplicity, high-nutrition, and joy in your kitchen is what you seek…you've found your answer.
So enough about me! 'Cause I'm sure that I have forgotten something 🙂 What are your pantry staples?