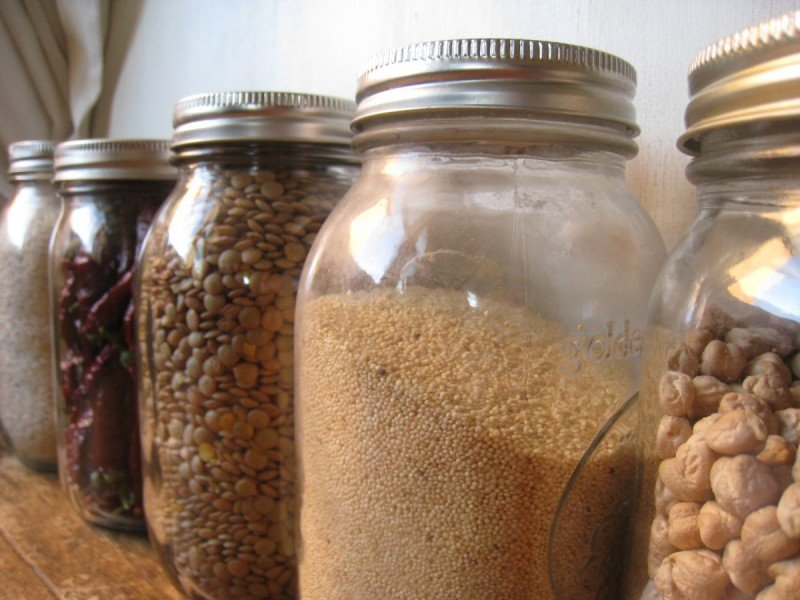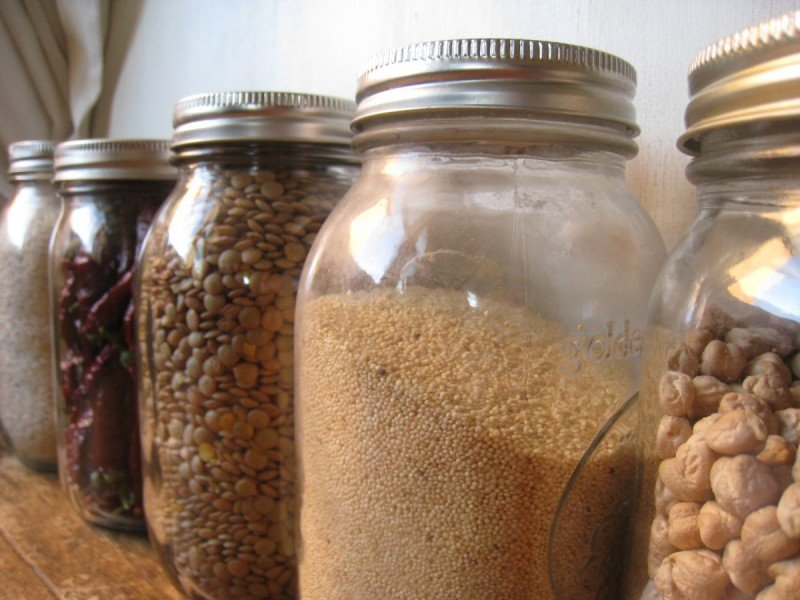 Keeping a well-stocked pantry is an common homemaking practice that is, unfortunately, at risk of being lost in many homes today. You see, for generations upon generations families' have understood the importance of buying and storing food when it's on sale and during the peak of harvest. They didn't do it necessarily based on a specific meal plan or in preparation for an emergency…they did it as a means of survival and because it made economic sense.
So here's a confession for ya…I don't meal plan (gasp)!
Well, I do, but perhaps not the way it is commonly understood. I find it counterproductive to decide first what meals I will prepare and then go out searching for the ingredients for several reasons:
It costs more. I always ended up spending more money on foodstuffs because my plan inevitably contained items that weren't on sale or seasonal.
The waste issue. Long range meal planning — i.e. weeks in advance —  seemed to produce more waste due to unused leftovers and rotting perishable items.
The pressure of the list. Having a list of meals for specific days didn't allow for very much flexibility.
I have the sense that meal planning in general came about as an answer for the "stop by the store" and "take-out for dinner" issues. Yet I fear that it's not helping our problem, primarily because it has caused many of us to abandon the well-stocked pantry — as evidenced by the rush on the grocery stores at the threat of bad weather or crisis.
With that said, I much prefer meal planning to the "what the heck should I cook tonight" method, but it's far from the most effective option.
The Pantry Principle
In our home we use the pantry principle instead of long range meal planning (I first heard about this concept while reading The Complete Tightwad Gazette by Amy Dacyczyn). Basically, I focus my efforts on keeping our pantry — note: by pantry I mean freezer, closets, kitchen cabinets, and the space under the beds —  stocked with staple foods purchased in bulk, in season, or on sale.
My only goal when grocery shopping is to restock the pantry, not to buy specific ingredients to make specific meals.
Practically this looks like:
1. Buying 40 pounds of organic broccoli from my farmer because it's peak harvest time and he's selling it for $0.50/pound.
2. Picking up another 25 pound bag of quinoa from the co-op because it's 50% off this month — even though we have about 15 pounds left.
3. Flowing with the seasons and learning to cook all of the fresh produce items in my weekly CSA (Community Supported Agriculture) share.
4. Buying pastured meats directly from the farmer in bulk once every 6 weeks.
5. Looking at the ads and hitting the store only when the staples are on sale.
Sure there are times when we run out of certain things like chicken, ground beef, fresh produce and the like. But instead of running to the store and spending tons of extra time and money, we just make due with the others items we have stored.
Yes, I love to feed my family fresh veggies and fruits, but I also recognize that it's not going to harm us if we have to go a few days without it between farm pick-ups. Note: A great benefit to growing your own is having fresh produce available right in your backyard!
I remember my great-grandmother telling me how, as a child, she would long for the spring and the emerging wild greens that would appear. They lived solely off of the land and the food they grew or raised…there were no trips to the store for fresh produce. Do you know that that beautiful woman lived to be 97 years old! And she did so without ever eating a single salad during the dead of winter.
My Meal Plan
In my kitchen, meals are planned 24 hours in advance — usually in the evening once the children are asleep for the night — and they are based on:
what grains, beans, or meat we have a lot of
what leftovers we have that need to be used before spoilage
what meals we're in the mood for
what the weather will be like
what fresh veggies we have from the CSA or backyard garden
what the next day's schedule is like
Planning 24 hours in advance allows me to thaw the meat or soak the grains and beans, and generally speaking, it has helped us to dramatically reduce our waste.
In focusing my efforts on keeping a stocked pantry, I have found a rhythm, peace in the kitchen, and simplicity.
Do you keep a stocked pantry? Share your thoughts on the pantry principle and 24 hour meal planning?