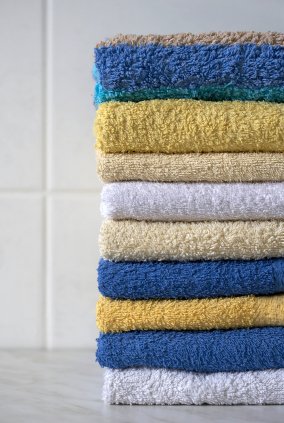 "Use it up, wear it out, make it do, or do without"
I detest useless waste. It literally makes me crazy to think of spending money on something — usually out of convenience — knowing that the end result will be the trash. Paper towels, diapers, wipes, disposable anything, and yes even toilet paper…for nearly a year our family has been on a mission to find sustainable replacements for these common household items in an attempt to create a paperless home.
Many people will argue that purchasing and using paper products doesn't effect their budget enough to warrant seeking reusable alternatives. After pricing out these items in a local grocery store, I estimate our paperless home is saving nearly $40-$50 per month. That coupled with the $50 we save on not having cable, the $30 for no phone, the $200 because we grow/raise our own food, the $100 on the reduce use of electricity…just shows you that every little bit adds up, potentially saving 100's — maybe even 1,000's — of dollars per month.
15 Tips for Creating a Paperless Home
Important disclaimer: Don't pressure yourself into implementing each one of these tips all at once…you'll only end up frustrated and defeated. Pick and choose a few to get yourself started. Putting even one of the suggested alternatives into practice will prove to reduce the amount of money spent and waste generated by your home. Most importantly, have fun with it 🙂
Here are a few of my ideas for creating a paperless home:
In theory
1. Don't buy it. This is perhaps the best tip I could ever give. In fact, it's been the key to our family's success in several areas of our lives. If I don't buy the paper products we don't use them and then we are forced to find disposable alternatives.
2. Old habits die hard. Paper products were created initially for our convenience — as something else to spend our money on. Many of us have deep-rooted habits and thoughts regarding our paper. Reaching for the disposables is part of what we do when life gets busy. Like it or not, it's just the way things have become. Therefore, make using cloth just as convenient. Keep a large stash of easy-to-access cloth rags in all areas of the home that usually require paper products (i.e. kitchen, bathroom, and garage).
3. The sanitation issue. "Gross!!!" "You do what?" "That can't be sanitary." "So how do you…manage that?" Are just a few of the comments I receive when I open my big mouth and start talking about living paper-free. I think the biggest issue many of us have with not being able to just throw dirty things away, is sanitation…how do we keep it clean? Through my research, I have realized that using cloth instead of toilet paper actually cleans our skin so much better. The same principle as cloth diapering and cloth baby wipes applies. Soaking, washing, and line-drying all provide more than enough sanitation and anti-microbial action. It pretty much comes down to getting over it mentally.
4. It takes to much time. I'm not going to lie, living without paper products does take a bit more planning and time spent washing — maybe 30 minutes to an hour more because I hand wash and line-dry all the cloth rags in my house — but remember…this is what I do, it's my lifestyle, it's part of my commitment to making money by saving it.
In Practice: Viable Alternatives to Paper Products
5. Paper Towels. Old t-shirt, worn-out socks and cloth diaper, terry cloth wipes, cut up flannel, used bath towels…basically any super absorbent material gets up-cylced and placed in the kitchen "rag drawer" then used in place of paper towels. I keep a small waste bucket of "cloth soak" — made with borax and baking soda — under the sink and toss the rags in the bucket to soak for up to 24 hours prior to washing.
6. Coffee filters. After our electric coffee maker died 2 years ago, we started using a kettle to boil water and a French Press Coffee Maker. This combo has totally eliminated the need for coffee filters. We have a french press for coffee and one for loose leaf tea. The enhanced taste of coffee and tea prepared in this manner is more than enough incentive to keep us paper-free in this area.
7. Cloth diapers and wipes. After reading this piece on cloth wipes…I knew I could make the switch. In fact, I went to cloth wipes before going to cloth diapers. There are tons of tutorials and patterns on Etsy if you are interested in learning how to make your own cloth diapers and wipes. And like wildfire, there are a multitude of reputable companies offering very nice cloth diapers, making them super functional and convenient to use.
8. Toilet Paper. Megan over at Sorta Crunchy said is right when she published this post containing several reasons to use cloth toilet paper — or a "family cloth" as some call it. My children and I use this method — my sweet husband, isn't there yet and that's okay (love you honey) — I don't think we'll ever go back! I know, I know…the sanitation issue. Think of it as you would cloth diapers and baby wipes. Like in the kitchen, we keep a small bucket with "cloth soak" behind the toilet and toss the cloth toilet paper in to soak for up to 24 hours prior to washing. A bidet toilet seat attachment is also a very good and sanitary alternative. It's a favorite among our European friends.
9. Napkins. I have found some of the coolest looking cloth napkins at the thrift store but Freecycle is another great resource too! And when dinner guests come over, I have a set that's used especially for them 🙂
10. Tissue Paper. It's a handkerchief for us.
11. Reduce junk mail. The clutter from paper bills, junk mail, and magazine subscriptions is another thing I that drives me bonkers! Paying our bills online has helped dramatically and so has reducing the junk mail. For the junk mail and personal papers that do make it through…they get shredded and saved for homemade paper making fun!
12. Disposable Disinfecting Wipes. A terry cloth and my homemade all-purpose cleaner (click here for the recipe) is all I need. This is my method for quick disinfecting throughout the house and in every room.
13. Feminine Hygiene. As it becomes more mainstream to cut back on the use of disposables, more and more women are researching options for reusable pads and tampons. This is one area that has seen a huge growth in popularity. Products such a menstrual cups, sea sponges, and cloth pads create an option for everyone. Check out Glad Rags to get the facts on switching to washable menstrual products.
14. Plates, Forks, and Spoons. We've never been big on using paper plates or plastic utensils…except for when we went camping. That was until I made a special trip to the thrift store to purchase a few plates, bowls, and silverware specifically designated for our outdoor adventures.
15. For Cleaning. Are there any other commercial products that use the most disposable paper other than for cleaning? I mean I used to love the Swifter and all the "fun" cleaning gadgets, but not only are they expensive…they are wasteful. I love this tutorial for making your own reusable Swiffer duster cloths or what about this one for the Swifter sweeper! Microfiber cloths are your friend and useful throughout the house.
So what about you? How have you gone paperless in your home?