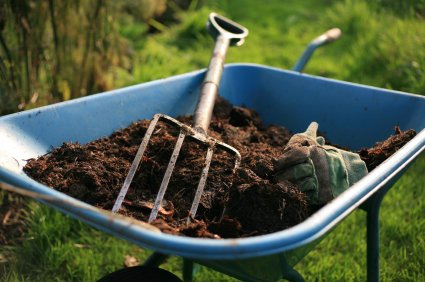 "I live in the garden; I just sleep in the house."
~Jim Long
I can think of only a few things more enjoyable than gardening. Even when I was a young child, I have memories of begging my Mom to buy me a few tomato plants and seeds! Outside in my little backyard garden — with my hands in the dirt, nurturing plants that will in turn nourish my family — is where I find one of life's greatest pleasures.
Everything I've learned about gardening I've learned through reading, taking to other garden enthusiasts, and simple trial and error. Kitchen gardens have been at risk of becoming forgotten and sadly many of us have no knowledge of growing cycles and gardening basics.
Gardening the Frugal Way
In the past, there has been an assumption that growing our own food takes to much time, money, and effort; therefore, as a society, we opted for convenience. Thankfully, that school of thought is changing and the tide is turning.
Growing a garden is one of the many things we can do to help curve the budget — this has proven to be a huge money-saver for our family. But if you're not careful, you can easily end up wasting a lot of money, making the potential savings seem less and less.
Here are a few strategies to insure that you get the most out of your garden this year, while investing as little money and time as possible:
Create a custom design for your garden. Everyone's garden looks different. It depends largely on the amount of space you have. Some may be able to put in large rows of crops, while others will utilize pots, the Square Foot Gardening, or Vertical Gardening Methods. One of the best online gardening tools, Smart Gardener, can help you organize your plants and maximize your yeild in the space you have…no matter how big or small.
Grow plants from seed as much as possible. This alone provides a huge savings! Purchasing transplants from the nursery or local hardware store is a viable option, however you can save nearly 80-90% of the price by growing the plants yourself from seed. Need help knowing when to start your seeds? Look here to find your best planting date for seeds.
Price out the seed companies. With so many online seed catalogs popping up all over the place, be sure to do your homework. Ask around and see what other people have to say about price when compared to quality. My most favorite online seed supplier is Johnny's Seeds. I also like Baker Creek Heirloom Seeds and Territorial Seed Company.
 Buy cheap — or upcycled — gardening supplies. Please do not fall prey to the over-priced, gimmicky garden supplies sold in catalogs and in the stores. Recycle, or buy secondhand, as much as possible. Seeds can be started in egg cartons, yogurt containers, water bottles, or milk jugs. All of our raised beds, my husband constructed from wood we found by the dumpster or salvaged. For the larger garden tools, such as a tiller, go in with several other families and rent or buy one together.
Choose what you will grow carefully. Consider your growing space, and the yield that you're aiming for, then choose the vegetables and/or fruits you will grow accordingly. For example, I have a very small growing space; therefore, growing a large broccoli plant that will yield enough for one small snack just doesn't make sense when I could use the same area to grow Swiss chard which will produce a continuous harvest saving money in the long run.
Grow what your family eats the most of. Take inventory of the foods that you and your family eat most frequently…and grow those. If no one likes squash, don't waste the time and energy growing it. Think too of those foods that are easy to can, ferment, dehydrate, or freeze.
Grow more than you think you need. A good gardening practice is to grow a few more plants than you think you'll need…'cause you never know when weather, disease, or crop failure can knock out all of your hard work.
Grow organically. After years of gardening, I know that a few plants are difficult to grow due to their sensitivities to fungi, insects, and pests. Learning how to companion plant has revolutionized the way that we do things. There's no need for chemicals — even the organic ones.
Fertilize naturally. There's no need to purchase expensive fertilizers when you can make your own. Amend your soil with your own compost or vermicompost. Locating a source for grass-fed cow mature may also be extremely beneficial.
Glean wisdom from those more experienced. Talking to experienced gardeners and farmers can save tons of heartache! Because gardening varies so much from place to place, it's best to go directly to the source and ask their advice.
Gardening has taught me so much about patience and provision. Without a doubt, it has the potential to be one of the biggest ways to save money, but above all…have fun!
Now it's your turn 🙂 Share your frugal gardening tips!