If your house is like my house, it's a battle to maintain cleanliness. Spills, more spills, endless kitchen messes, the list goes on.
Prior to completely selling out to this frugally sustainable lifestyle we went through the gamut of commercial cleaners and disinfectants. When I think about the money we spent in this single area, it almost makes me nauseated. What makes it worse, is the knowledge that I now have regarding the use of these anti-bacterial, highly toxic cleaners. But, I'll let you do the research and make up your own mind.
Some of you may already be aware of these truths and have opted to use "greener" products. The problem you run into here is cost. They're just to stinkin' expensive! And, if you think like me, you see that these products are made by the same companies that make the other mainstream products. So, you end up still giving them your money!
Fortunately, there is a way in which to clean your home that is low-impact, frugal, and safe for your family. It's actually very easy and you'll find your creative self rising to the surface.
Here are a few more reasons to make your own all-purpose cleaner:
Chemicals found in commercial cleaners are harmful to the nervous and respiratory systems.
Huge savings!
This all-purpose cleaner is much gentler for those with various sensitivities.
Safer for kids and animals.
The ingredients of the cleaner are biodegradable and gentle on the Earth.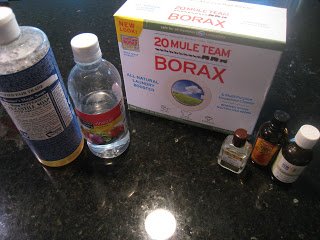 Okay so here it is…the recipe that I use for my all-purpose cleaner. It's seriously the best cleaner I've ever, ever used.
All-Purpose Cleaner
-2 teaspoon of castile soap
-5 tablespoons of vinegar (just use the cheap white vinegar)
-2 teaspoons of borax
-1 teaspoon baking soda
Mix with 4 cups of hot water.
Add 1 teaspoon of essential oils for kicks. You can use a mixture of two or just one. Oils that I've tried are lemongrass, eucalyptus, lavender, sweet orange or peppermint (eucalyptus and lavender go nicely together).
I also add about a 1/4 of a teaspoon of tea tree oil for its anti-septic benefits.
Now, load your cleaner into a spray bottle, and use it on anything besides glass.
Click here to learn more about making your own homemade cleaners!