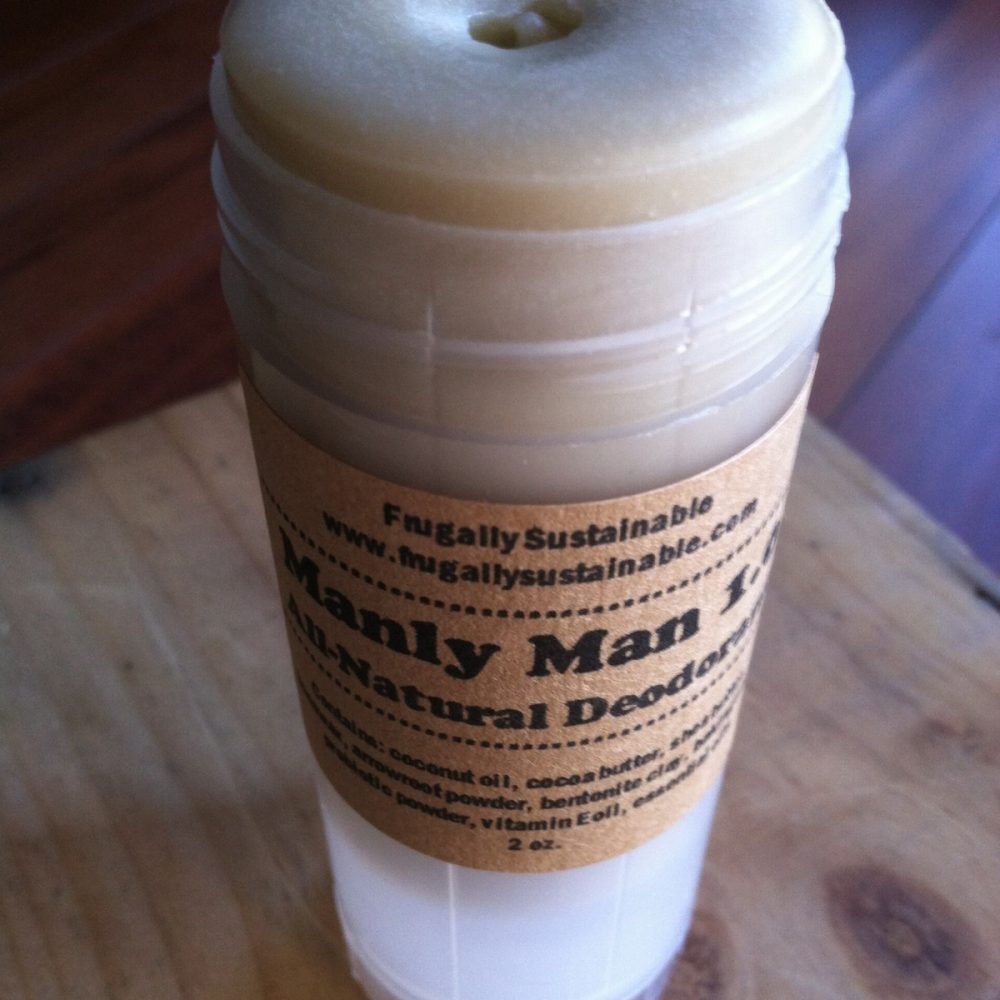 Natural hair care, homemade moisturizers, and chemical-free household cleaners are all things that we are making in order to clear the toxins from our homes!
But aluminum-free deodorant — one that actually works — can be difficult to replace.
Especially for the men in our lives!
After formulating two very effective, family-friendly homemade deodorant recipes:
…I set out to meet the more specific needs of a man.
After trialing a few different recipe combinations, this one's a winner!
And it certainly stood the test with by far the best odor and wetness control.
Deodorant for Men — The Recipe
Ingredients
*Use organic ingredients when possible.
-1 tablespoon cocoa butter
-1 tablespoon coconut oil (this is the BEST coconut oil on the planet)
-1 tablespoon shea butter
-1 tablespoonbeeswax
-2 tablespoons arrowroot powder
-1 1/2 teaspoon baking soda
-1 1/2 teaspoon bentonite clay
-1 capsule probiotic powder
-1/4 tsp. vitamin E oil
-15 drops essential oils, see "Notes" section below for list of eo's suitable for men
Method
1. In a double boiler, or small pot, melt cocoa butter, coconut oil, shea butter, and beeswax over low heat.
2. Remove pot from heat — allow mixture to cool slightly — then add arrowroot powder, baking soda, and bentonite clay.
3. Mix with wire whisk or chopsticks until all powders are dissolved and well combined.
4. Add vitamin E oil and essential oils.
5. Allow mixture to cool in pan. Once it is cooled and the consistency of pudding, open the capsule of probiotics and add powder to mixture. Stir quickly to combine.
6. Add mixture to clean, used deodorant container. Place in refrigerator to cool and harden. After this, product may be stored on counter. This recipe will fill container and last for 3-4 months. Remember…a little goes a long way!
Notes
-When choosing a probiotic supplement for this deodorant it is important to find one that is shelf stable. It should also contain highly resistant beneficial bacteria such as lactobacillus and bifidobacteria. Check these out:
-Use good, manly smelling essential oils, any scent or combination of scents will do. So pick your favorite and have fun with it! My favotites are:
Vetiver, Black Pepper, and Bergamot
Bay, Coriander, Black Pepper, Ginger, and Nutmeg
Patchouli, Clary Sage, and Cedarwood
Bay, Cedarwood, Coriander, Eucalypus, and Juniper
Where Can I Get This Stuff?
–Mountain Rose Herbs…they have everything you'll need for this project! It's your one-stop-shop!
–The Bulk Herb Store also carries many of these ingredients if you'd like to price check.
-Find beeswax locally through this link.
Here's some other good info on healthy/natural deodorants for men.