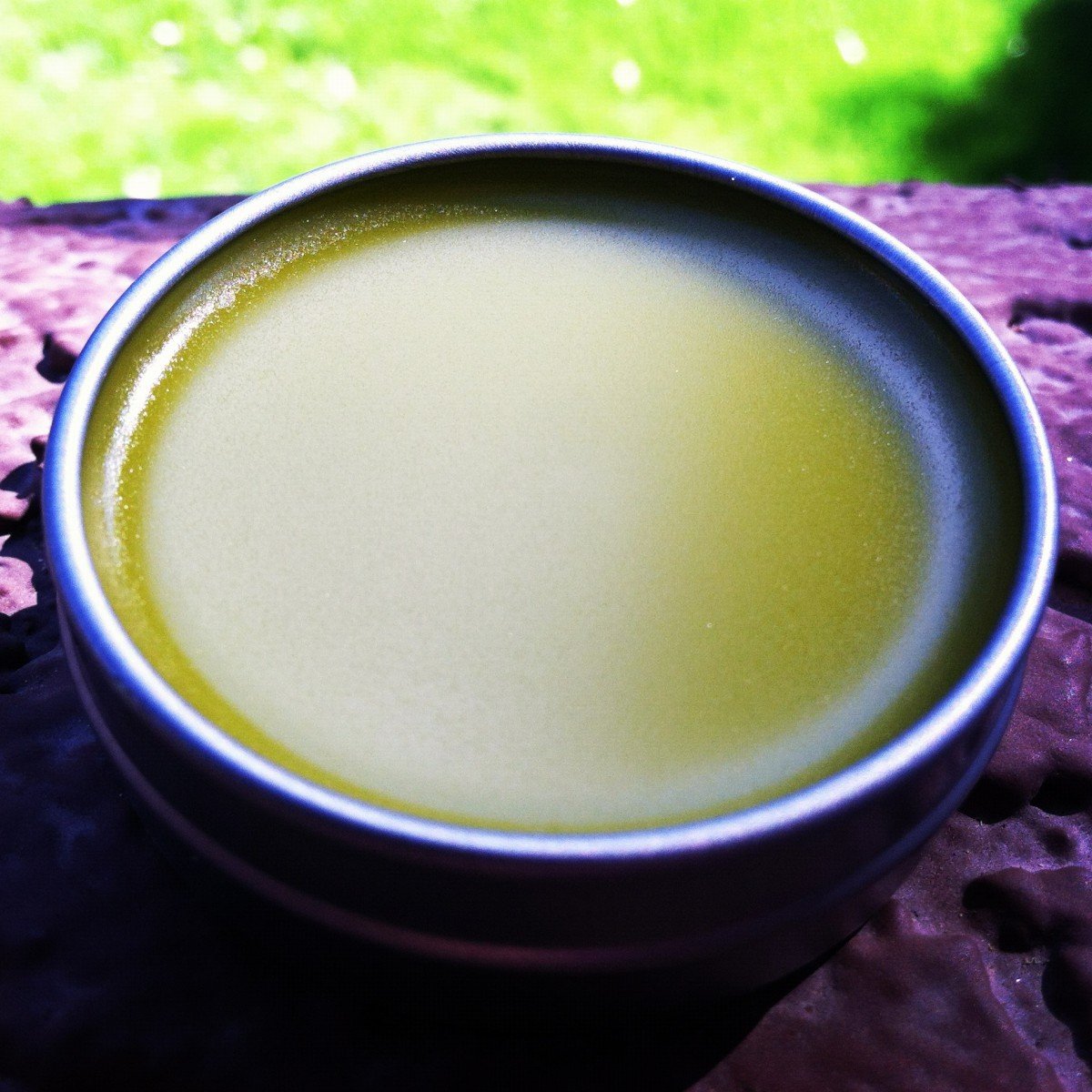 A simple comfrey salve…
…it's powerful in so many ways!
Known for centuries and in ancient times as a wonderful healer.
In fact, Philip Fritchey in his book Practical Herbalism quotes the famous herbalist Culpeper when he speaks of comfrey, "It is said to be so powerful to knit together (wounds and broken bones), that if the root be boiled with dissevered pieces of flesh in a pot, it will join them together again."
The Making of My Comfrey Salve
Comfrey is a strong plant and grows easily in the home garden.
Even here in the Desert Southwest, with great care, my comfrey grows. Although it much prefers moist conditions. (Note: Click this link to purchase organic seed to start your own comfrey plants.)
And this past summer — on a trip to visit my sister in the Rocky Mountains of Colorado — I was excited to find a patch of wild plantain growing beside a creek.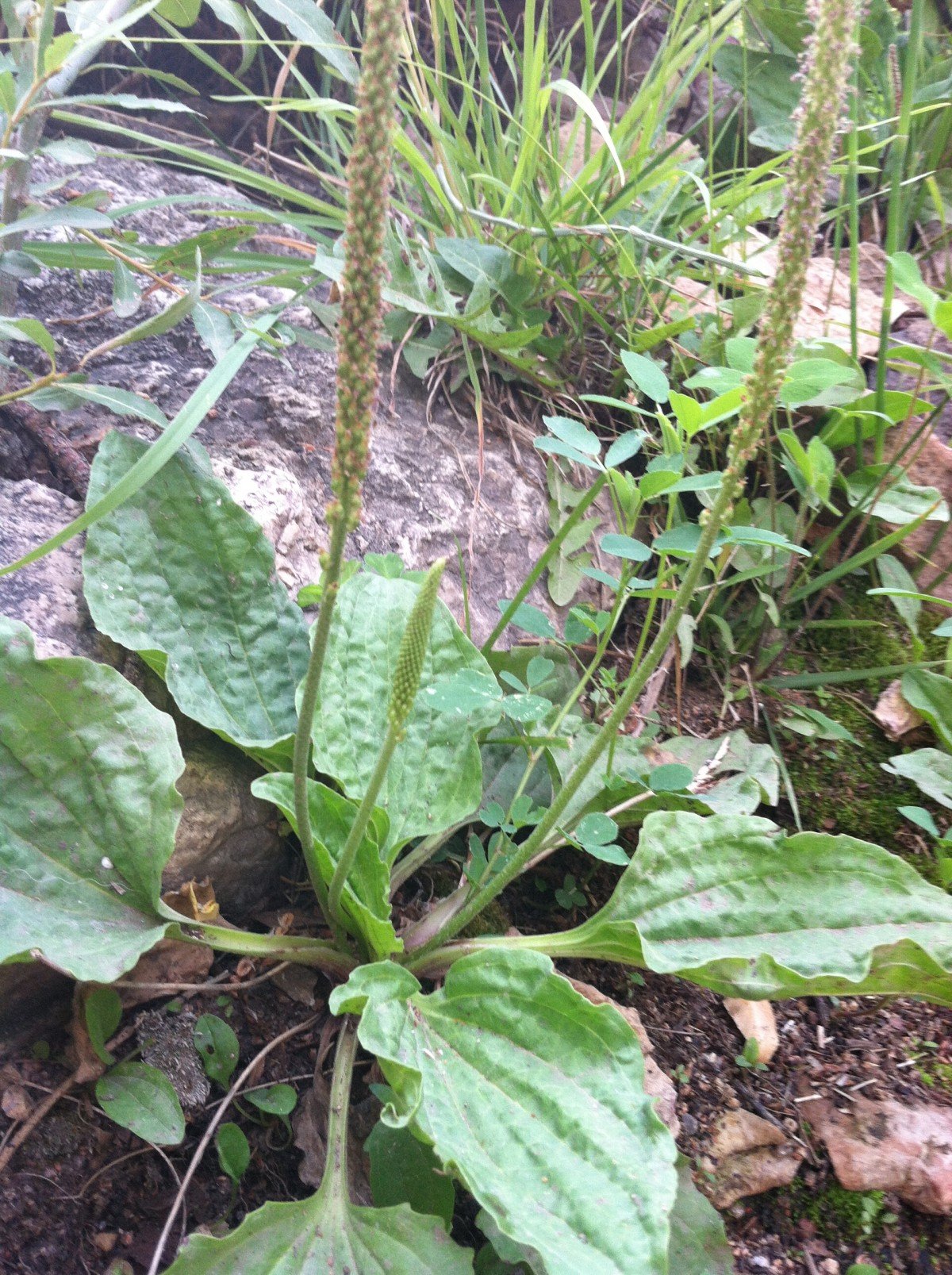 Together comfrey and plantain work to reduce a variety of skin irritations and encouraging cell growth…
…the balm made from these two plants is a perfect remedy for hard to treat diaper rash (you know the kind that nothing else will heal), eczema, burns, and psoriasis.
So after drying the two plant materials, I began the infusion process.
Supplies
-1 quart glass mason jar
-double-boiler or small pot
–small kitchen scale
Ingredients
Method
Please note: For this salve — because I had the time — I decided to create a triple-infused herbal oil.
1. To begin, I combined 2 ounces of dried comfrey leaves and 1 ounce of dried plantain leaves in a quart-sized glass mason jar. Note: Use a small kitchen scale to measure the herbs.
2. Pour enough olive oil to cover the herbs, leaving 1/2 inch head space.
3. Leave on the counter to infuse for 4-6 weeks.
4. Strain oil through a cheesecloth. Reserve the herb-infused oil and compost the plant material.
5. For a double-infusion, repeat step 1 then pour the reserved herb-infused oil over the herbs (adding more oil if needed to bring 1/2 inch from the top of the jar). Infuse again for 4-6 weeks.
6. For a triple-infusion, repeat the process. Note: Click this link to read more about creating an herbal-infused oil.
7. After the final straining you should have anywhere from 24-32 ounces of herb-infused oil. Now it's time for the beeswax!
8. In a small pot — or double boiler if you have one– over very low heat, add the herbal oil and beeswax. Depending on how hard you'd like your salve, the general rule is to add 1-2 ounces of beeswax per 8 ounces of oil (Note: These are all measurements by weight, using a kitchen scale). I suggest starting with the lesser amount of wax and adding more if needed. (Note: To check if the mixture is the right consistency, because the salve hardens as it cools, the wonderful Rosemary Gladstar suggests placing a "tablespoon of the mixture in the freezer for just a minute or two. If it's soft, add more beeswax; if too hard, add more oil.")
9. Once melted, pour the mixture into tins or glass jars. Note: These tins are my favorite!
10. An herbal salve prepared in this fashion should keep in a cool, dark place for up to 5 years.
Please Note: According to Philip Fritchey, a comfrey salve should not be used on those deep/puncture type wounds. This because it has the power to regenerate new cell growth over the top of the wound before it has had time to heal the deeper tissue. A salve such as this one or one made of calendula, goldenseal, or Oregon grape root may be more suitable for the treatment of deeper wounds.
Learn More
-I believe that during these uncertain times – times of change – there are many individuals and families in search of an altogether different approach to treating minor illnesses and ailments. Click here to see my series on "Creating a Kitchen Pharmacy" to help empower you on your journey to returning to the practice of home-based medicine.
-If you are at all interested in learning more about the specific function and usage of herbs…the following books are must-haves for your home library:
Where Can I Get This Stuff?
-Mountain Rose Herbs…they have everything (dried herbs, oils, and they even have the tins and glass jars) you'll need for this remedy! It's your one-stop-shop!
–The Bulk Herb Store also carries many of these ingredients if you'd like to price check.
-Raw and all-natural beeswax can be purchased here.
-I do have a very limited quantity of these salves available for sale in My Etsy Shop. If you are interested please click this link to see the listing.
Now it's your turn! Do you make a comfrey salve? What other herbs do you include? How have you used it?