It seems like these days a lot of people have their own version of homemade laundry soap. And I think it's great! Many people are beginning to realize just how frugal it is to make your own. We're talking pennies per load!
Throughout my laundry soap making journey, I have been through several different powder, and liquid, detergent recipes. I've tried so many different combinations of things. Some I liked…some not so much.
It wasn't until I decided a few months ago to really simplify, that I settled on this recipe. I listed in a previous post the five items I use for all of our household cleaning products. I'll go ahead and list them again (smile):
1. Borax
2. Baking Soda
3. Super Washing Soda
4. White Vinegar (The super cheap stuff.)
5. Castile Soap
*Most of these items should be found on the laundry aisle in your grocery store.
*I also like to get creative with essential oils, if I have them on hand.
Having to remember to buy and stock only these items helps me tremendously! This way, I know I will have what I need, when I need it, in order to make any cleaning product I run out of.
So this weekend we ran out of laundry soap. And here's the recipe I used: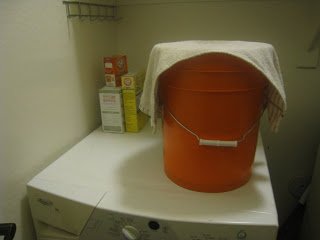 My Homemade Liquid Laundry Soap
-1 bar grated castile soap, or my own homemade laundry bar soap
-1 1/2 cup baking soda
-1 cup super washing soda
-1 cup borax
-Optional: lavender, sweet orange, or your favorite essential oils.
On medium-high heat, in a large pot, simmer 1 quart of pure water along with the grated castile soap, stirring continuously, until melted. Do not allow to boil. Remove pot from heat and add remaining ingredients stirring vigorously until completely dissolved. Pour contents of pot into a 5 gallon bucket and begin to slowly add 2 gallons of pure water while continuing to stir. Let laundry soap sit for 24 hours prior to use (this allows it to thicken).
Use 1/4-1/2 cup of laundry soap per load.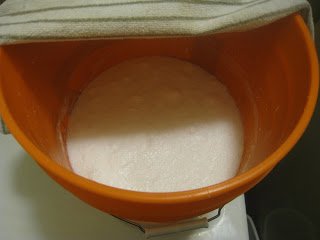 Notes:
-After the 24 hour thickening period, you may use a funnel to transfer soap into alternative storage bottles, i.e. old milk jugs, old laundry detergent bottles. I keep mine in the bucket, it's just easier for me.
-I prefer liquid to powder for one main reason. With the liquid soap everything is already dissolved so I can run the washing cycle with cold water. Whereas with the powder, I had to use warm or hot water to be sure that the powder soap dissolved and did it's job.
-This is a low suds recipe. Therefore, it works just as well as your high-efficiency laundry detergents found in the store.
-You may find, after the soap has cooled, that it is to thick for your liking. Go ahead and add water slowly until your desired consistency is reached. Not to much though; it's supposed to be gel-like.
-For the brightest laundry, pour white vinegar in fabric softener compartment with each load (I promise your clothes will not smell like vinegar and you'll love the results).
Don't forget to share this recipe with others; and please leave us a comment about your laundry soap making endeavors so we can all learn from each other.