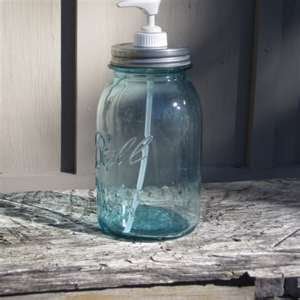 In our home, dishes are washed mostly by hand. We do have a dishwasher and yes, I use it on occasion. Nonetheless, hand washing dishes for us is an intentional practice. It forces us to slow down and work together. Not to mention, I hate using the electricity required to run the dishwasher — and the chemicals in the detergent just plain freak me out.
Anyway, our eldest daughter is now of the age that we trust her ability to carefully wash the dirty dishes. She and I have been working on perfecting a dish soap recipe; one that she has ownership of and is proud to use.
This dish soap recipe is unlike any other homemade dish soap recipes we've tried in the past. You're going to get a bit of suds and it has real grease cutting abilities. Today I am so happy to share it with you. FYI I always have baking soda ready at the sink to tackle any super tough grease or stuck-on bits of food.
Homemade Liquid Dish Soap Recipe
Ingredients:
-1 1/2 cup of hot water
-1/2 cup liquid castile soap (I usually use Dr. Bronner's baby mild liquid soap, but feel free to use any scent just be sure to adjust/omit essential oils accordingly. You may want to use a variety that is already scented for a more frugal option.)
-1 tablespoon of white vinegar
-1 tablespoon of Arm&Hammer's Super Washing Soda (used to thicken the soap)
-1/8 teaspoon of tea tree oil (optional)
Update: To really thicken the soap to be more like store-bought dish soap, add only 1 tablespoon of shredded bar soap (I use my homemade, old-fashioned lye soap and the grease cutting ability is incredible) to the recipe above. See my video tutorial and revised recipe for Homemade Liquid Dish Soap by clicking here.
Directions:
1. Combine all ingredients into a large bowl and then pour in 1 1/2 cup of very hot water. Be sure to whisk/stir this mixture until all ingredients are thoroughly blended (and the bar soap is melted).
2. Allow mixture to cool completely on the counter. Stirring occasionally.
3. Store in any dish soap dispensing bottle and use as you would the commercial brands.
Note: You may choose to naturally increase the anti-bacterial qualities of the soap by adding 1/4 tsp. of lavender or eucalyptus essential oils.
The switch to making your own household cleaning products may seem overwhelming at first, but once you establish a routine it will become second nature. From the following items, 100% of my basic cleaning needs are met:
Baking Soda
Super Washing Soda
White Vinegar
Castile Soap
Essential oils are not necessary but they can be fun to experiment with (I order mine from here. They're generally less expensive)
You can find most of the items above in the laundry aisle of your local grocery store, a well appointed health food store, or online through Mountain Rose Herbs.
It doesn't get more frugal than that!
Ready to make your own dish soap?