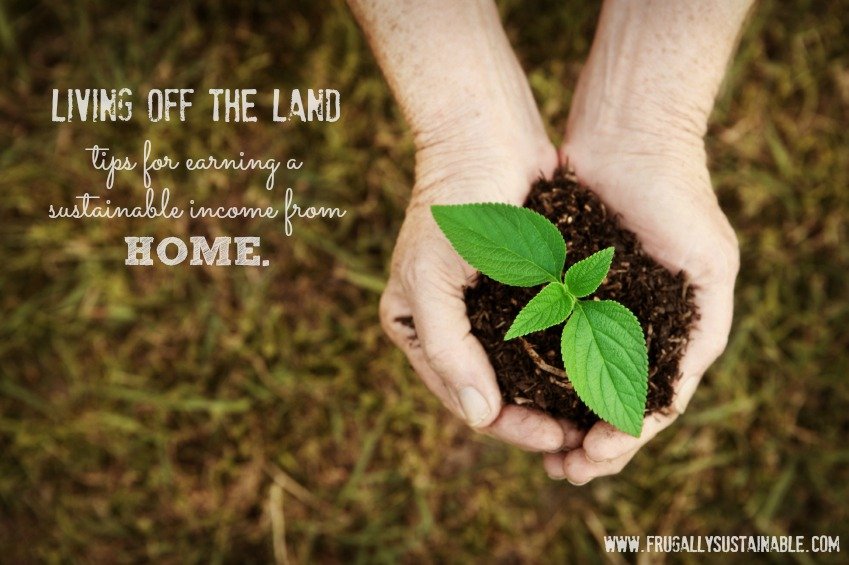 Home is where the great change will begin. It is not where it ends.
~Shannon Hayes, Radical Homemakers
Do you hold a dream to live off of the land and experience the joy of sustainable living?
Living a sustainable lifestyle does not mean you have to have acres of land somewhere in the middle of nowhere!
Sustainable living can happen no matter where we are.
Apartment.
Town-home.
Small Urban Lot.
Suburbia.
Rural Country.
In fact, I believe that sustainable living has more to do with our mind-set rather than our surroundings.
Last week I had the privilege of speaking to a group of Urban Farming and Conscious Living students at the Southwest Institute of Healing Arts here in Tempe, AZ.
I shared:
my story
my business model
obstacles to sustainable living
successes
failures
There's no way I could share all the details of that wonderful evening in one post — but I'd like to write some of it here…hoping that it will inspire you along your journey.
Things to Consider When Living Off the Land
There really are countless things to consider when living off the land.
However, these 10 things are on my priority list and I think they should be on yours.
Quality and Quantity of Land
Natural Fresh Water Source
Food Growing Ability
Housing/Shelter
Power
Medical Skills
Protection/Security
Methods of Communications
Disposal of Waste
Positive Mental Attitude
Read more about things to consider when living off the land by clicking this link…
More than any of the above…living sustainably, off the land comes from learning to be content and using what you have.
Obstacles. Successes. Failures. And Earning a Sustainable Income.
Here's a good dose of honesty…
…the greatest obstacle our family has to being sustainable is money.
Like many others, we have made mistakes financially.
There are:
bills to pay
a house payment to make
property taxes
utility bills
debts
Granted…the whole idea of sustainability has to do with a reduction in consumption, reality is we'll always need some type of income.
So how does one make money living a sustainable life?
Begin immediately by:
Reducing living expenses
Consume less commercially-prepared products
Minimize possessions
Reduce your living space
This can be accomplished through a variety of means. Perhaps by turning off the TV, rethinking those items that you now consider "necessities," sell everything that you haven't used in a year or more, and/or by downsizing your living space.
By doing these few things, you will save yourself a ton of money in multiple areas (i.e. utility costs, heating, cleaning, cooling).
Then begin generating income by:
Following your passions and interests by doing what you love – Before you do anything else, do what you love and the provision will follow. Steve Jobs said that he would look in the mirror every morning and ask, "If today were the last day of my life, would I want to do what I am about to do today? And whenever the answer has been 'No' for too many days in a row, I know I need to change something."
Eat from your garden and sell the rest – Utilize every square inch of your property for production. Focus on planting perennials that come back year after year and require little care (i.e. nuts, fruits, berries, etc.). Gather provisions for your family and sell the rest for profit. Consider joining a CSA as a producer or selling at a farmer's market.
Grow or Wild-Harvest Herbs and Flowers — And make your own herbal teas, salves, lotions, tinctures, etc. You are only limited to your imagination!
Raise and sell animals – This can look very different for everyone based on location and government laws. Currently, we are preparing to raise heritage breed and meat rabbits. They will be sold on craigslist.org and/or to local farm supply stores. We have also purchased dairy goats for milking…and with that comes options of milk sales, soaps, and lotions.
Sell pastured eggs from your backyard hens – A super easy way to profit big time. There are farmers that are making thousands of dollars raising and selling pastured eggs.
Start a Farm School – This you can do with acreage or even in an urban/suburban setting. Open your home to teaching people the old ways of doing things. There has been a huge gap in knowledge. Wisdom that was once commonly passed down from generation to generation has in many ways been lost. People are eager for a rebirth of traditional know-how. Check this site for an example of what I'm talking about here.
Farm Vacation Destination – If you are one of the fortunate ones to own a small or large farm, consider opening a portion of it up as a vacation destination! See this article in Urban Farm Magazine.
Turn your crafty skills into a profitable business – Make candles, soaps, lotions, homemade/repurposed clothing. This list is endless and has everything to do with #1…doing what you love. Etsy is a great way to get your stuff out there to a wide range of folks.
Blog Your Journey – Begin chronicling your interests. Use social media to your advantage! Create a blog (Blogger, WordPress, Medium, Tumblr, etc.) I promise, someone will find your thoughts valuable. Note: I highly recommend using Siteground for all of your web-hosting needs. They power millions of websites and make your online experience enjoyable! 
Keep an Open Hand — Keep your hand open to the world and you will find it full. Be generous with your wisdom. Share it! Always seek to help others…and watch your dreams soar!
Creating ways to decrease our consumption and increase production is the only method useful in moving toward independence.
Sustainable living is all about reducing our dependence on someone else (i.e. big business) to supply our needs.
Consider what it is that makes you come alive.
Stop limiting yourself.
Go for it!
Now it's your turn! What questions do you have for me? Share how you/your family is living a sustainable lifestyle. See ya in the comments 🙂