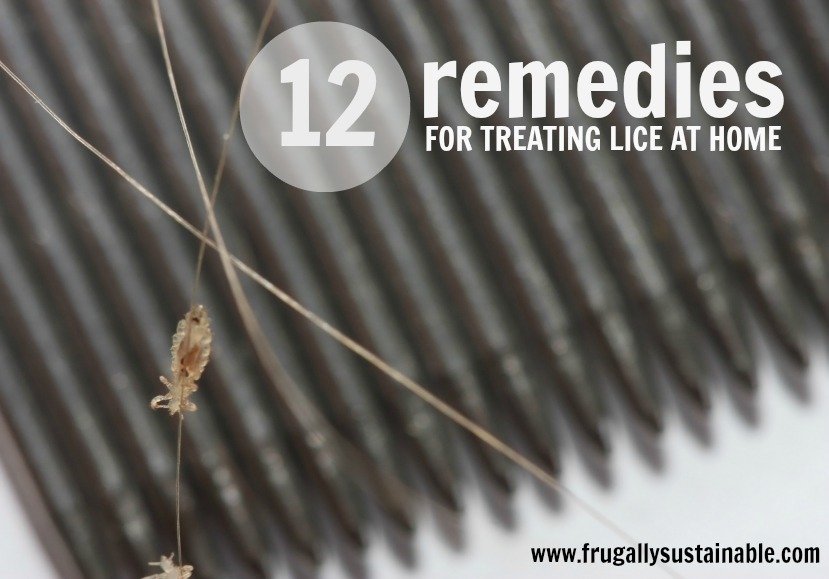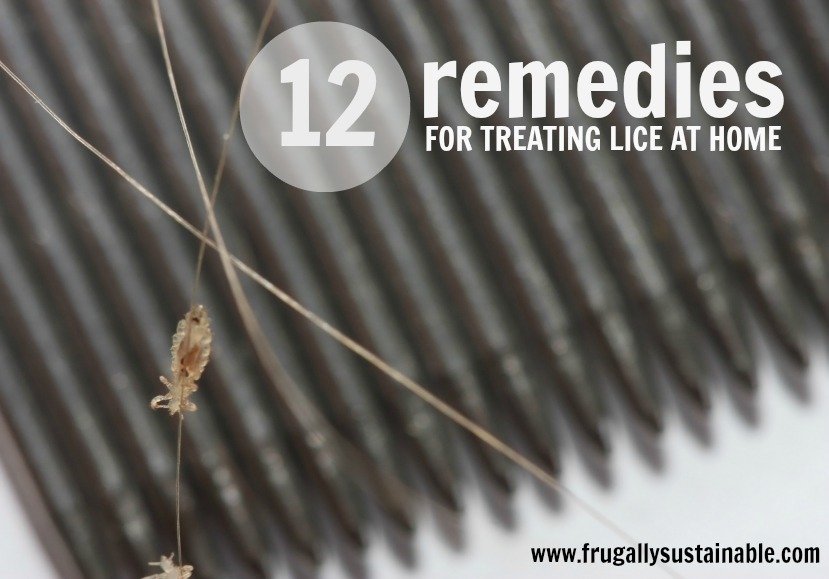 Lice.
If your family has experienced it…you know the agony that comes from trying to eliminate it.
However with patience and diligence head lice can be treated at home — without harmful chemicals — by using all-natural remedies.
What are lice?
Head lice are a common occurrence, easily transmitted, and NOT an indication of poor hygiene.
They are a type of parasite that lives on the scalp and hair shaft of humans — surviving for up to 30 days on small amounts of blood obtained from the individual. The official/medical term for head lice is pediculosis.
They are usually found in school-aged children (girls more frequently than boys) and women…and like to lay their eggs along the base of the hair shaft — close to the scalp — behind the ears and/or back of the neck.
They do not jump, hop, or fly…however they crawl at an extremely fast pace.
Lice do not spread disease.
What causes lice?
Head lice do not survive long (estimated 24-48 hours) once they fall off a person's head and cannot feed.
Contracting lice happens to those who:
come in contact with an infected person through play, school, sports, home, sleepovers, etc.
wear the clothing of someone that has the parasite.
share personal care items such as…brushes, combs, towels, and other accessories that are contaminated.
lay on bedding, carpets, and/or furniture that a person with head lice was previously laying on.
Ultimately, if you or someone in your family develops head lice, you will want to take care of the problem as soon as you become aware.
What are the symptoms of a lice infestation?
Head lice affect all socio-economic groups. Infestations can happen and spread without regard to the cleanliness of a home or school, or to personal hygiene.
Infestation happens extremely fast, and can be asymptomatic (showing no symptoms of their presence). However, two of the most common signs and symptoms include:
itching of the head
red bumps on the scalp
The good news is…
You will usually be able to see the small, white eggs (nits) that are attached to the hair shaft. They produce a glue-like substance that makes them difficult to remove and they will not easily flake off if brushed.
Often the nits will be evident but the lice will not be visible.
The bad news is…
…lice are not so easy to prevent or get rid of.
Currently, pesticide-based lice treatments and insecticidal shampoos are coming under increasing scrutiny secondary to overuse. With the rise in superbugs — and growing pesticide resistance — using commercially-prepared, over-the-counter or prescription shampoos to attempt to treat and prevent head lice is not recommended.
This leaves us searching for a better way.
What can I do at home to treat and prevent lice naturally?
Common, conventional treatments (over-the-counter and prescription) such as: pyrethrins (permethrin lotion 1%), benzyl alcohol lotion, ivermectin lotion, malathion lotion, or lindane shampoo 1% — have been know to be harmful to human health, especially in the case of small children, and likewise harmful to the environment.
Nevertheless, there are proven, very effective natural remedies for lice that do not use harmful chemicals.
They are as follows:
Nit Comb. Use a fine-toothed nit comb to remove lice from the hair, working through the hair one small section at a time. Tea tree oil can also be applied directly to a fine-toothed comb and combed through dry hair with each brushing. Combing the hair at least 3 times a day for the first week — and then nightly for a week — will help to gradually remove eggs and newly hatched lice. This is one of the most effective ways of removing head lice without the use of insecticidal shampoos. Note: Make sure you clean out the lice comb by soaking it in vinegar for at least 30 minutes or by boiling it in water for 5-10 minutes.
Melaleuca (tea tree oil). This essential oil is an all-natural insecticide and an amazing treatment for head lice. To use: (a) add 3-5 drops of Melaleuca (tea tree oil) to every one ounce of natural shampoo (b) mix 3 tablespoons of carrier oil (olive, coconut, olive, coconut, jojoba, or sesame) and a teaspoon of Melaleuca (tea tree oil) together in a bowl…apply to hair for 30-45 minutes…shampoo normally. (c) add 10-20 drops directly into the washing machine when washing infected items. (d) add 15 drops to 2 ounces of water and spray onto hair while combing with a nit comb.
Neem Oil Shampoo. Neem oil, like tea tree oil, is also considered all-natural insecticide. Used by gardeners safely to prevent and kill pests on plants…it is just as safe and effective in the treatment of lice. Once a lice infestation is realized begin using a neem oil based shampoo — or add few teaspoons of neem oil to your normal shampoo. Note: Here is a recipe — Neem Oil Soap Recipe — for those interested in making your own Neem Oil Herbal Shampoo Bar. Or purchase a handmade Neem Oil Herbal Shampoo and Body by clicking this link.
Apple Cider Vinegar. Before and after shampooing, rinse your hair with vinegar…or soak hair with vinegar and leave it on for a few minutes before combing with a nit comb. Towel-dry hair. This will help remove nits from the hair shaft.
Healing Oil Treatment. High in anti-bacterial, anti-fungal, and natural insecticide properties sesame seed and neem oils are the base for this healing oil treatment. Wisk together 1/4 cup of sesame seed oil, 1/8 cup neem oil, 10 drops Melaleuca (tea tree oil), 5 drops each eucalyptus and rosemary essential oils, and 10 drops of lavender essential oils. Begin by rinsing the hair with apple cider vinegar and allow it to dry (this will help dissolve the glue-like substance produces by the nits). Apply healing oil treatment to the hair and scalp, cover with a shower cap, and leave-in for 6-8 hours or overnight. Use a fine-toothed nit comb to remove all the dead lice and nits. Shampoo normally. Apply this treatment every day for five days to eradicate lice.
Coconut oil. Just as with the above healing oil treatment…prior to applying coconut oil rinse the hair with apple cider vinegar and allow it to dry. Apply coconut oil to the hair, cover with a shower cap, and leave-in for 6-8 hours or overnight. Comb hair with a nit comb. Shampoo normally. Apply this treatment to the hair and scalp every day for five days to eradicate lice. Note: For a powerhouse treatment, add several drops of ylang-ylang and anise essential oils to the coconut oil prior to application.
Garlic. Grind 8 to 10 cloves of garlic all together to create a paste. Add in 2 to 3 teaspoons of lime juice or water (if using water add 10-15 drops of tea tree oil) and apply this to the scalp. Leave in this paste for ½ hour and rinse out thoroughly.
Thyme. Prepare a strong herbal infusion using either fresh or dried thyme leaves and flowers. Use this preparation as a rinse or spray onto hair while combing with a nit comb multiple times a day.
Essential oils. Add any of the following essential oils you have on hand to a carrier oil (such as olive, coconut, jojoba, or sesame) and apply to hair — using the same method as with the coconut oil and healing oil treatment — to kill lice: Melaleuca (tea tree oil), lavender, rosemary, clove, eucalyptus, cinnamon, thyme, peppermint, oregano, or ylang ylang
For pure, safe essential oils you can trust choose ::
Additional measures that must be followed:
According to the CDC, lice and their eggs are killed by exposure for 5 minutes to temperatures greater than 53.5°C (128.3°F). Note: Personal items such as hats, grooming aids, and towels that come in contact with the hair of an infested person should never be shared.
Machine wash and dry clothing, stuffed animals, bed linens, hats, towels, and other items that the infested person wore or used during the 2 days before treatment using the hot water (130°F) laundry cycle and the high heat drying cycle. Clothing and items that are not washable can be dry-cleaned or sealed in a plastic bag and stored for 2 weeks.
Soak combs and brushes in hot water (at least 130°F) for 5-10 minutes.
Vacuum the floor and furniture, particularly where the infested person sat or lay.
Note
-After each treatment, check the hair and comb with the nit comb every 2-3 days to decrease the risk of re-infestation.
-Continue to check hair for 2-3 weeks to be sure all lice and nits are gone.
-See a trained medical professional for proper diagnosis and treatment of head lice and/or if any concerns arise.
Where Can I Get This Stuff?
–Mountain Rose Herbs…they have everything you'll need by way of Bulk Herbs, Organic Oils & Butters, and Natural Products for Healthy, Natural Living! It's your one-stop-shop!
-For pure, safe essential oils you can trust choose ::
If you're a blogger — or simply a lover of natural, plant-based healing — and would like promote Beeyoutiful's line of essential oils click here to earn money and become an affiliate!!!
–Starwest Botanicals and The Bulk Herb Store also carries many of these ingredients if you'd like to price check.
–Health doesn't come from plastic bottles. Vitality grows naturally from the way you live your life. If you want to learn more about herbs as medicine and as food, and if you're just too busy to enroll in an in-person program, join the Herbal Academy of New England for a comprehensive and convenient online herbal course you can complete anywhere and anytime!
DISCLOSURE: In order for me to support my knowledge-sharing/writing/blogging activities, I occasionally may receive monetary compensation for my endorsement, recommendation, testimonial and/or link to any products or services from this article. However, I only recommend products or services I have personally used myself and trust.
Now it's your turn…Share your lice remedies with us in the comments!