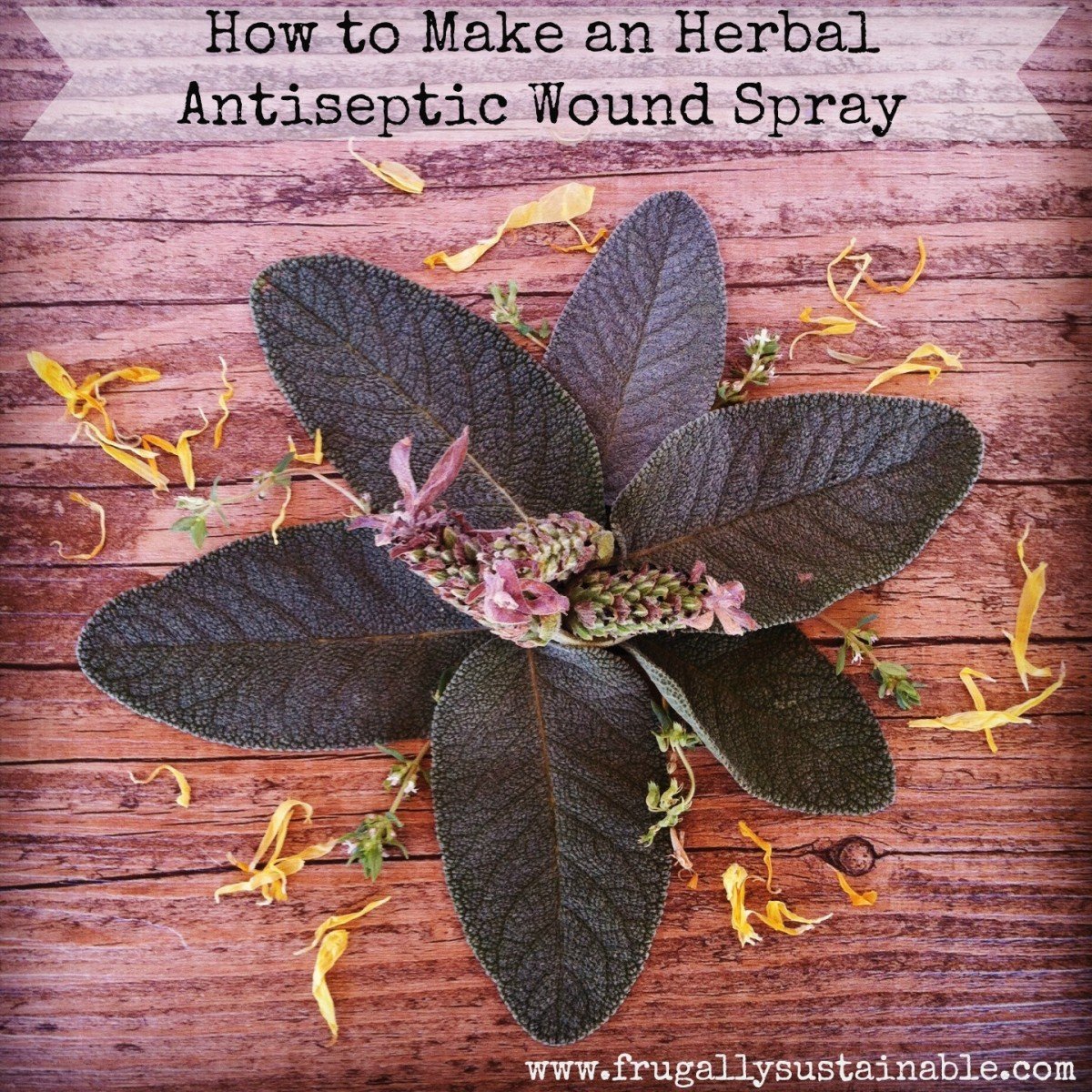 Outdoors.
Scratches.
Scrapes.
Cuts.
Abrasions.
Herbal Antiseptic Wash.
Here's a recipe for an herbal antiseptic wound spray that you can trust to clean out minor scrapes and scratches properly.
When applied to broken skin, it works just as well — better in my opinion — than any store-bought antiseptic wound spray…and naturally prevents infection from setting in.
Herbs and Their Properties
Among the blessings of the plant kingdom, there are several different herbs and flowers that contain highly antiseptic properties and are known as potent germ-killers.
For example:
Calendula flowers — anti-inflammatory, astringent, anti-microbial, anti-fungal
Sage — anti-microbial, astringent, anti-inflammatory, anti-fungal, anti-viral
Yarrow — anti-inflammatory, anti-microbial, anti-viral, astringent
Thyme — anti-septic, anti-viral, astringent
Lavender — anti-septic, soothing
Goldenseal Root — anti-bacterial, antibiotic, anti-viral, anti-inflammatory, anti-microbial
Tea Tree — anti-viral, anti-fungal, anti-septic
***Note: Above information obtained from Practical Herbalism: Ordinary Plants with Extraordinary Powers
Making an Antiseptic Wound Spray can easily be done at home…
…one that is soothing, healing, and safe for use on the whole family.
Here's how!
First-Aid Antiseptic Spray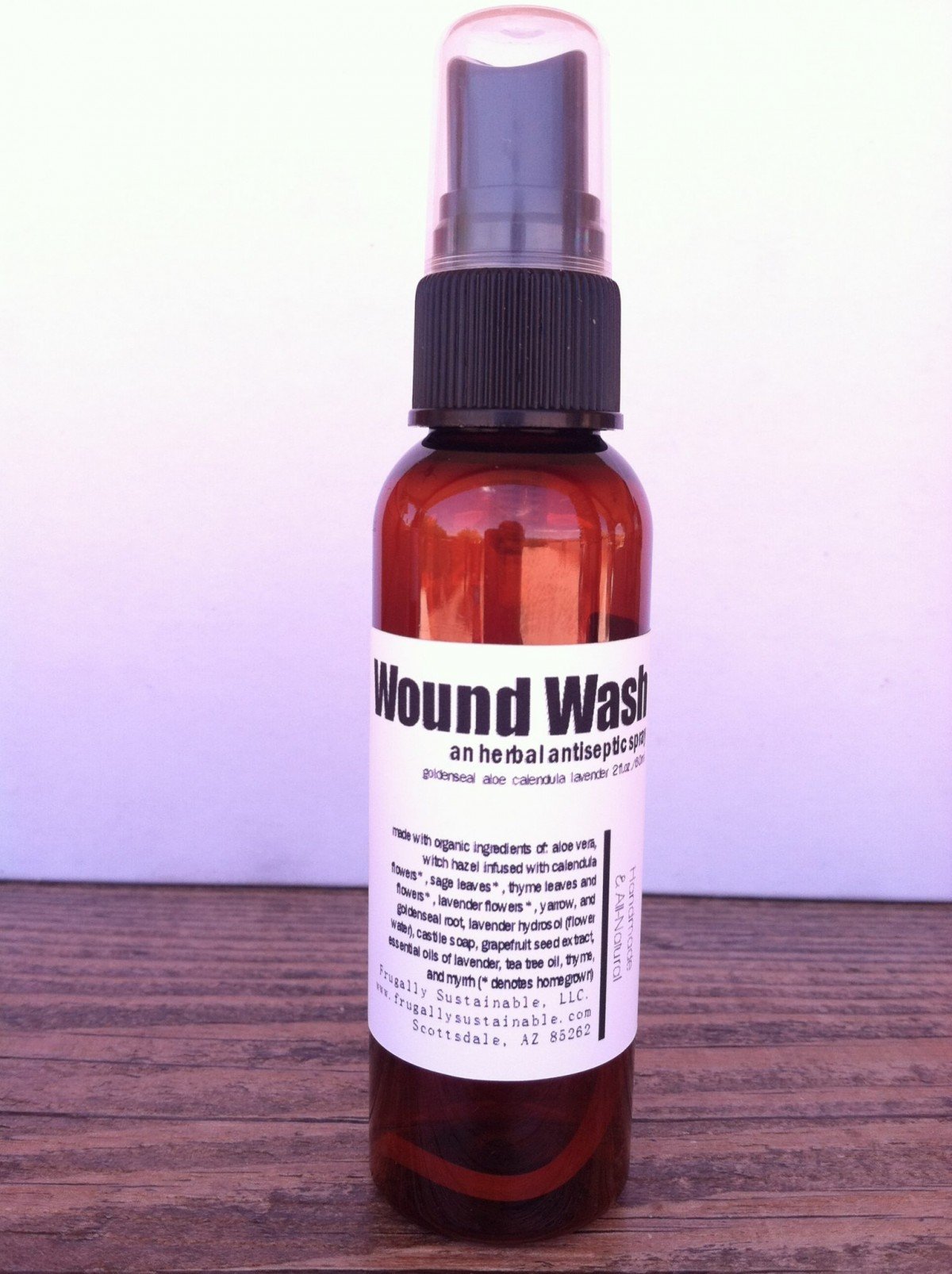 Ingredients
* Use homegrown or organic ingredients whenever possible.
4 ounces aloe vera
2 ounces witch hazel infused with calendula flowers, sage leaves, thyme leaves and flowers, yarrow, and/or goldenseal root
2 ounces lavender hydrosol (flower water)
1 teaspoon castile soap, liquid
5 drops grapefruit seed extract, optional
20 drops lavender essential oils
15 drops tea tree oil
5 drops thyme essential oils
5 drops myrrh essential oils
Method
Gather the plant material you will be using based on affordability and availability — either dried or fresh, or a mix of both…I use garden-fresh as often as possible.
Place herbs and flowers into a glass jar. Pour enough liquid witch hazel extract over the plant material to cover it completely. Note: Proceed using these basic tincturing methods for making an herb-infused witch hazel.
Once the witch hazel is tinctured, gather remaining ingredients.
In a glass jar, combine all ingredients.
Shake jar vigorously to mix.
Pour mixture into a dark or colored mister/spray bottle.
Label with name, contents, and date.
Spray is shelf-stable for 1-2 years depending on quality of raw materials used.
Keep away from heat and direct sunlight.
To Use
Use this First-Aid Antiseptic Spray to help prevent contamination and skin infection — and for relief of pain associated with minor scrapes, abrasions, burns, cuts, and other skin irritations. Spray directly on to wounds to clean.
For added herbal wound healing, apply a thin layer of Herbal Miracle Balm or an herbal First-Aid Ointment before covering with a clean bandage.
Warnings
For external use only. Not for deep/puncture type wounds. Likewise, if you have a wound that doesn't improve with the use of the herbal antiseptic…it is vital that you stop using the spray and go see a doctor immediately. This could indicate a more serious infection and you need to consult a professional.
Where Can I Get This Stuff?
–Mountain Rose Herbs…they have everything you'll need for this remedy! I LOVE the quality of their oils and essential oils. It's your one-stop-shop!
–The Bulk Herb Store also carries a few of these ingredients if you'd like to price check.
–From Nature With Love likewise carries a HUGE selection of high-quality raw materials.
I do have this Herbal First-Aid Antiseptic Spray
available for purchase in my Etsy Shop.
Click here to visit the Marketplace…