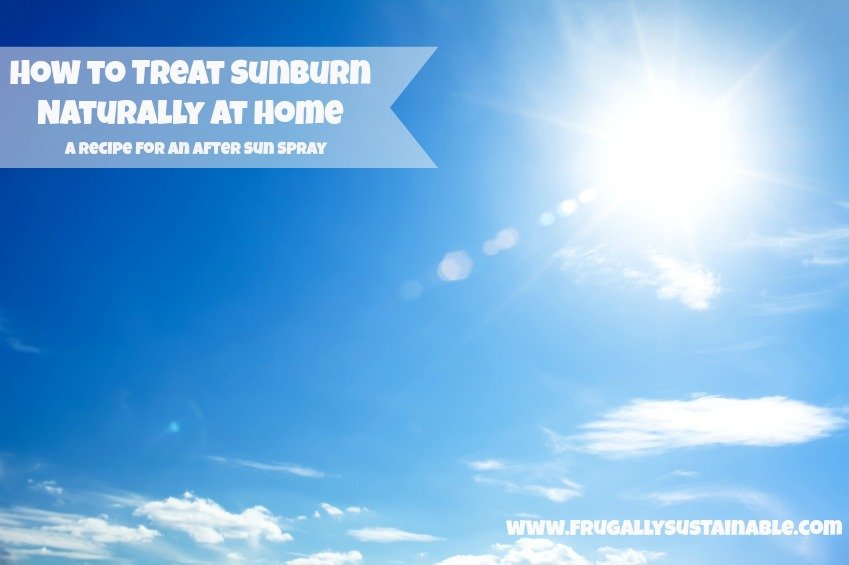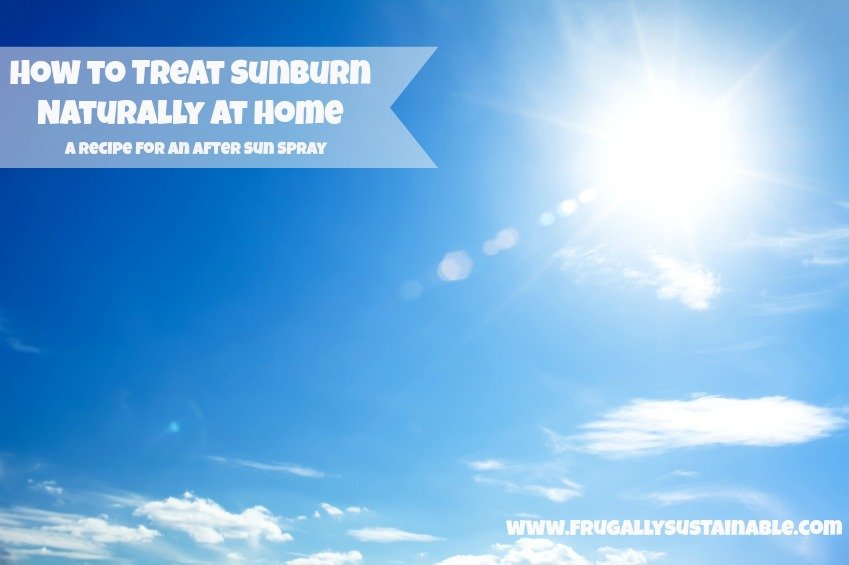 Warm weather activities like…
gardening
hiking
camping
swimming
…often result in cuts, scrapes, sore muscles, insect bites, sprains/strains, and a multitude of other discomforts.
Perhaps the most dangerous summertime aliment — and the one with the highest rate of occurrence — sunburn.
It happens!
We can be so careful — protecting our skin and eating foods that build our resistance — but sometimes our fun in the sun leads to overexposure and we end up with a painful sunburn.
Click here to see my recipe for a Natural Sunscreen…
Yes prevention is the most effective cure for sunburn — but when it inevitably happens, use any number of these safe and effective homemade remedies to soothe and heal the burn:
Aloe Vera. When it comes to sunburns, most people reach for the aloe vera. It's the most common natural remedy for burned skin and not to mention…a super easy to maintain house plant.
Lavender essential oil. This is my favorite remedy for burns. Lavender essential oils not only relieves sunburn, but they may also prevent peeling. Find high quality-grade lavender essential oils by clicking here…
Yogurt. Spread yogurt on your burned skin to help cool and heal. Your best bet is to use full-fat, plain, unsweetened yogurt. Let the yogurt stay on the skin until it warms then rinse off.
Vinegar. Load apple cider vinegar into a spray bottle, store in the fridge, then spray it on your burn. Is there anything vinegar can't do!?!
Tea. Make a pot of strong tea and then use a piece of cloth soaked in the tea by applying it to the sunburn area. You could also make a tea bath and soak in the tub. It's actually the tannins in tea that help to soothe the burn and heal the skin.
Potato peels. A vintage remedy for sunburns mentioned in tons of old writings is potato peels. They provide much needed moisture…additionally, they carry natural anti-bacterial properties that aid in healing.
Cucumber. Try applying thin slices (or a puree) of cold cucumbers directly to the affected area.
Nonetheless, the most effective remedy I've found thus far has been an After Sun Spray!
When the skin is super sensitive to the touch…nothing is more soothing than this spray.
After Sun Spray Recipe
Ingredients
* Use organic ingredients whenever possible.
2 fl. oz. (60 ml) aloe vera
1 fl. oz. (30 ml) lavender hydrosol (flower water)
1 fl. oz. (30 ml) peppermint hydrosol (flower water)
0.25 fl. oz. (7.5 ml) vegetable glycerin
15 drops lavender essential oils
5 drops carrot seed essential oils
2-3 drops peppermint essential oils, optional
10 drops non-GMO vitamin E oil, optional
Method
Add all ingredients to a glass mason jar.
Shake jar vigorously to mix.
Pour mixture into a 4 ounce mister bottle.
Label bottle with name, contents, and date
Shelf stable for 1-2 years, depending of quality of raw materials used.
To Use
Mist the body as often as desired whenever poolside, at the beach, or anytime outdoors to keep your skin protected and hydrated. Spray liberally to sunburned skin after showering and reapply as often as needed for comfort. SAFE for the whole family.
Storage Tips 
Keep on the shelf away from heat and direct sunlight. For an instant cooling effect upon the skin…store in the refrigerator.
Where Can I Get This Stuff?
–Mountain Rose Herbs…they have everything you'll need for this remedy! I LOVE the quality of their oils and essential oils. It's your one-stop-shop!
–The Bulk Herb Store also carries a few of these ingredients if you'd like to price check.
–From Nature With Love likewise carries a HUGE selection of high-quality raw materials.
I do have this After Sun Spray
available for purchase in my Etsy Shop.
You can also find my handmade:
–Natural Sun Stick: Sun Protecting Balm
–After Sun Salve
–The Ultimate Summer Sun Solution Kit
Click here to visit the Marketplace…