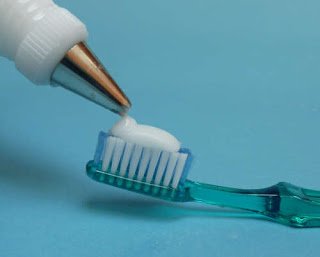 If you have read About Me page you know that our desire as a family is to move in the direction of production. We long to shun the consumer culture that has become so prevalent in our day and replace it with sustainable practices. Yes, that means we will live these values even if they expand no further than the four walls of our home.
However, my ultimate hope is that you will join us in this movement, that you will readily embrace the simple, and all the while begin to rediscover the true treasures in this life.
It is this spirit of production that guides our home. As I've shared with you before…we haven't always held this mind-set. It's been, and still is, a work-in-progress! We take small bites. Do the best we can with what we have. And most importantly, we find encouragement through like-minded people.
I bet you are beginning to wonder what the heck all of this has to do with homemade toothpaste!?! I'm getting there (wink). Well, one of the ways we achieve all of this in our home is through homemade products. I have been sharing with you many of our tried and true recipes. From green cleaners to herbal remedies we hope to find ways in which to produce all things necessary for our health, enjoyment, and vitality. Toothpaste is just another one of those things (smile).
Toothpaste, for some, seems to be a very difficult commercial product to let go of. But geez, have you seen the price tag on a tube of toothpaste these days? And with all the fluoride and glycerin and everything else in there that I can't even pronounce! Homemade just makes more sense, for me at least.
Without further ado, here is the recipe: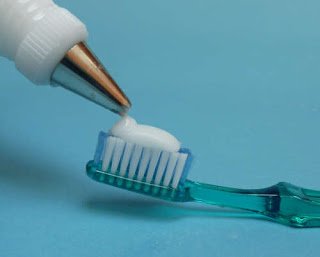 Homemade Cinnamon Toothpaste Recipe
-4 teaspoons baking soda
-½ teaspoon hard honey
-½ teaspoon hydrogen peroxide
-½ teaspoon coconut oil
-3 drops of cinnamon essential oils
Mix all ingredients in a small bowl to form a paste. This recipe gives you enough for what I call a run through. Try it. See if it's going to work for you. Then, if you like it, proceed to double, triple, or quadruple the recipe. Store it in an easy to dispense 2-4 ounce bottle at the sink, or just as you normally would with any commercial brand toothpaste.
Notes:
-This recipe is entirely flexible. Change it up. Try different "flavors" (i.e. essential oils) such as: vanilla-mint, lemon-mint, lavender, peppermint, or fennel. I purchase mine at a local health food store and online.
-Some have questioned the use of essential oils in this recipe. However, I say pure, high quality essential oils are of no concern. And just like with regular toothpaste, be sure not to sit around and eat it (wink).
-We buy local raw, unpasteurized honey (find a supplier near you by searching this link). It's a creamy, yellow color and it's hard. Not like the stuff that comes out of a plastic bear. If you use liquid honey you may need to adjust the amount of baking soda because the paste might turn out too runny.
-I will say the texture of the paste is different, not as smooth. It may require some adjustment. But the results are worth it!
-For added natural whitening power, after brushing your teeth use a ½ hydrogen peroxide ½ water solution as a mouthwash and swish for at least 30 seconds.
If you don't like making your own toothpaste but prefer to purchase a really healthy one, this whitening toothpaste from Wellnesse is my favorite!
Please leave a comment and let us all know about your experience with homemade toothpaste!