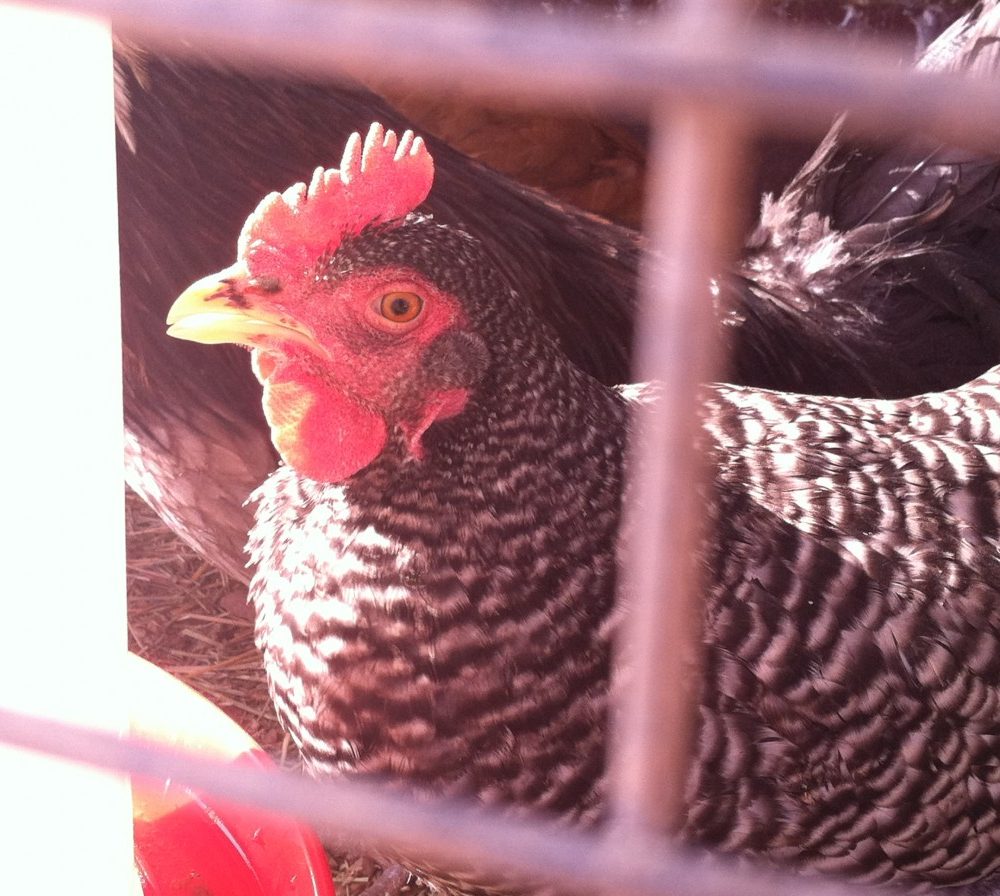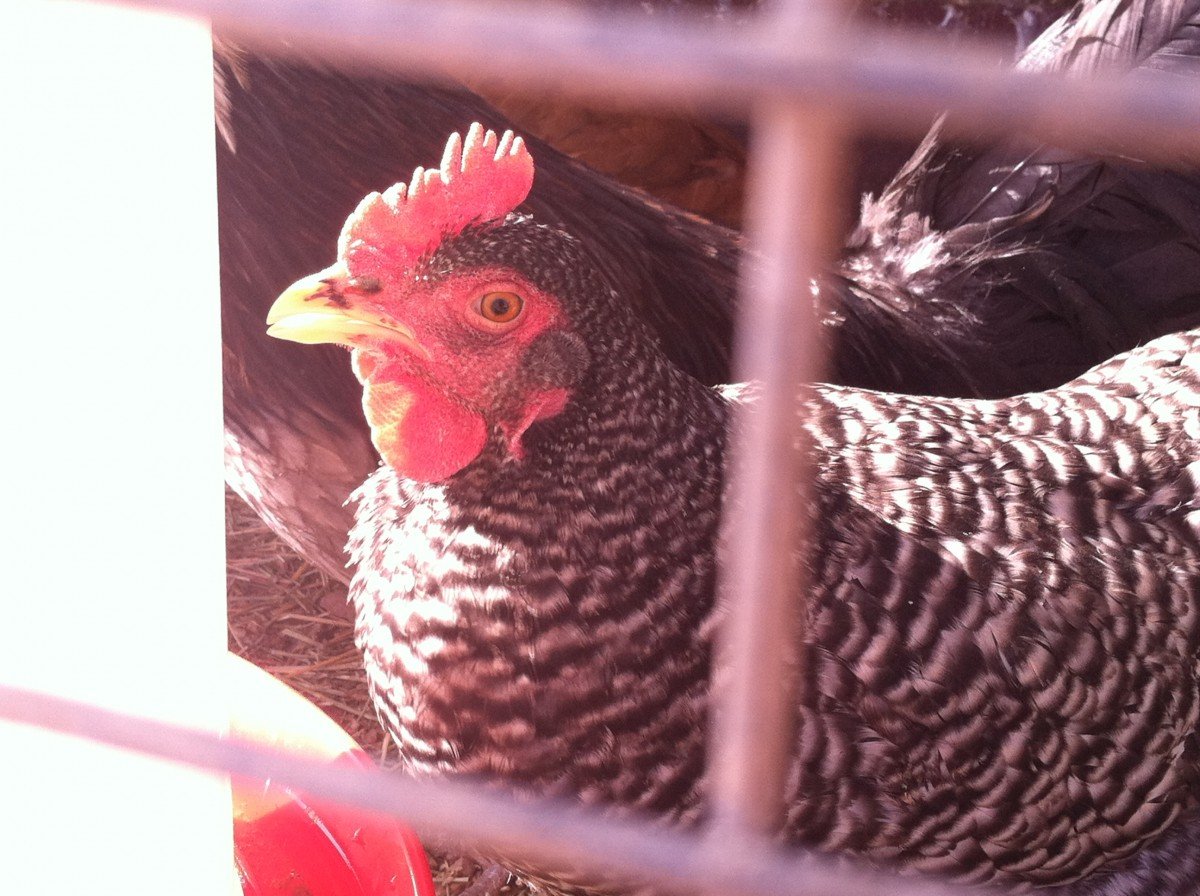 No matter if you already have — or dream of one day owning — a few backyard, egg-laying hens…
…you can learn how to maintain a healthy flock with the use of herbs!
Chickens eat green plants — and lots of them. They also eat all manner of insects — and lots of them.
Grass is a favorite, and preferred if you are hoping to harvest pastured, all-natural eggs.
We know that free-range chickens are happiest and healthiest when allowed to roam about during the day — confinement is primarily for our own convenience, but can also be used to keep predators away.
All in all, the how and why to keeping backyard chickens is easily adaptable and based on how much land and space you have.
Limited Space and Plant Material
When living in an urban area — limited space was my primary issue. My girls had such a small patch of grass and would clear it in a couple days if I let them!
Now living in the rural, wide-open desert, space isn't an issue for us anymore…green plant material is. As you can see from the picture below, hardly anything grows naturally.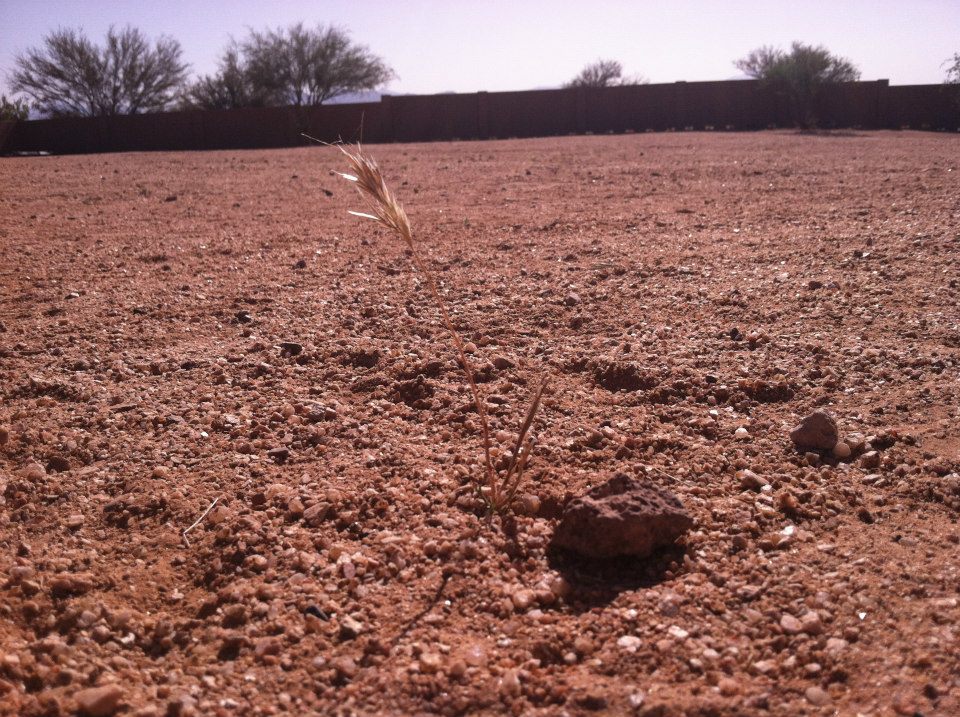 This motivated me to research herbs as a solution.
Something that would satisfy the needs of chickens in a variety of situations and provide the same outcome for all…excellent health and high-quality eggs.
Herbs for Chicken Health
With research regarding herbs safe for chickens, combined with my knowledge of the nutritive class of herbs, I formulated a recipe for an herbal feed supplement…a supplement that could be mixed in with their usually organic feed.
I wanted to give them vitamin and mineral-rich plant material that would build a strong immune system — one capable of warding off mites, lice, and worms yet dually act as a natural egg-laying stimulant.
A hen's nutritional value is vital for the creation of healthy eggs. Hens — by their very developmental nature — will transition from using their energies to support their bodies to supporting egg production.
So as you can imagine, during her years of focusing on egg production, the hen is more vulnerable to disease and poor health. Especially in situations where she is confined to a suitable (yet often smaller than ideal) space…and/or one with little green plant material. It just makes sense to provide a general supplement for the feed of laying hens.
Note: Click here to learn how to use fresh herbs to make an herbal nesting box (as pictured below) for your hens.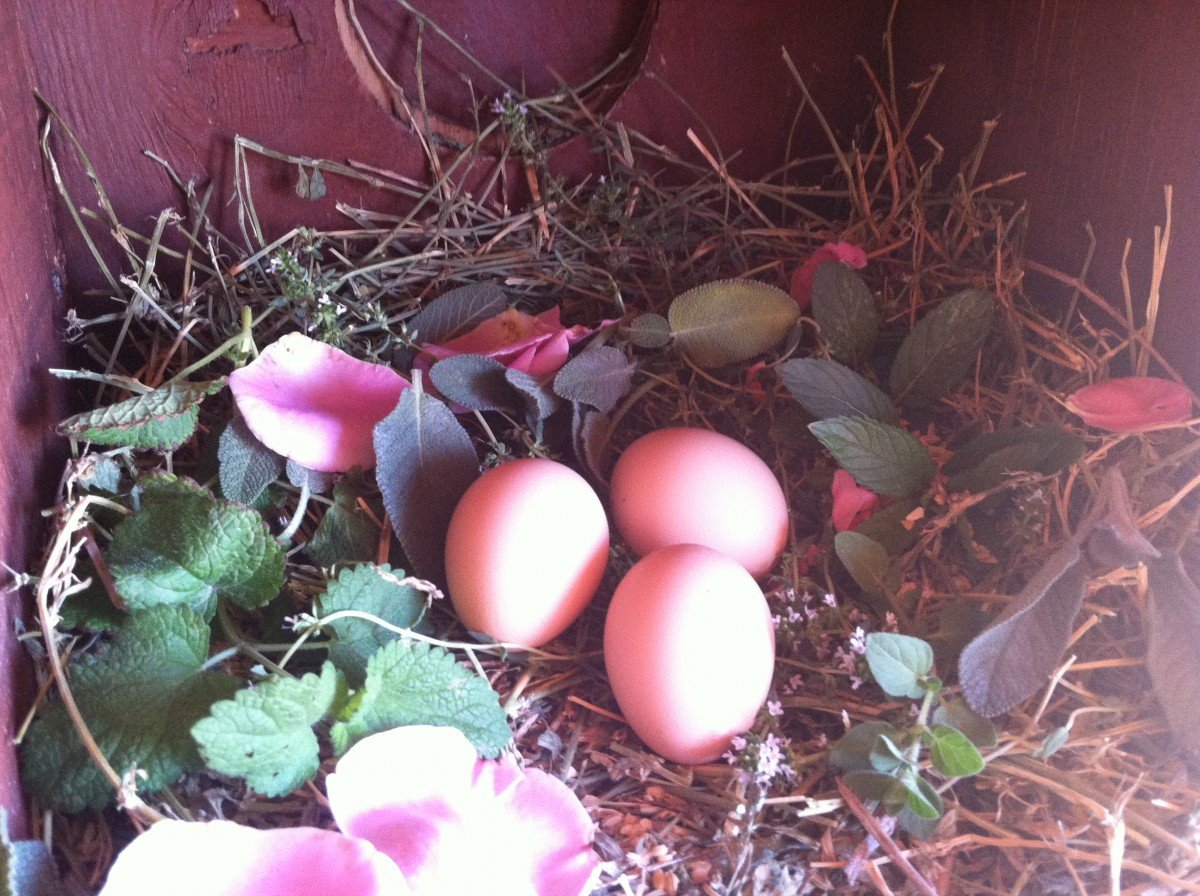 Of course we think of calcium for the egg's shell…but the egg itself also needs a bounty of nutrients — mostly because they will be used to nourish our family, friends, and loved ones.
Most seasoned "backyard chicken keepers" already know about the importance of supplementing calcium with oyster shell or crushed eggshell…
…but do you know that herbs are a perfect choice for supplying all the necessary vitamins and minerals a chicken needs!?! Yes, even calcium and protein!
There are a multitude of plants and flowers that fit the bill (they are definitely worth the research if you are further interested). And the good news is, many can be foraged for, grown at home, and/or wild-crafted in most parts of the world.
I say that to say…the following list is not exhaustive. These are simply the herbs I feel to be the most commonly available. And they include:
Garlic — Excellent for chicken health as it commonly acts as an antibacterial and antiviral agent. Not only does it work hard to prevent infection but it is a well known egg-laying stimulant. I like to keep a fresh clove of crushed garlic in my chickens' water along with a splash of apple cider vinegar. Offer raw garlic to your chooks year 'round.
Nettles — Nettles are a green food powerhouse! Full of calcium for egg shell development, protein for plant-based energy, manganese, phosphorus, and potassium for overall well-being.
Alfalfa — Another super nutritive herb. Complete amino acids, good protein and minerals…not to mention an excellent source for chlorophyll. Not only do I line the girls run, coop, and nesting boxes with alfalfa — I use it in my supplement. It's my go-to grass replacer and it keeps my hens healthy for breeding and egg production. (*Watch for GMO alfalfa. Ask your feed store or livestock provider about the source of their alfalfa…buy direct and local if possible.)
Dandelion leaf and flowers — Give 'em all they want of this stuff! If you can't bring yourself to eat them…give them to your chickens or give them to your chicken-lovin' neighbors and friends. Dandelions are a complete food and give amazing power to the immune system. (If using fresh…just be sure you get them from a yard/park/public area that you know hasn't been sprayed with junk.)
Fennel seed — I include them in my recipe as an laying stimulant.
Marjoram — Another brilliant egg-laying stimulant.
Comfrey leaf — Comfrey is one of my most favorite herbs! I don't get excited about all of the hype/controversy it has received the past few years. What I do know, is that it is rich in protein and it is a very nutritious food. It contains high levels of calcium, potassium, and plenty of amino acids. If chickens are fed comfrey, they will have superior health and produce eggs with most beautiful looking yolks you've ever seen. (Check your facts: There is a lot of controversy over the use of comfrey after a recent FDA study that showed the ingestion of pyrrolizidine alkaloids in comfrey can cause some problems. As always, I strongly encourage you to do.your.own.research. Personally I feel confident in the fact that comfrey has been used for 1,000′s of years without ill effect. But don't listen to me! Check it out yourself.) 
Chickweed — Another herb that grows like a weed in many places and a great green food tonic for chickens.
Other nutritive herbs, flowers, and laying stimulants include: marigolds, nasturtiums, parsley, mint, sage, rose petals, tarragon, thyme, lemon balm, oregano, etc.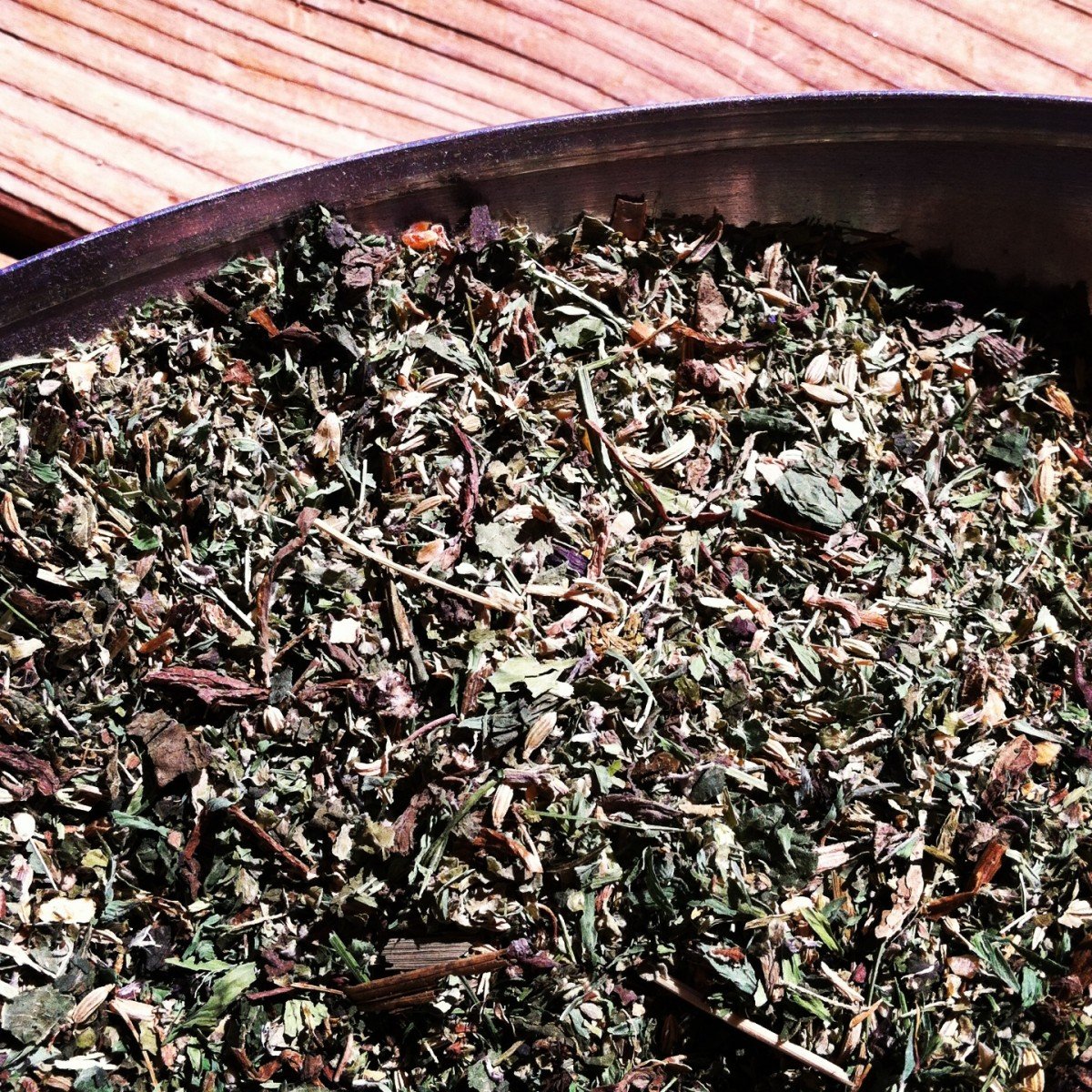 Herbal Feed Supplement — The Recipe
Ingredients
*All herbs should be dried. Please use organically-grown or wild-crafted plant materials whenever possible.
**Parts are measured by volume not weight.
-2 parts nettle leaf
-2 parts alfalfa leaf
-2 parts marjoram
-1 part dandelion leaf
-1 part chickweed
-1 part fennel seed
-1/2 part minced garlic
-1/2 part comfrey leaf
Method
Measure the parts of each of the herbs (by volume not weight) listed and mix in a large bowl until well combined.
This herbal supplement will keep stored in a cool, dark place for approximately 6 months. (Note: I like to store all of my herbal blends in glass jars with tight-fitting lids.)
To use: Mix 4-5 cups of supplement to every 10-12 pounds of feed or 10 cups of supplement to a 25 pound bag of feed.
Want to Learn More
These books are amazing resources for those looking to expand your knowledge on herbs and keeping chickens:
Where Can I Get This Stuff?
–Mountain Rose Herbs…they have everything you'll need for this supplement! It's your one-stop-shop!
-Mountain Rose Herbs also carries Horizon Herbs seeds if you are interested in growing your own herbal plants and flowers!
–The Bulk Herb Store also carries many of these ingredients if you'd like to price check.
What about you? How are you using herbs for the health of your chickens? How do you ensure your flock gets the proper amount of green food?