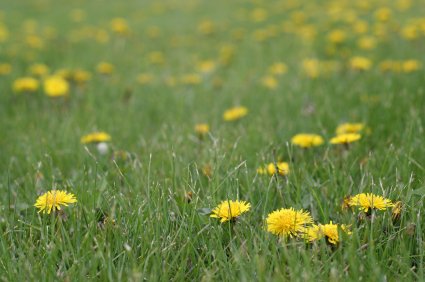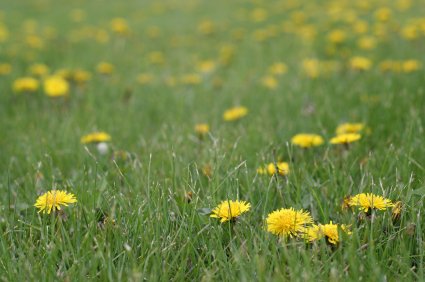 Spring is alive here in the Desert Southwest! The flowers are brilliant, the smell of the orange blossoms is intoxicating, and my yard is covered with dandelions…I couldn't be happier! The once dreaded chore of pulling weeds has now taken on a new meaning.
It is definitely the time of year to begin finding dandelion, and other wild spring greens, emerging from the ground. So put on boots and let's go foraging!
The Benefits of Dandelion Greens
Full of nourishment, dandelion leaves are an excellent source of calcium, potassium, vitamin A, vitamin K, and vitamin C. These somewhat bitter greens are just what the body craves after the long months of winter.
Here are a few dandelion facts:
They are a good source of protein.
One cup of dandelion greens has as much calcium as half a glass of milk.
In the old days, dandelions were picked where the grass grew tall and free — before the last spring frost and before the first bloom. Young, tender leaves taste the best!
They are excellent additions to a salad, saute, or spring green pesto!
When harvesting the plant be sure and pull the roots. Dandelion roots run deep, so they are best harvested with assistance of a shovel or trowel. Don't worry though, it's unlikely that you'll get the entire root…they'll be back.
Dandelions, like all plants, are sensitive to lawn treatment. Therefore, when you go out foraging be sure that the yard is untreated with herbicides — or an other -icide for that matter.
Spring Dandelion Green Pasta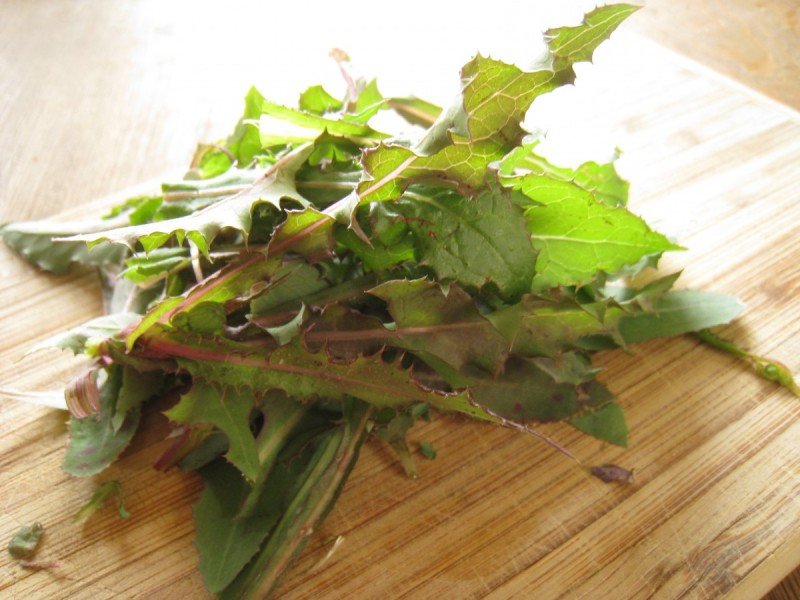 The Ingredients
serves 6 to 8
-4-6 cloves garlic, minced
-1/2 onion, chopped
-2 tablespoons butter
-4 handfuls of dandelion greens
-1/2 cup chicken stock
-1/4 pound bacon
-salt and pepper to taste
-cayenne pepper to taste, optional
-1 lb. your choice of pasta
Method
1. Wash dandelion greens and roots very well with water, in order to remove all the sand and dirt. Separate the greens and roots from the stems. Compost the stems. Coarsely chop the greens and reserve the roots.
2. In a large skillet, cook the bacon. Remove the bacon from the skillet to cool once crisp, then crumble.
3. To the skillet, add butter, garlic, and onions. Saute until onion is translucent. Add the dandelion greens and stir to combine.
4. Add stock.
5. Cover and simmer for 10 minutes.
6. Remove the cover, mix in the crumbled bacon, and turn off the heat.
7. Toss with hot pasta.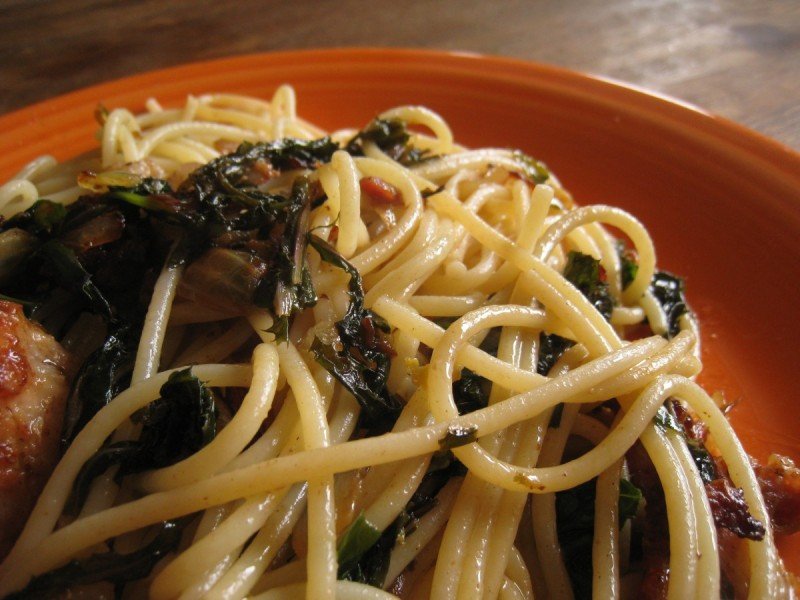 Note: Prepare the dandelion roots for a spring liver detoxification tea by spreading the chopped roots on a baking sheet and cooking them in the oven at 150 degrees F for two hours. To use, add 1 tablespoon of the roots in a cup of water and simmer on low heat for 30-45 minutes.
Have you foraged for dandelion greens? Please share your favorite way to eat them!