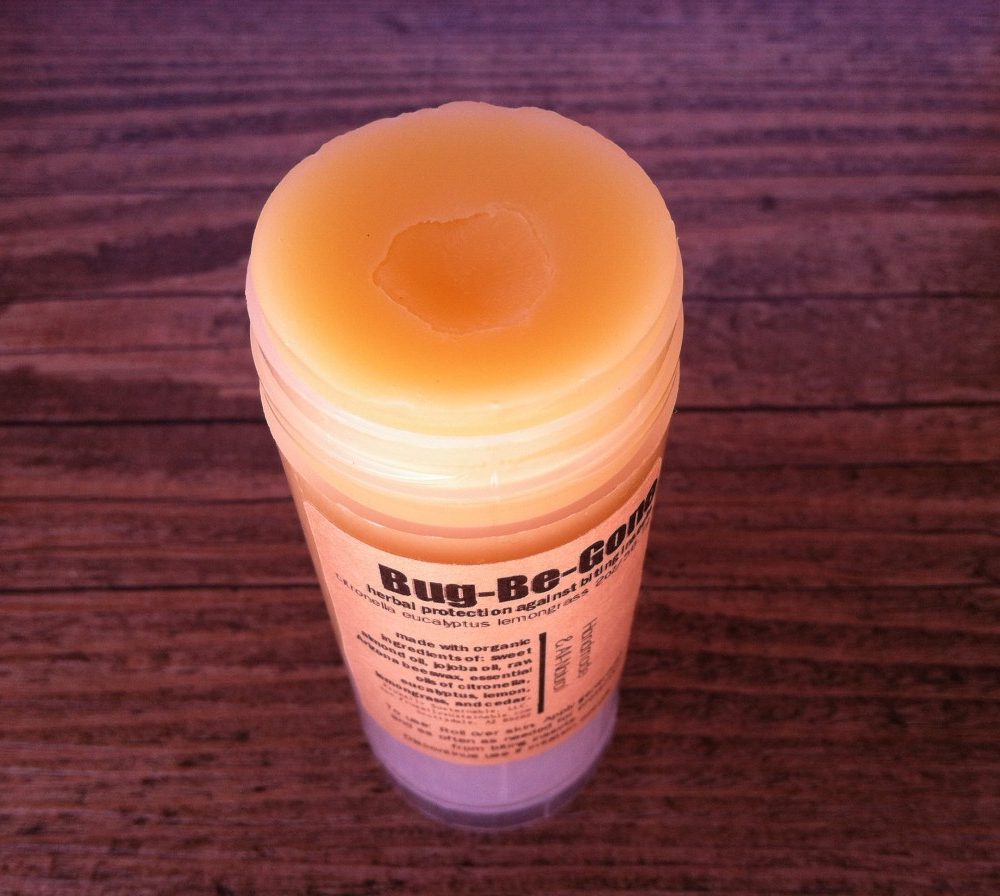 Biting insects.
Mosquitoes.
Stinging bees.
Anti-bite solution.
Spring is here and summer is on it's way.
My family is loving the warmer weather and we are all thrilled to be enjoying more time outdoors.
Gardening.
Hiking.
Camping.
We all know that with outside play and warmer weather…comes the signs of biting insects.
And insect repellent is a nice thing to have around.
Not the toxic, chemical laden ones.
The handmade, all-natural, eco-friendly ones.
I've shared my recipe with you for an all-natural bug repellent spray. But this year I wanted to try making a bug repellent salve. I like the spray for coverage…but the salve I thought would be super handy for the face, neck, and hard-to-reach areas.
results=amazing
Bug Repellent Salve Recipe
Ingredients
-8 ounces olive, coconut, sweet almond, jojoba, or sesame oil (or a blend of any of these oils)
-1-2 ounces beeswax
-0.4 ounces citronella essential oils
-0.2 ounces eucalyptus essential oils
-0.2 ounces lemongrass essential oils
-0.2 ounces cedarwood essential oils
Method
Measure the oils and beeswax using a kitchen scale. ***Use 1-2 ounces of beeswax (depending on how thick you'd like your salve). I suggest starting with the lesser amount of wax and adding more if needed. To check if the mixture is the right consistency, because the salve hardens as it cools, Rosemary Gladstar again suggests placing a "tablespoon of the mixture in the freezer for just a minute or two. If it's soft, add more beeswax; if too hard, add more oil."***
In a double boiler, or small pot, over very low heat slowly melt the oils and beeswax (Note: Do NOT include the essential oils at this time).
Once melted remove from heat and allow to cool slightly before adding the essential oils.
Pour mixture into several roll-up tubes, glass containers, tins, or lip balm tubes (smaller mason jars work well too)and allow it to cool on the counter overnight.
Label with the name, ingredients, and date of creation.
Salve will keep for 2-5 years depending on quality of oils used.
To use: Roll over skin prior to gardening, working in the yard, hiking, biking, enjoying a sunset or anything that requires being in the great outdoors. Apply generously and as often as needed for protection from biting insects.
Note
-Searching for an "After-Bite Balm"…I have also shared my recipe for an Anti-Itch Stick…one that gives the over-the-counter antihistamine a serious run for it's money!
Where Can I Get This Stuff?
–Mountain Rose Herbs…they have everything you'll need for this remedy! I LOVE the quality of their oils and essential oils. It's your one-stop-shop!
–The Bulk Herb Store also carries a few of these ingredients if you'd like to price check.
–From Nature With Love likewise carries a HUGE selection of high-quality raw materials.