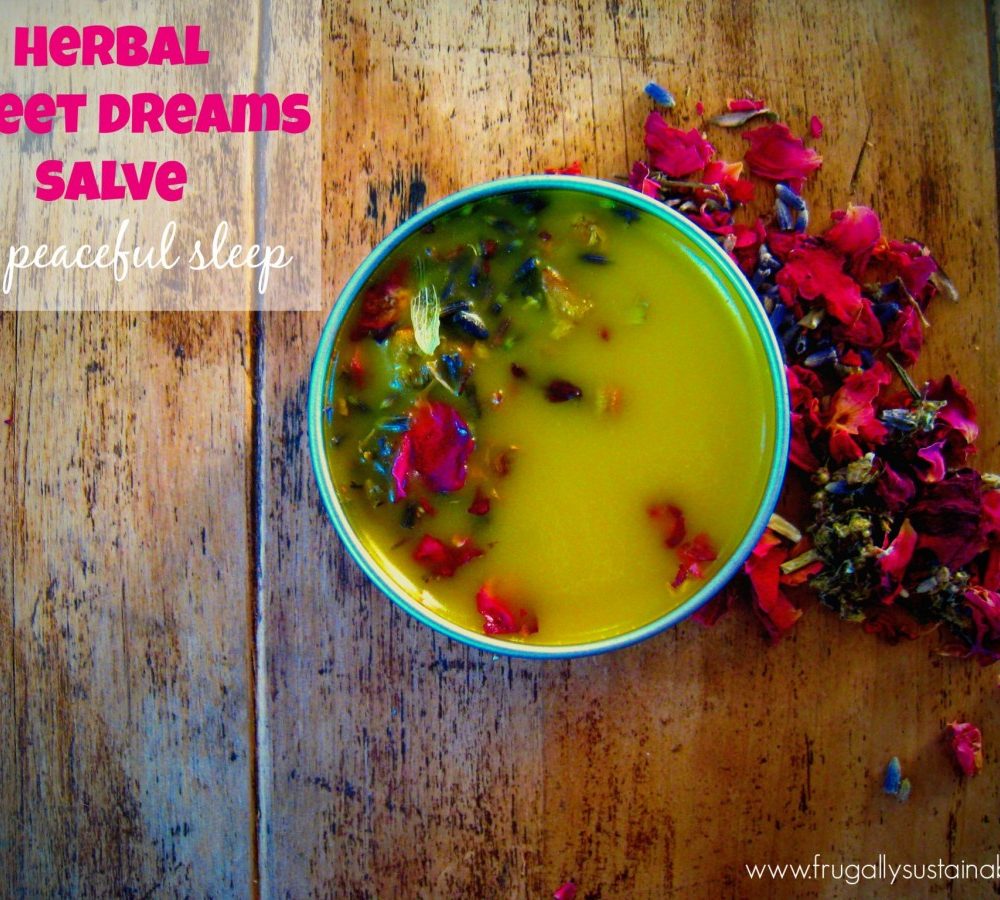 For millennia, herbs and essential oils have been used for a variety of purposes.
As an integral part of daily living.
They are one of the safest and most effective paths we can follow to ensure ultimate well being.
Learning to create and use herbal preparations in the home helps our bodies — and the bodies of those we love the most — function naturally without any toxic chemicals or side effects of conventional medications.
Sleep.
A necessary process for the restoration of our live force.
Often interrupted by anxiety, stress, hormonal imbalance, negative thoughts, poor diet, young children…
Are you ready to rediscover nights of uninterrupted solace?
Gather the ingredients, clear the kitchen, and in a matter of minutes you can whip up a batch of this all-natural herbal Sweet Dreams Salve.
What's In The Salve
Organic Olive Oil — tons of antioxidants & anti-inflammatory properties
Raw Beeswax — imparts a creamy texture to the salve…more importantly, it provides a nourishing, germ-killing, protective barrier that lock in moisture.
Magical Mugwort — encourages sound sleep and a renewed sense of awareness
Organic Flowers — hop flowers, lavender petals, chamomile flowers, and rose petals combine to bring peace, calm, and restful sleep
Essential Oils — choose oils known for their calming, uplifting, and relaxing properties (i.e. roman chamomile, sweet orange, neroli, hops, yarrow, mugwort, valerian, ylang ylang, and/or lavender)
Herbal Sweet Dreams Salve
Yield: 2 ounces
Ingredients
*Essential oils tried-n-true in the sleep department include: roman chamomile, sweet orange, neroli, hops, yarrow, mugwort, valerian, ylang ylang, and lavender. Looking for a "ready to go" blend? Keep it simple and use dōTERRA's Serenity Calming Blend
Method
Using the organic olive oil and herbs on hand…prepare an herbal-oil infusion. (NOTE: This is per your choosing…not necessary, however it adds therapeutic and magical, dreamy benefits to the salve.)

There are primarily two ways to prepare herbal-infused oils, and they are as follows:

1. Solar or Cold Infusion. In a 1/2 pint glass mason jar, fill 1/3 full of dried plant material and cover with organic olive oil…filling the entire jar. Stir to combine, and allow the oil and herb mixture to steep for two to four weeks in a warm and sunny location.
2. Hot Oil Extract. Prepare a glass jar just as you would for a solar or cold infusion. Except for this method you should place the glass jar in a pot on the stove, or in a crock pot, that is filled with a few inches of water and set on the lowest setting. Be sure to put a towel on the bottom of the pot and infuse the oil and herbs for 4-8 hours, a day, or up to 3 days. Note: Watch the pot and add water as it evaporates.
Alternatively, according to Rosemary Gladstar in her book Herbal Recipes for Vibrant Health, you may also do it this way; "Place the herbs and the oil in a double boiler and bring to a low simmer. Slowly heat for 30 to 60 minutes, checking frequently to be sure the oil is not overheating."

After the infusion, strain the mixture through a cheesecloth or fine mesh strainer reserve the now herb-infused oil and compost the plant material.
Using a double boiler or small pot, heat — over a low setting — the herb-infused organic olive oil and beeswax until the wax is completely melted.
Remove from heat and allow the mixture to cool slightly.
Add essential oils and stir until well combined.
Pour salve into a small glass mason jar — or these tins — and allow to harden on counter.
Keep at the bedside for ease of use. It will keep for 1-3 years depending on the quality of ingredients used.
To Use
I always keep a tin of this salve at my bedside.
Each night — just before laying my head to the pillow — I apply the salve to the soles of my feet, temples, my forehead, wrists, and under my nose.
Great for adults and children alike.
Feel free to have fun with the essential oils. Use what you have on hand. Experiment with the blends, creating something that you find calming and restful.
Where Can I Get This Stuff
–Mountain Rose Herbs…they have everything you'll need by way of Bulk Herbs, Organic Oils & Essential Oils, and Natural Products for Healthy, Natural Living! It's your one-stop-shop!
–Starwest Botanicals and The Bulk Herb Store also carries many of these ingredients if you'd like to price check.
–Health doesn't come from plastic bottles. Vitality grows naturally from the way you live your life. If you want to learn more about herbs as medicine and as food, and if you're just too busy to enroll in an in-person program, join the Herbal Academy of New England for a comprehensive and convenient online herbal course you can complete anywhere and anytime!
Read more of my 100% natural remedies to treat sleeplessness here: