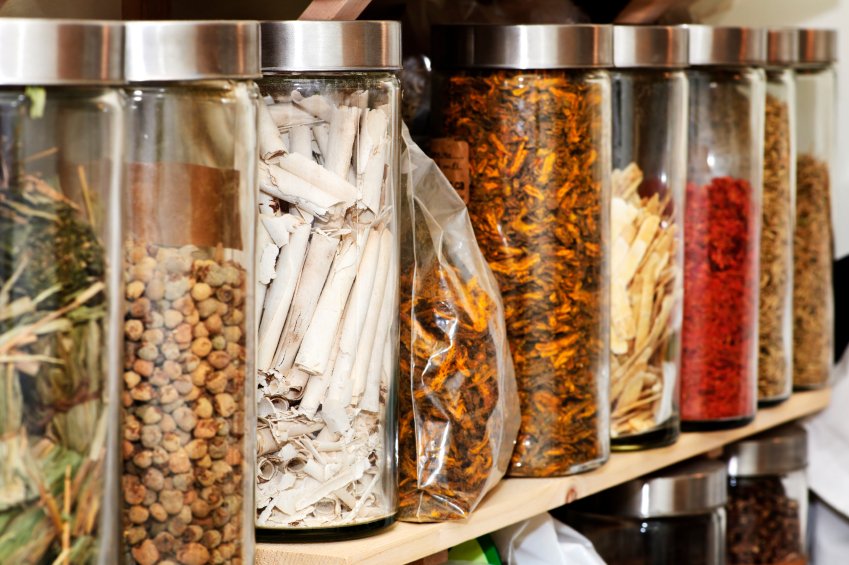 "I am my own healer. I have a radiant voice within that guides me. I can make decisions for myself. I can rely on others as needed, but at my discretion. It is my body, my health, my balance, and my responsibility to make right choices for myself. Right choices include working with competent health-care professional when necessary, allowing friends and family to help as needed, and, above all, being true to my beliefs, with the wisdom and willingness to change as part of the path of healing."
~Rosemary Gladstar, A Mantra for Home Health Care
The idea that medicinal plants are the medicine of the home, and should be used in every day wellness, is very appealing to me — primarily because I love my garden and my kitchen.
But what's more, I love that my home is a center for helping people prevent and heal illness.
In this broken world health isn't something that comes naturally. Ailments and illnesses are just part of life.
Yet in my role as a wife, mother, and friend I long to do all that I can to care for myself and those that I love. In fact, it's my passion – and creating a home apothecary pantry is a large part of that journey.
The Differences Between Home-Based and Conventional Medicine
A common misconception is the thought that we must choose between conventional and home-based medicine — or in other words, we think we must be sold out one way or the other.
When helping people prevent and heal illness, we must see that both systems of medicine — although very different – are wonderful in their own right.
And, they must work together…in balance.
Conventional Medicine
Conventional medicine — which is basically modern health care as we know it — is such a blessing during times of sudden illness. It is especially effective: during life-threatening situations, in alleviating acute symptoms of an illness, or when medical emergencies occur (i.e. asthma attacks, stroke, heart attacks, etc.) However, most treatment plans involve medications that only seem to mask the symptoms of disease and don't really address the root cause. Although in the situations that I mentioned above, dealing with the symptoms is necessary…it's just not a long-term solution for health.
Home-Based Medicine
Home-based medicine — that which involves the use of herbal remedies, diet, and exercise — in desperate need of a wisdom revival.Historically, it was in the home that many non-emergency conditions were treated on a daily basis. Those such as: headaches, minor wounds, digestive issues, chronic conditions, bumps and bruises, fevers, colds and flu, minor aches and pains
One hundred years ago, our ancestors – model homemakers — could probably go to a pharmacy in the city, but what they purchased were containers of dried herbs and bottles of herbal tinctures…because that's exactly what pharmacies sold.
Herbs!
Even further back, people possessed the knowledge that allowed them to go out into nature, identify, and gather the plants themselves. Not only that, but they were intentionally grown in backyard gardens and they were carefully preserved and stored.
Likewise, our ancestors knew to maintain preparedness. Jars filled with steeping tinctures, burlap sacks stored with plant materials, and secret family concoctions cooking on the stove were always available whenever a friend or family member was in need.
Most of what they knew came from instinct — in large part due to the fact that there was no other way.
They carried the wisdom of experience.
For me, growing in home-based, herbal wisdom is all about reclaiming intentional living. Perhaps the greatest personal gain in using our own homemade, natural remedies and personal body care products comes from the desire to:
create a more sustainable, harmonious daily existence
accomplish simplicity in our lives
empower
restore health and remain connected to the vintage ways of the past.
How To?
During these uncertain times – times of change – there are many individuals and families in search of an altogether different approach to treating minor illnesses and ailments.
For some, this is the next step in their natural-living lifestyle, for others it's all about self-sufficiency, and concern over the rising cost of healthcare dominates the thoughts of others.
No matter what your motivation, the question remains – how can we achieve our goal?
I believe the answer to be in three parts:
We can add medicinal herbs and plants to our garden landscape.
We can learn the benefits of the plants that grow freely in our local and regional area.
We can create and stock a home apothecary pantry.
Long before the new technologies of conventional science and medicine were available, people possessed the knowledge of beneficial plants — those plants that could be used for healing a variety of ailments. Additionally, there were those special people in the local community who were experts in identifying, harvesting, and using the herbs that grew wild the area.
With a bit of preparation, research, and knowledge, any number of us can become one of those people!
Recommended Items and Ingredients
Supplies
When preparing your kitchen for a return to home-based medicine – and for making a variety of medicinal herbal remedies – you may be relieved to discover that you already have most of the equipment needed. Simple, common kitchen tools are often all that is required.
These are the supplies that I have found very useful in setting up my own kitchen pharmacy:
 Non-reactive and non-toxic implements. It is best to prepare herbal remedies with bowls, pots, and utensils that are made from materials that are non-reactive and as non-toxic as possible. Materials such as glass, stainless steel, ceramic, marble, wood, or cast iron are all excellent choices. Please note: Never use aluminum.
Cheesecloth. Cheesecloth, muslin, or hemp fabric are perfect for straining out herbs from your formulations. You can even repurpose old t-shirts by cutting them into sizeable squares.
A grater. Having a grater that you can reserve only for the use of grating beeswax is a wonderful addition to the kitchen pharmacy.
Glass jars and tins. Can you ever have too many glass jars? A variety of glass jars (small ones and big ones) and tins are necessary for storing dried herbs, salves, teas, syrups, and tinctures. Although not absolutely necessary — so long as you have a dark place to store your jars (i.e. pantry or kitchen cabinet) – consider saving and collecting colored glass bottles as well. Darker colored glass containers help to protect your products from the light. Note: Click here for medicinal glass jar supplies, click here for medicinal glass bottle supplies, and tins can be found here. Otherwise, check out antique shops, thrift stores, estate sales, and basements…good glass bottles could be anywhere.
A fine mesh strainer. Very beneficial when straining a variety of infusions.
A grinder. This could be a pestle and mortar or a coffee grinder and it's purpose is to powder herbs. If you choose to stock a coffee grinder, be sure that it is one dedicated to grinding herbs only…otherwise your herbs will taste like coffee.
Measuring utensils. Your standard measuring cups and spoons are sufficient here.
A small kitchen scale. Due to the difference in weight and volume of herbs, having a kitchen scale can be very helpful in creating appropriate proportions in recipes. Here's a link to the best kitchen scale I've ever owned!
Double Boiler Insert. Perfect for herbal oil infusions, softening butters, and melting beeswax!
Capsule Machine & Vegetarian Capsules. With these capsule-making tools, you will complete and round out your healing pantry! Nothing is beyond your ability.
As you can see, many of the supplies you will need to get started with home-based medicine may easily be found in your kitchen. Assembling a storage box full of apothecary-specific equipment would make preparing your remedies that much easier!
Ravensara
($7, 15ml) — This essential oil is truly a powerhouse and my new favorite oil! Truth be told…if I had to choose only one essential oil to keep stocked — ravensara would win out by a landslide! My decision is based on its ridiculously amazing medicinal properties. And they are as follows: analgesic, anti-allergenic, anti-bacterial & anti-microbial, anti-depressant, antifungal, anti-septic, anti-spasmodic, antiviral, aphrodisiac, disinfectant, diuretic, expectorant, relaxant and tonic.
Sure let's face it…essential oils are amazing and super fun to play with — each miracle medicines in their own right. But they are expensive and if you're looking for broad-spectrum value…this little guy covers any and all aliments known to the human race. If you have to choose one, choose this one!
Note: Check out Starwest Botanicals…they have an amazing selection of quality, organic essential oils
Plant Material (a.k.a. herbs, roots, leaves, flower, etc.)
As which essential oils, I get lost in herbs!
I'm continuously learning and discovering new plants and their uses…and I LOVE it!
This is list is by no means exhaustive, but if I had to choose only a few to keep on hand — at all times — these herbs are it:
Calendula — ($8, 1 lb.) anti-inflammatory, astringent, anti-microbial, anti-fungal
Nettles — ($4, 4oz) astringent, tonic, nutritive, hemostatic
Elderberries — ($3.50, 4oz) anti-viral
Lemon Balm — ($4, 4oz) nervine, anti-depressive, anti-microbial, anti-viral, diaphoretic
Eleuthero Root — ($2.75, 4oz) adaptogenic, immune-building
Passionflower — ($5, 4oz) nervine, sedative
Marshmallow Root — ($4.75, 4oz) emollient, anti-inflammatory, expectorant, nutritive, laxative
Comfrey Root — ($3.50, 4oz) mucilaginous, anti-inflammatory, nutritive
Peppermint — ($3.25, 4oz) anti-emetic, nervine, anti-microbial, analgesic, stimulant, anti-inflammatory
Yarrow — ($3.50, 4oz) hemostatic, anti-inflammatory, anti-microbial, anti-viral
Goldenseal Root — ($8, 1oz) anti-biotic, anti-viral, anti-fungal, antiseptic
Thyme — ($2.50, 4oz) antiseptic, anti-viral, expectorant, antioxidant, preservative
Horehound — ($3.75, 4oz) expectorant, anti-tussive
Red Raspberry — ($4, 4oz) genito-urinary system tonic, anti-emetic, antiseptic, hemostatic
Oh, the list could go on…
Note: If you are interested in always having the ability to grow your own herbs…click this link to purchase a Medicinal Herb Seed Vault.
Butters
Shea
I remember when my journey into handcrafted skin care products began…this was one of the first ingredients I started using. And the love-affair continues! Shea butter makes luxurious body butters, soaps, and lotions. It's also great just straight out of the jar, and does things for super dry skin like nothing else can.
Cocoa
Raw cocoa butter smells like warm chocolate…and makes beauty body care products? It's one of my favorite fats.
Clays
Bentonite
($4.50, 4 oz)
Inside and out, bentonite clay is a must-have for my healing pantry. Its uses range from clay facial mask to oral health to intestinal and full body detox. The absorption properties give bentonite its toxin-removing abilities and I wouldn't want to be without it!
Clays — like most other ingredients — are super intriguing to me! In addition to bentonite…French green, Fuller's Earth, Red Moroccan, and White Kaolin all hold a special place in my heart.
Hydrosol (flower water)
Lavender
($4.50, 3 oz)
Mountain Rose Herbs puts it best, "This is one of the more relaxing and balancing hydrosols from our collection of flower waters. It is ideal for oily and combination skin, and is an excellent coolant for minor burns, rashes, and hot sores. Mentally refreshing and marvelous on the emotions!"
Lavender has been used for centuries and in a multitude of cultures traditionally for its effectiveness as a antibacterial, antifungal, and antiseptic agent. Learn more about lavender's medicinal value here…
So, you see why it's used daily in my home. There are mini-mister bottles of lavender hydrosol everywhere…the bathroom, kitchen, living room, work-space, and bedrooms!
Note: Click over to Starwest Botanicals…they have the BEST flower water selection!
Oils
Organic Extra-Virgin Coconut Oil
($7, 15 oz)
This is a must for soaps, healing salves, lip balms, deodorants, and the like! Among its countless blessings, coconut oil is a staple in the healing pantry as it gives thick bubbles to soap and nourishment to the hair and skin.
Sesame
($6, 4 oz)
I'm starting to really fall in love with sesame oil! I'm using it more and more in my salves, lotions, and hair care remedies due to its extremely stable nature and highly medicinal properties. Now I'm not talking about the toasted, walk around smelling like fried rice sesame oil. No, this stuff is amazing!
I encourage you to read more about the benefits of sesame oil!
Liquids & Menstruums
Menstruums are used primarily to preserve and extract healing properties of a variety of plant materials. They can be made into tinctures, lotions, astringents, and masks.
Witch Hazel — ($6, 16 oz) Used topically to clean and protect the skin.
Vegetable glycerin — ($8.50, 16 oz) Glycerin is a humectant — attracting moisture out of the air and to your skin — perfect for use in handcrafted lotions and creams. Just make sure you never use it straight on the skin, or you could end up with the reverse effects and super dry skin! It also a wonderful menstruum used in herbal tincturing.
Aloe Vera juice — ($7, 32 oz) I love using this instead of water for making lotions and facial masks. And, if you've ever had a burn, you probably know that aloe is a great remedy.
Apple cider vinegar — ($5, 32 oz) Apple Cider Vinegar — a.k.a. ACV — can be use for everything from weight loss to detox to hair conditioning to facial astringent to herbal tincturing to cooking. Pick your poison!
Raw honey — ($10, 14 oz) Go local it possible with this stuff. It's ability to preserve and restore are simply unmatched! The healing properties of raw honey — along with beeswax — in all of its natural glory, has yet to ever be recreated by the hails of science. Another miracle of nature!
Beeswax — ($8, 6 oz) Highly antibacterial, this skin-protectant when purchased should smell like honey and be a beauty golden color. Buy it raw and locally, if you can. Beeswax is used to give hardness in body butter, lip balm, lotion, medicinal salve, and some soap recipes.
Where can I get this stuff?
I highly recommend Starwest Botanicals for affordable, high-quality bulk herbs and natural products needed for healthy, natural living.
Now it's your turn! Please share with the community what your home-based apothecary and healing pantries consist of! What ingredients do you love? Which ones do you keep on hand at all times?