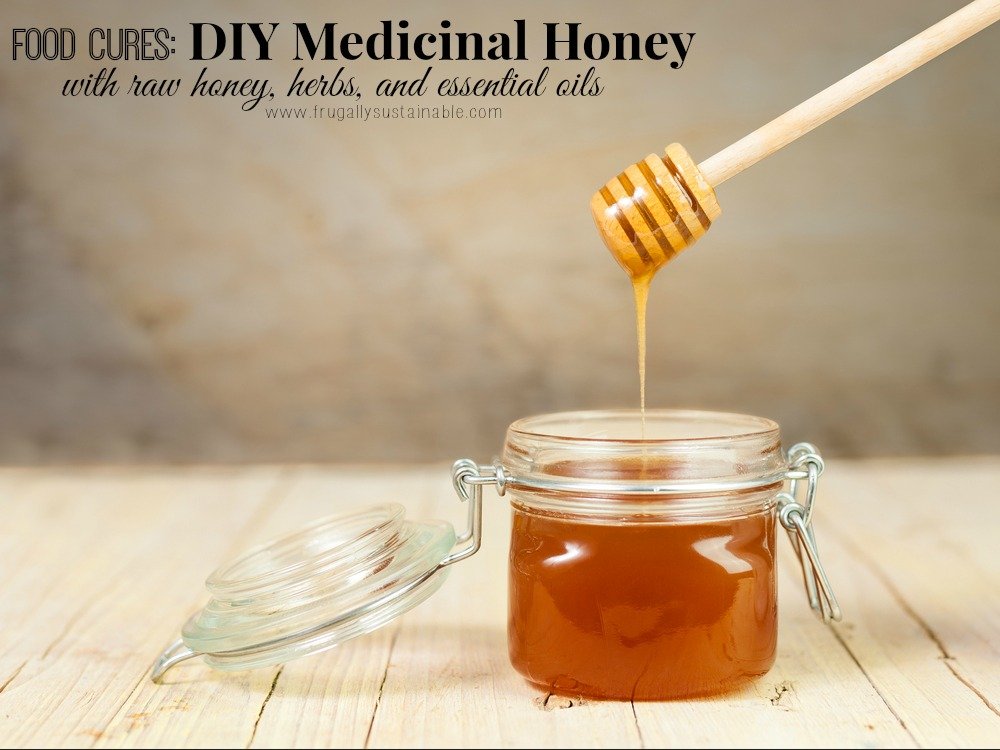 Here's a recipe I make, and ingredients I keep handy, all winter all year round.
This stuff's amazing!
And because flu season seems to be upon us, I had to share it.
Along with my arsenal of:
…this medicinal honey has kept me and my family from colds/flu, so I just know it will keep you healthy too!
DIY Medicinal Honey
Ingredients
Method
Mix all of the ingredients until well combined. Note: If your honey is hard, you may gently warm it until it is stirrable, and then stir in the ground herbs and essential oils.
Store on the counter in a 4 ounce glass jar. Will keep indefinitely.
To Use
Stir a teaspoon of the honey into warm lemon water or herbal tea. Or spread it over toast. Or just lick it right off the spoon.
If you're already feeling under the weather, take 1 teaspoon every 2-3 hours. When I feel something coming on, I like to take it 3-4 times a day. Otherwise, this honey is great to consume once daily as prevention.
Where Can I Get This Stuff
–Mountain Rose Herbs…they have everything you'll need by way of Bulk Herbs and Natural Products for Healthy, Natural Living! It's your one-stop-shop!
–For pure, safe essential oils you can trust choose ::
dōTERRA™ Certified Pure Therapeutic Grade™ essential oils (I LOVE these oils)
Beeyoutiful Essential Oils (a great cost-effective brand of pure oils — the Beginner Basics Essential Oil Pack is perfect for anyone just starting on the essential oils journey!)
Mountain Rose Herbs…they have a the best, most complete selection of pure, organic oils
–Starwest Botanicals and The Bulk Herb Store also carries many of these ingredients if you'd like to price check.
–Health doesn't come from plastic bottles. Vitality grows naturally from the way you live your life. If you want to learn more about herbs as medicine and as food, and if you're just too busy to enroll in an in-person program, join the Herbal Academy of New England for a comprehensive and convenient online herbal course you can complete anywhere and anytime!
DISCLOSURE: In order for me to support my knowledge-sharing/writing/blogging activities, I occasionally may receive monetary compensation for my endorsement, recommendation, testimonial and/or link to any products or services from this article. However, I only recommend products or services I have personally used myself and trust.