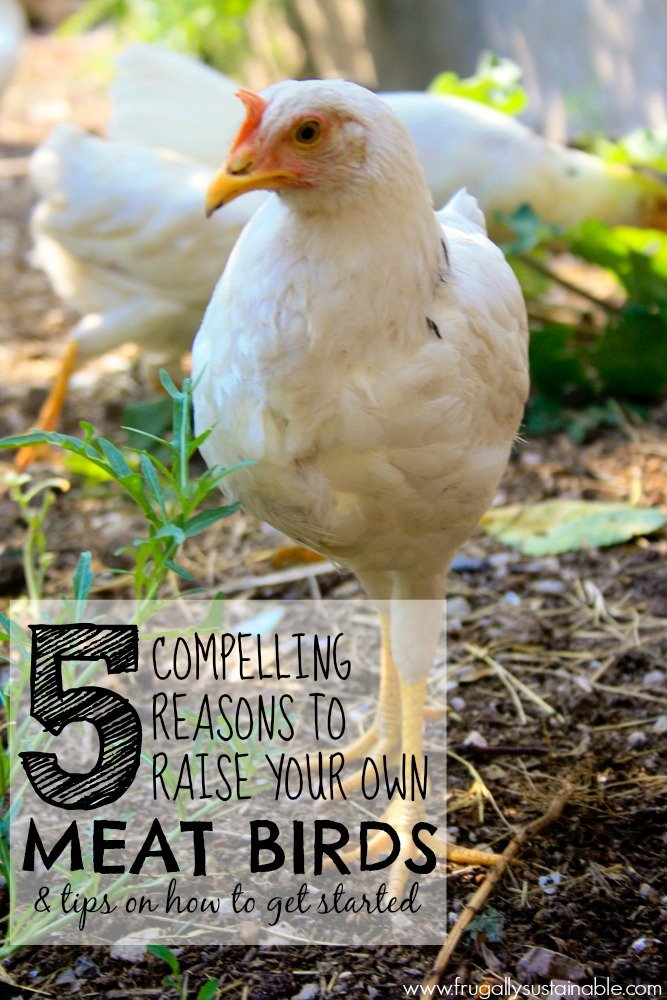 There are few things as empowering as collecting eggs from your very own backyard chickens.
In fact, chickens are often referred to as the "gateway" homesteading animal. In other words, once you raise chickens…the gates of self-sufficient living are opened wide to a plethora of options that lead us gently on a path toward independence.
Urban or rural, no matter what the state of the economy, money in the bank or not…if you own backyard hens, you'll always have one of nature's freshest foods on your table — the homegrown egg.
From Eggs to Meat
I've raised chickens for years — five years to be exact. The first 3 chicks I brought home were to my little, tee-tiny suburban backyard.
Back then, my expectation for raising those sweet girls was centered around egg production…I never expected to raise chicken for meat — NEVER.
Sure, thoughts of what to do with them when their egg-laying days were over did cross my mind. But as nature would see fit, I've not yet seen a hen to that end. During these chicken raisin' years we've had issues with heat (our 125F Arizona summer days are brutal and present serious livestock challenges), coyotes, snakes, and who-knows-what!
It wasn't until we made the move out of the city and into the country, that I seriously began to consider raising chickens for meat.
I read books like:
And it was Angela England in Backyard Farming on an Acre (More or Less) who said, in the chapter titled "Keeping Chickens on a Small Scale,"
Even in a small space you will be able to raise enough chickens for fresh eggs for your family. And if you choose, and have just a touch extra time and space to devote, you can raise extra chicken specifically for meat production.
…I started to believe that we could do this!
You should know that as a family, we only eat meat once or twice a week. We are committed to locally produced, pasture-raised meats…but let's just be real, it's freakin' expensive! We can't afford it…and what's more, we certainly can't afford the health risks to our bodies that eating store-bought chicken/beef will cause. So, we do the best we can with what we have.
And what do we have?
We have a beautiful piece of property.
A perfect place to raise more than enough food to feed our family.
Vegetables, fruits, and meat.
Working Out The Why
Maybe it's just me, but when it comes to making decisions that will require an investment of time and money I have to work out "the why" in my head. It helps me to stay grounded and committed through the process.
Back in the fall we had a trial run — something to test the waters — we purchased 20 Cornish cross birds from a hatchery in Texas and had the chicks shipped to our home. 15 made it to dispatchment (the fancy term for harvest). It was such a wonderful learning experience, so, we decided to take the challenge of raising enough meat to fill our freezer for a year.
And here they are…the 5 compelling reasons that helped us determine that raising chickens for meat was going to be part of our food production strategy here at the ranch.
1. I love chickens. I care about them…my family loves and cares for them. It is out of this love and care that we raise our own for meat. If we didn't, I'd simply continue to buy chicken produced in unspeakably nasty conditions, that are processed without respect for the life-purpose they possess. It's super important to me that the chicken we eat lives and dies humanely.
There's a reverence that can't be explained — a deep connectedness and consciousness to nature's life cycle that is developed within me as I actively participate in nurturing a life, to have that life in turn nurture a life…mine. It's beautiful.
2. Toxin-Free Food. Knowing that an animal has been raised humanely is primary BUT, knowing it was raised outside on pasture, without synthetic toxins, hormones, and antibiotics is certainly just as important. Raising our own chickens for meat means we have total control over what goes in their mouth (well, for the most part). I can serve this food with confidence.
3. Money saver. Honestly, I have no idea how conventional grocery stores sell chicken for so cheap — in fact, it should raise some pretty serious environmental and dietary concerns if you think about it. When I say it's a money saver, I'm comparing the prices of organic, pastured meat (from the store, from a local farmer, or from the farmer's market) to homegrown. Note: Details regarding the financials will be documented in future posts. Stay tuned!
4. Self-sufficiency. We made the decision to raise meat birds because we want to be responsible consumers and reclaim the homesteading skills of self-sufficiency to the best of our ability. That's why after our first batch, we decided to do it again, this time raising enough meat for a year.
5. Reshape the future of food production. When it comes to the way we eat as a family…I'm all about balance, harmony, and knowing where our food comes from.
The sad truth is, so many of us modern consumers of food are so far removed from the reality and nature of our food that any thought of the harvest or slaughter (of animals especially), even using the most humane methods, is seriously disturbing to us.
But what should really disturb us is land that is being raped to produce plants in insane quantities, and the chemicals that are sprayed on those plants that poison our water and soil, and the meat that is raised and killed in places fit for no life whatsoever.
Raising our own meat, vegetables, and fruits on our own land, is us actively casting our vote for the reshaping of our society's method of food production.
How to Get Started
In a few days we will receive our second batch of chicks. This time there will be 60 (enough for a year's worth of meat). I will be documenting our meat bird raising journey in detail (i.e. supplies needed, feed used, financial costs, time involved, etc.).
Here's what we have done so far — likewise, these are the things you should have answers for prior to even considering raising meat birds:
Commit to the process.
You must be willing to stay close to home, or have a plan for someone to be home, for at least 8 weeks. Raising meat birds will require about 20-30 minutes of your time in the morning and evening for feeding, watering, cleaning, and health assessment. Not to mention, you will need a solid day for dispatchment. Note: More on the process later.
Choose your breed.
For this second batch of chicks, we're going with the Cornish cross for the ease of production. In 8 weeks or so the whole process will be complete. The downside to the Cornish…they are a hybrid and there's no sustainability to the breed for the small-scale homesteader. Therefore, we've also ordered 50 Silver Gray Dorkings and have big plans for sustainable meat and egg production. Note: More on breeds later.
Learn more about meat, dual-purpose, and egg-layer breeds on sites like:
Choose your feed.
Buy it or make your own? With the price of GMO-free, organic grains (yes, even when buying in bulk) it's still cheaper for us to purchase pre-made feed. Through Azure Standard we purchase what I think is the BEST non-GMO, organic chick starter by Scratch and Peck at a fabulous price! Note: More on feed later.
Choose your housing.
I was able to score a large cattle tank via Craigslist for super cheap. Here the chicks with live — in the garage under a brooder light with a heat lamp — for 2-3 weeks until they live the rest of their days outdoors on grass. Even outdoors, they will need protection from the elements and predators. Note: More on housing later.
Freezer space.
When determining how many birds you will raise…you must consider storage. Be sure you have the freezer space for your bounty.
Our birds are scheduled for delivery the week of January 26th.
The entire process will be documented here with bi-weekly posts full of financial details, tips, and giveaways to help you determine if raising meat birds is for you — so be sure not to miss a single step in the process, click this link to subscribe and get Frugally Sustainable tips by email.
Go ahead…I know you have questions! Ask them in the comments! And if you've raised meat birds…please share your tips!
DISCLOSURE: In order for me to support my knowledge-sharing/writing/blogging activities, I occasionally may receive monetary compensation for my endorsement, recommendation, testimonial and/or link to any products or services from this article. However, I only recommend products or services I have personally used myself and trust.