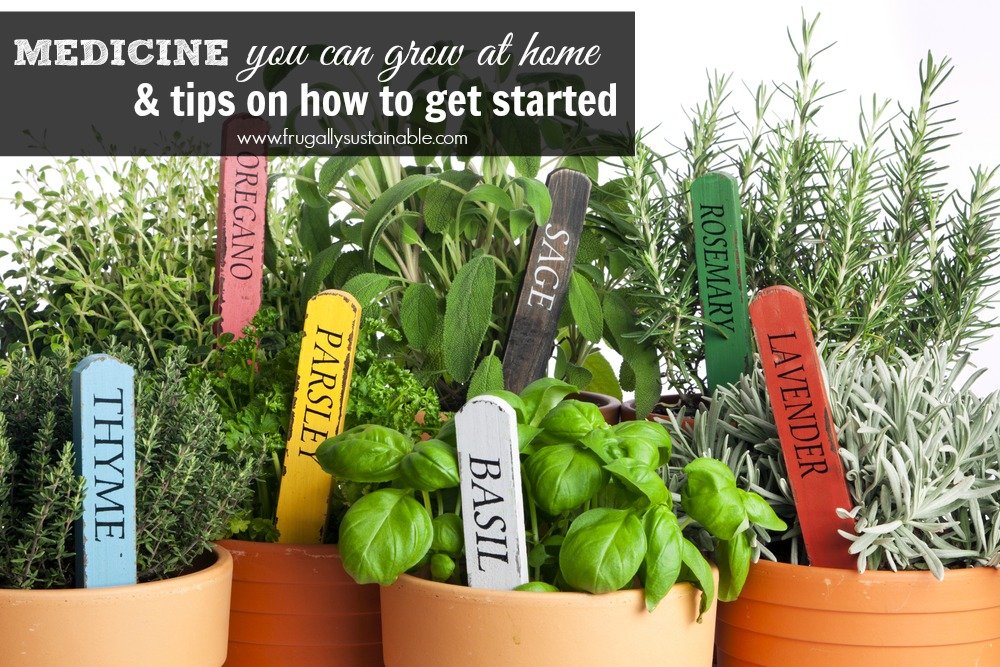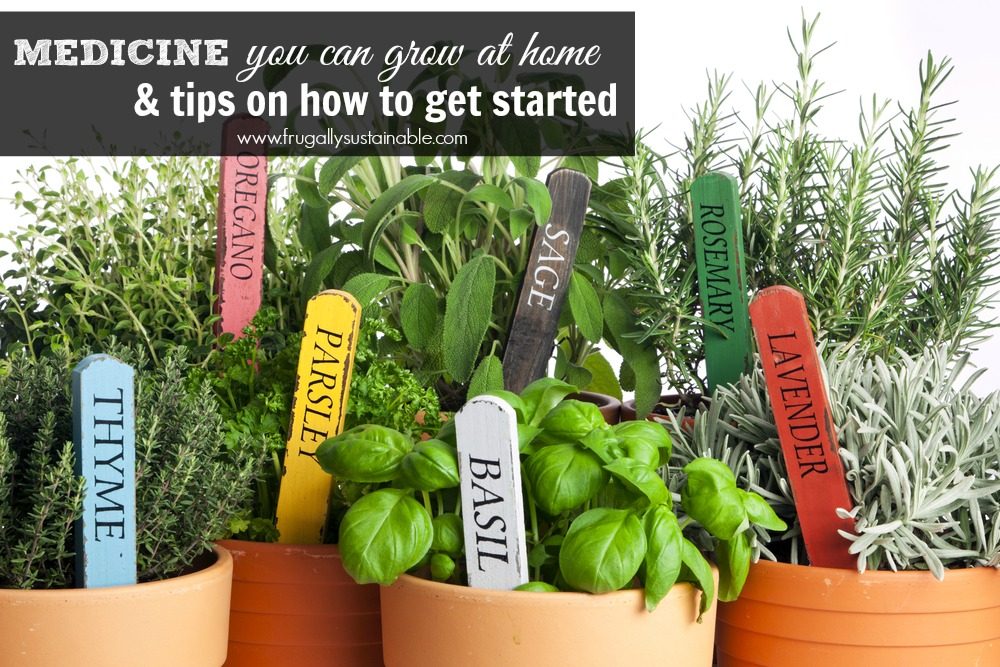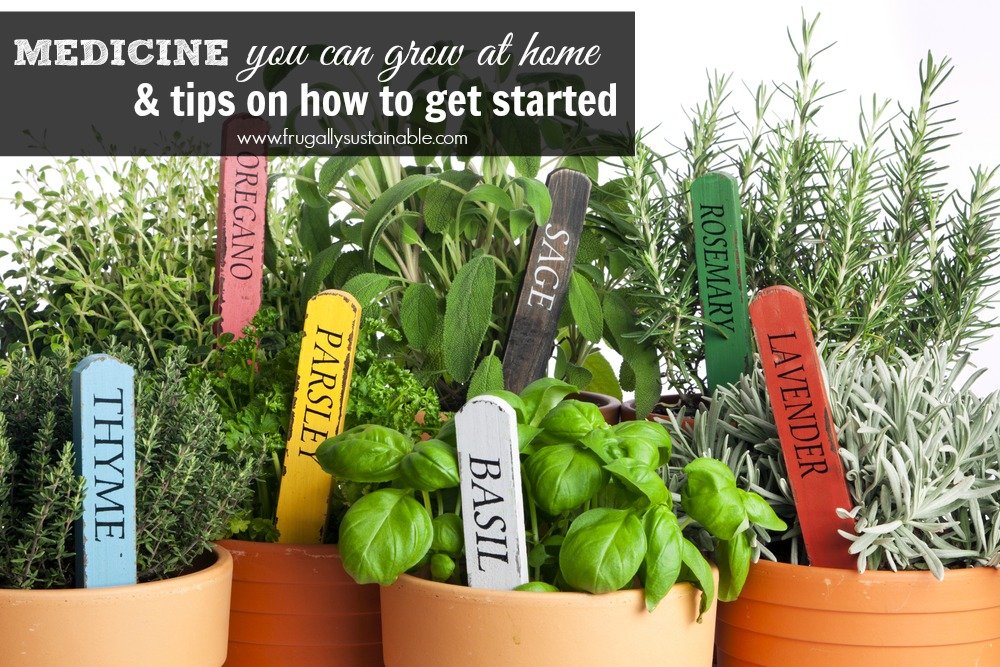 While I eagerly await the coming of spring…these days are not wasted!
I am busy planning for the gardening season that lies ahead and all the goodness that will be my future harvest.
This year, two garden bed measuring one hundred square feet of growing space — along with pots galore — will make up my medicinal herb garden.
Medicinal plants are probably the easiest garden plants to grow and require very little attention once established.
So what am I saying…anyone (yes, even you black thumbs out there) CAN DO THIS!
Growing From Seed
Growing medicinal plants from seed does require some amount of patience.
Thankfully, there's a local nursery close to my home that sells GMO-free, organic starts…but this year, I'm ahead of schedule and WAY more organized than in years past.
Additionally, this garden is here to stay and I want to make sure to do it right…intentionally creating something that will produce year after year.
So, growing from seed it is!
Here's a word from The Backyard Homestead: Produce all the food you need on just a quarter acre!
 concerning gardening with herbs:
You can find most of the basic herbs you want already started as transplants at your garden center. Starting your own is much like starting other seeds, with a few changes.

First, herb seeds are usually tiny. After leveling off your soil mix, sprinkle the herb seeds on the surface and just tamp them down. You don't have to bury the tiny ones. Be sure to keep them moist and in a warm spot.

The other big difference is that they seem to take forever to germinate. Two to three weeks is not uncommon.
What's Growing
Here's a list of the medicine I will be growing this year:
parsley
aloe
sage
thyme
cayenne peppers
comfrey
feverfew
catnip
calendula
oregano
garlic
lemon balm
Echinacea
yarrow
I purchase only the finest line of non-GMO, organic or wild-gathered, medicinal herb seeds from Horizon Herbs: Strictly Medicinal Seeds. Click here to see their selection at Mountain Rose Herbs.
Prior to getting started…here are a few things I've considered and I think you should too:
1. Read. The more you learn about gardening (and medicinal herb growing) the more successful you will be. These books are just fantastic, if you ask me:
2. Determine the date of your last frost and your hardiness zone. As I said before…medicinal herbs often take a considerable amount of time to germinate. A safe guess would be to start the seeds 6-8 weeks before the last frost.
However, I suggest reading the package labels of the seeds and/or look through those books I mentioned in #1 to determine when the appropriate time would be.
Find average frost dates for your last spring frost HERE for the U.S. and HERE for Canada
3. Organic Seed Starter. Source some nutrient-rich soil for starting your seeds. Look locally through Local Harvest or go with a seed starter like this (this is the one I use personally):
Once I get ready to transplant the seedlings to larger pots on the patio, I have EXCELLENT growth rates using a combination of FoxFarm Ocean Forest Organic Potting Soil and Dr Earth All Purpose Compost. Note: All this stuff ships for FREE if you're an Amazon Prime Member! I love it and it saves me a TON of money! Click here to try it FREE for a month!
4. Seedling Trays and Pots. I love using these Biodegradable Transplantable Seed Starting CowPots
 placed into these Perfect Garden Seed Starter Grow Trays.
5. Label. For goodness sakes…don't forget to label the pots! I can't tell you how many times I've not labeled things simply because I was sure I'd remember or at the very least recognize the plant once grown. Trust me…it's just easier to label!
6. Warmth and Light. It's always the best practice to read the seed
packet to see the what the optimum germination temperature is. But…if you can't find it, 60-80F is pretty standard. And of course, the seedlings need light. Frugal Tip: Don't spend money on grow lights unless you're into a big growing operation. A windowsill with good light streaming in is perfect. You can however, use a humidity dome on the seedling to keep them warmer and more moist (I need this in our dry desert climate).
Where Can I Get This Stuff
–Mountain Rose Herbs…they carry only the finest line of non-GMO, organic or wild-gathered, medicinal herb seeds from Horizon Herbs: Strictly Medicinal Seeds. Click here to see their selection! This is all I grow!
–Health doesn't come from plastic bottles. Vitality grows naturally from the way you live your life. If you want to learn more about herbs as medicine and as food, and if you're just too busy to enroll in an in-person program, join the Herbal Academy of New England for a comprehensive and convenient online herbal course you can complete anywhere and anytime!
-And be sure to sign up for an Amazon Prime membership. Click this link to try it FREE for a month. That means FREE two-day shipping on tons of AMAZING gardening products.
Be sure not to miss a post, click this link to receive my free eBook and Frugally Sustainable tips by email.
DISCLOSURE: In order for me to support my knowledge-sharing/writing/blogging activities, I occasionally may receive monetary compensation for my endorsement, recommendation, testimonial and/or link to any products or services from this article. However, I only recommend products or services I have personally used myself and trust.