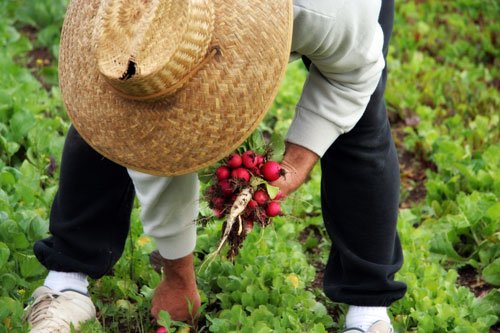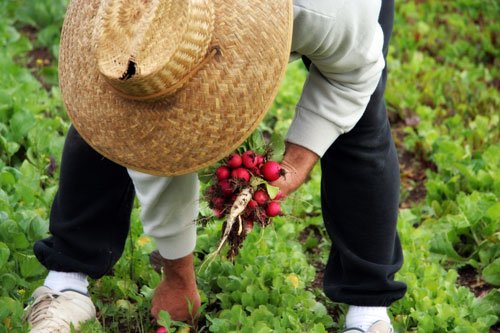 With all of the labels being tossed around these days — organic, sustainable, fair-trade, eco friendly, 100% natural, Non-GMO — it can be confusing and difficult to know which one's the "right" one. What does it all mean anyway? For my family and I, it's all about the simple and supporting the individual.
I'm sure many of you have seen, or at least heard of, the documentaries out there like Food Inc., Forks Over Knives, and King Corn. They serve the purpose of showing society some of the awful conditions in which our food is grown and harvested. And as a result, when we buy "organic" or "sustainable" we feel good about it because we think we're using our valuable food dollars wisely.
While that may be true, in some way, what does "organic" mean these days anyway? The reality is…the term organic has been over-used, wrongly used, and misunderstood. Many — not all, but many — of the once organic farms have been hijacked by the corporate farming industry. And while consumers think that because a product has been labeled "organic" the food inside the container must have been produced in a peaceful little farm, somewhere in rural America, without the use of chemicals, hormones, GMO seeds, or pesticides. But unfortunately, that's not the case.
What are we to do?
There should be no mistake, in as much as I understand it, organic food is still better for humans and the environment (to some degree) than conventional food. But have you noticed the price on organic foodstuffs in the grocery store?
Organics have additional disadvantages, like the travel that is required from field-to-plate. That's not good for the enviroment! Did you know that our food often travels 1,500-2,500 miles to get to us!?! Crazy right!
Given all of this information, what exactly should we be doing and/or looking for?
The best thing we can do is grow and raise our own food — enough to sustain or at least off-set some of the cost of feeding our families. But let's be realistic, all of us aren't in a place to do that right now (myself included), so the next best option is to…
Shop Farmer's Markets, or…
Join a Co-op, or…
Participate in a local Community-Supported Agriculture (CSA) program (here's another great resource for local foods).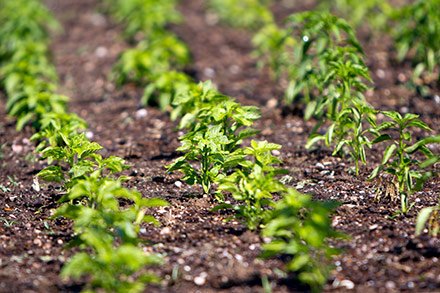 Join a CSA, buy local, and get to know your farmer.

Joining a CSA and buying the majority of your food from a local farmer means:
insuring local sustainability
a lowered carbon footprint on your food consumption
less packaging
money pumped back into the local economy
more nutritionally-dense food
fresher, better tasting meals 
Each CSA has different rules for joining, but basically they are like a subscription for fresh food. In general, members pay a pre-set amount of money up-front for a specific amount of food from the farm. For example, my CSA sells farm shares based on a credit system. Each week, I can go to any farm stand location and purchase any amount of produce, eggs, honey, etc. Once I've spent my credit I can then choose to purchase an additional share.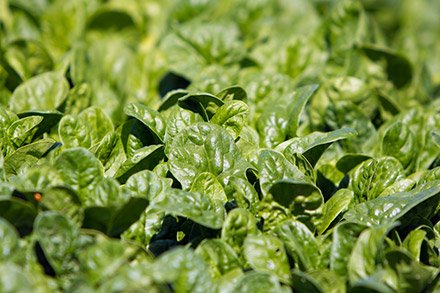 Benefits of joining a CSA include:
Knowing first-hand the growing practices of the farmer. My farmer is not organic certified, yet I have been out to the farm several times and I've seen his utilization of natural growing methods. I don't need an "organic label" to tell me that my food is being grown without the use of chemicals…I know it because I've seen it. 

Fresh weekly produce. Every week I know my family will have fresh produce, full of flavor and nutritionally-dense. Outside of growing my own food, this is the next best thing.

Financial support for the farmer. Buying food from a CSA insures the farmer's future and pours money back into the local economy.

Environmentally-friendly. Why buy food that was grown literally thousands of miles from your home, when the same stuff may be grown on the farm just across town? Many CSA farms raise and grow food with standards much higher than government labeled organics. They simply may not want to pay for the organic certifications and regulations. Producing food with these methods has proven to be the most sustainable for our planet.

Community building. Joining a CSA has been instrumental in making connections with like-minded others. I have the confidence in knowing that if anything were to happen, there are a variety of different people that would all pull together to help one another. 
Bottom line, we really should start taking more responsibility for our food, we simply can not trust the big corporations or government to do it for us. Make every effort to go out and visit the local CSA farms in your area to see where your food comes from.
The saddest part is it's not getting better, in fact, it's going to get worse. Therefore, we can only try to do our best, educate ourselves, and hopefully in the end we'll be better because of it.
Find a CSA near you by visiting localharvest.org.
Are you a member of a CSA? Share you experience with us and take the opportunity to give a shout out to your farmer:)
Be sure not to miss a post, click this link to receive my free eBook and Frugally Sustainable tips by email.
Shared on: Monday Mania, Homestead Barn Hop