So are you are dying to know what the heck tomato soup and wreath making have in common? Okay, I'll tell you…absolutely nothing! It's just what we did today (smile).
As part of our celebration for the arrival of autumn, we made a wreath with clippings from the grapevines in our backyard. I had so much fun teaching my daughters the principle of "waste nothing." The grapevines needed to be pruned; therefore, we made a wreath that will last us through the holidays. I learned this craft from my readings in Country Wisdom & Know-How. I truly value this book and consider it is a must have for those attempting to live a frugally sustainable life.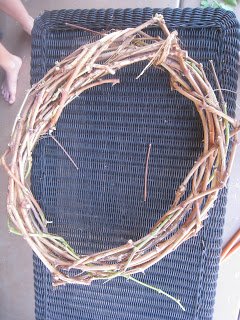 I think I will save the grapevine wreath tutorial for another post (but please check out my youtube video tutorial). Today, I want to talk about tomato soup. We make tomato soup about once every two weeks. My children love it. It makes a very quick, easy lunch option. And most importantly, it is another creative way to provide superb nutrition to my family.
It usually takes me one hour on one weekend evening to ensure that we have several instant lunches throughout the week (these are perfect for the lunchbox too). Once cooked and blended, the soup is poured into ½ pint jars and stored in the refrigerator. So much more frugal, and definitely more nutritious, than the cans you purchase in the grocery store.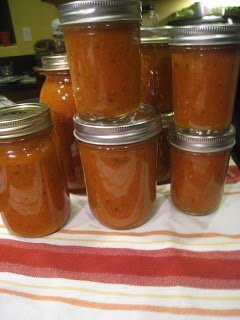 Tomato Soup Ingredients (recipe modified from Eat Clean Soup Cookbook)
-1 large onion, chopped
-4 ribs of celery, chopped
-3 carrots, chopped
-4 cloves of garlic, minced
-1 large sweet potato, peeled and chopped
-2 cups chopped fresh tomatoes (or one 28-oz can/jar tomatoes)
-4 cups chicken stock/broth
-2 tablespoons fresh basil
-2 tablespoons fresh oregano
-1 teaspoon curry powder
Salt and pepper to taste
Directions
1)Sauté all chopped veggies in a stockpot or Dutch oven over medium-high heat (Use olive or coconut oil for this. Otherwise, use a small amount of stock to sauté.)
2)Lower heat to medium and add tomatoes, stock, basil, oregano, salt, pepper, and curry powder. Bring to boil. Reduce heat to low and simmer for 30 minutes.
3)Puree soup to uniform consistency (I love my stick blender, but a regular blender will work fine. Just be sure to work in small batches)
4)Store in ½ pint glass jars (or any size suitable for your family needs) in refrigerator. Warm prior to serving and serve with a dollop whole-fat, plain yogurt.
That's it! And now you have something that is ready to grab for a quick snack or an easy lunch.
Please be sure to click on the links located in the post for tutorials on making your own stock and canning tomatoes.