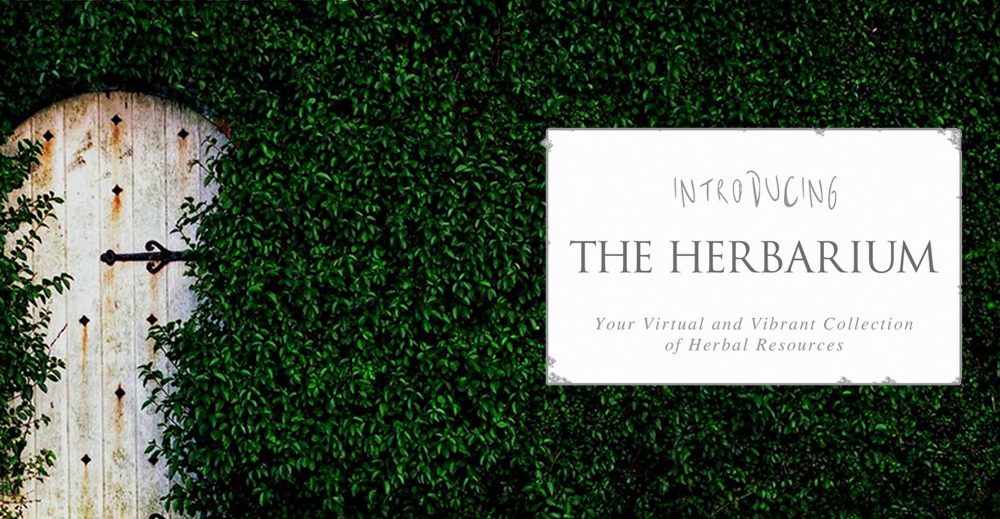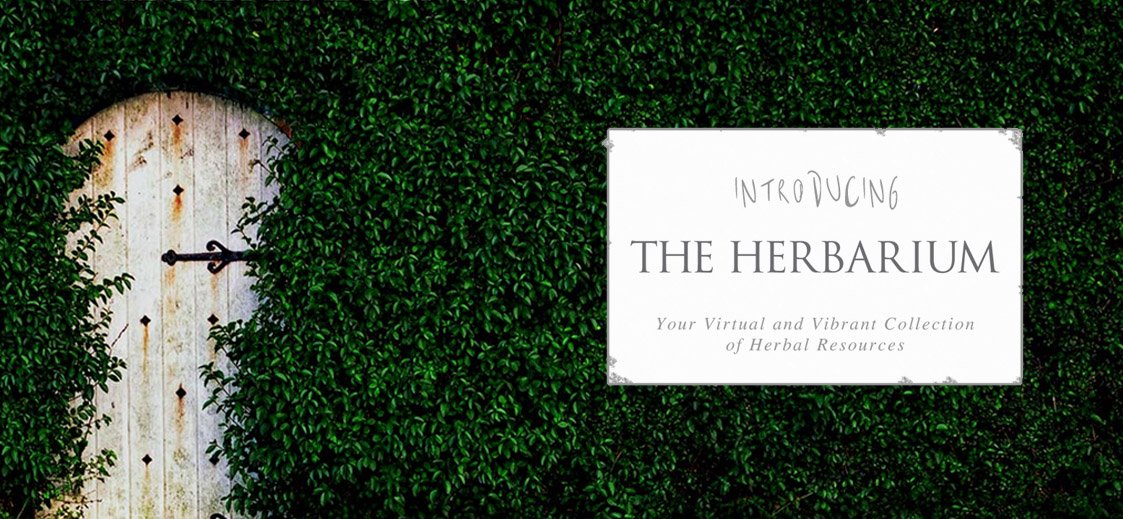 Your Virtual and Vibrant Collection of Herbal Resources. 
"We are herbalists, a spirited group of individuals from all walks of life, joined together by our gratitude for nature and our desire to live and heal with plants.

Along our herbal journey, we have grown closer to the earth and closer to the fellow beings whom it sustains. We have learned and continue to learn how even the smallest, seemingly insignificant plant has value. Real value — to its ecosystem and to us.

This connection that we share, this knowledge that we have gained, and all that we have yet to learn –

these are the roots of The Herbarium."
-The Herbal Academy of New England
The fine folks at The Herbal Academy of New England (HANE) have done it again!
And I am beyond thrilled to introduce you to the most AMAZING opportunity!!!
As lovers of plant medicine, we all know the study and practical use of herbs is a life-long journey.
The Herbarium is a dynamic membership site offering a rich collection of herbal resources to aid in that journey.
The Herbal Academy of New England (HANE) has drawn upon the concept of the traditional herbarium — a collection of dried plants preserved for reference purposes — expanded it, and taken it digital to create a vibrant and thoughtful collection of herbal resources for members.
As part of The Herbarium community, you will have all of these resources right at your fingertips, enriching your herbalism practice.
The Herbarium offers self-directed herbal education for students who wish to continue their studies beyond the HANE online courses…
…and for readers who wish to expand upon their knowledge or are just dipping their toes in.
Features of The Herbarium
MONOGRAPHS — An ever-growing database including detailed medicinal uses of each plant, beautiful images and botanical prints, quick facts, and scientific research and articles for further reading. By combining traditional herbal wisdom, hands-on experience, and modern scientific research, the monograph collection includes some of the most complete information to date.
LIBRARY — An ever-expanding collection of in-depth herbal resources including articles, presentations, videos, and podcasts from some of the most brilliant herbal minds from across the globe.
MEDIA — Here you will find convenient access to downloadable and printable charts and graphs as well as ebooks on various herbal topics. These are valuable tools for the herbalist!
HANDPICKED BY HANE — Looking for even more resources? Members will find a compilation of handpicked books and reviews on some of the best herbal works.
MEMBER PERKS — As a member, you will receive 10% off all online programs and local workshops. All ebooks sold online will be offered FREE to you in our membership program.
HIDDEN GEMS — Interaction is not required but we've got plenty of ways to get involved. Answer a poll and vote on which herb you'd like to see featured in the next monograph! Plus, keep your eye out for bonus videos found in monographs and articles. These treasured tips are worth every penny!
COMMUNITY — (My personal fave!) Connect with one another, discuss site content, and share recipes and remedies in The Herbarium forum.
THE HERBARIUM IS FOR EVERYONE!
So whether you:
Don't have the time OR money to study in an in-person herbal program
Reached an end to your formal herbal studies
Can't find an organized place to study herbs in-depth
Or just want to learn more!
Membership is for you!
From beginner to seasoned herbalist, the information inside The Herbarium walls will enrich and inspire your herbal studies. Whether you are new to herbalism or have been studying for many years, the tools you will find here will both help you begin your studies AND make them rich.
Each section of the website will be growing with you, so start from the beginning and learn with all of us — as we all share and build our collection of herbal resources.
Learning is not meant to be journeyed alone.
Let's walk this path together!
Members will receive one year complete access into The Herbarium and all of its offerings for just $45!
That's only $3.75/month.
And better yet…
…Frugally Sustainable readers will receive a full year membership for only $39 using the coupon code GIVETHANKS.
That's only $3.25/month!
Is it worth the investment?
For the searchable monograph database alone, it is! This will be your go-to resource as an herbalist.
FREE to members, HANE ebooks…these are sold individually to the public for up to $4.99 each.
Members may enjoy up to $55 in discounts towards online courses.
Plus, you will receive 10% off every local workshop.
Subscriptions renew annually, but you can cancel anytime.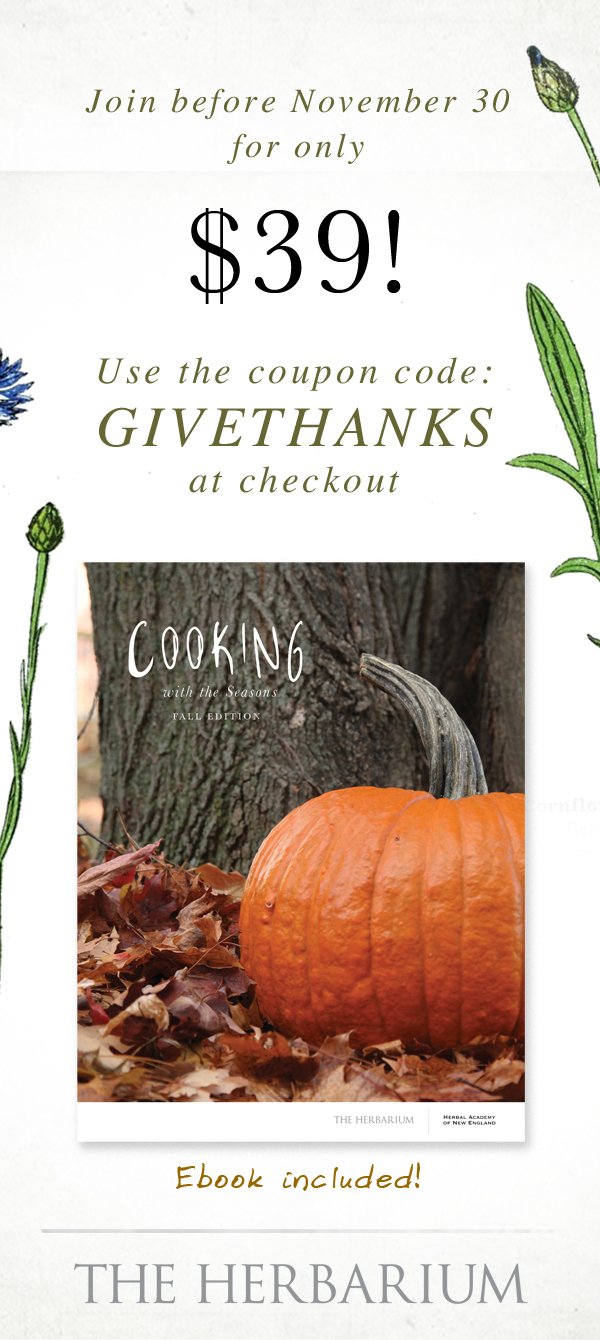 I will be joining this community and sincerely hope to connect with you there!!!
DISCLOSURE: In order for me to support my knowledge-sharing/writing/blogging activities, I occasionally may receive monetary compensation for my endorsement, recommendation, testimonial and/or link to any products or services from this article. However, I only recommend products or services I have personally used myself and trust.