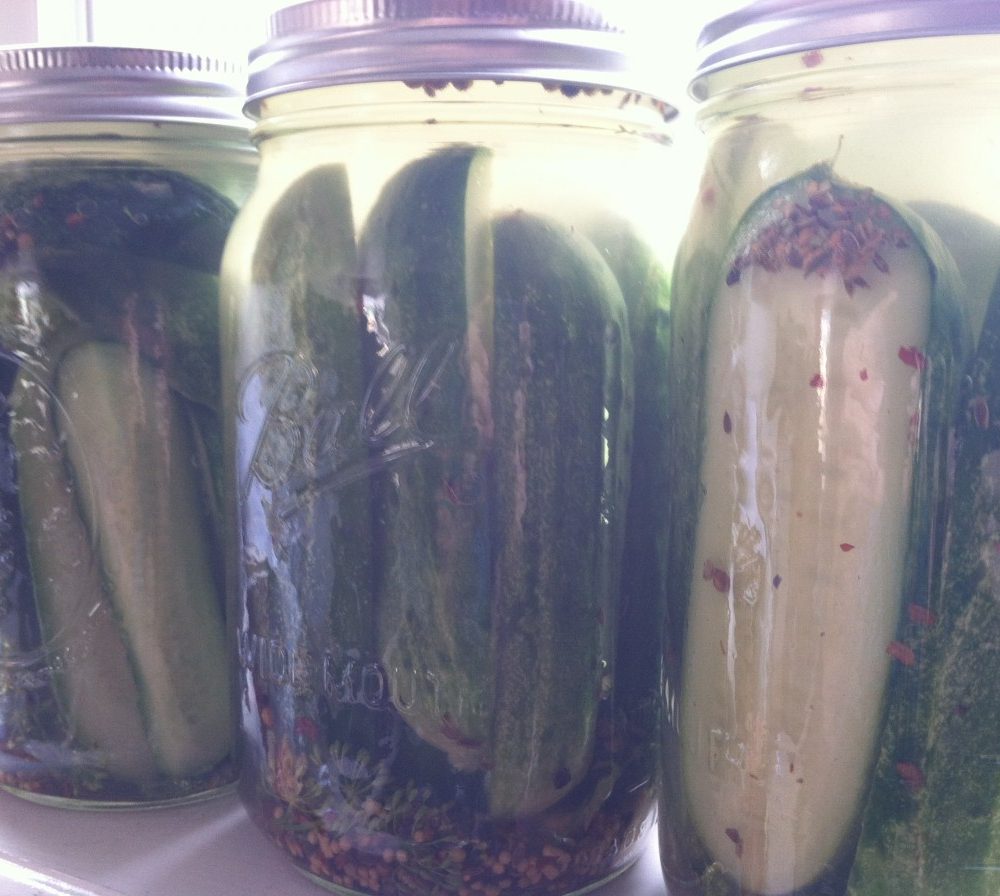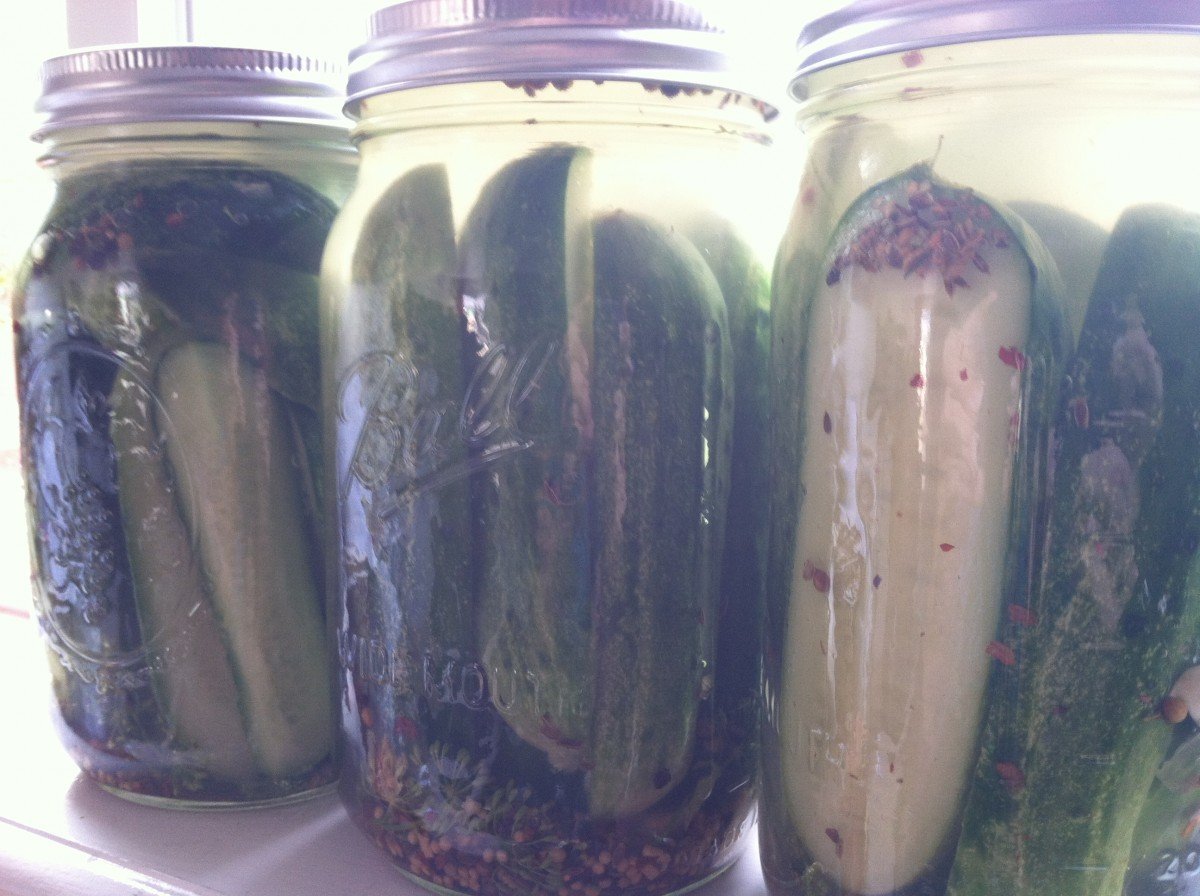 I consider myself an experienced water-bath canner, and I do a fair amount of fermenting also.
So when the cucumbers start rolling into our CSA box and the markets, you know what my first thoughts are…homemade pickles!
There was a time when I thought I could for sure live off of pickles and pickle juice alone 🙂 I love them! And among all of my different recipes for homemade pickles, this recipe has to be my ultimate favorite.
It's my favorite for several reasons:
No canning skills are needed — So if you're new to the idea of canning…this is a super easy place to start.
No nutrients are lost — This recipe is based slightly on the principles of fermentation, therefore nutritional benefits are added to the food rather than taken away as is true with water-bath canning methods. Note: Just to be clear, this recipe is not a real lacto-fermentation recipe. It does however produce a pickle that contains a bunch more nutrients than any commercially-prepared pickle. Interested in learning more about fermentation? Click here to check out this eCourse on the topic!
No extended wait time required — instead of waiting 4-6 weeks with canned pickles, these are ready in 2-3 days!
This recipe produces a salty, garlicy dill pickle. So if you're looking for an amazing sweet refrigerator pickle that doesn't require canning either, check out Renee's recipe over at FIMBY…I love those too.
Homemade Refrigerator Dill Pickles
*makes 4 quarts of pickles
The Ingredients
-20 pickling cucumbers
-a head of garlic
-2 tablespoons pickling spice mix
-2 teaspoons mustard seed
-a small bunch of fresh dill
-2 medium yellow onions, optional
The Brine
-2 quarts water
-1/2 cup raw, organic apple cider vinegar
-1/3 cup sea, kosher, or canning salt
The Method 
1. In a pitcher, mix all of the ingredients of the brine together and stir until salt is dissolved. Set aside.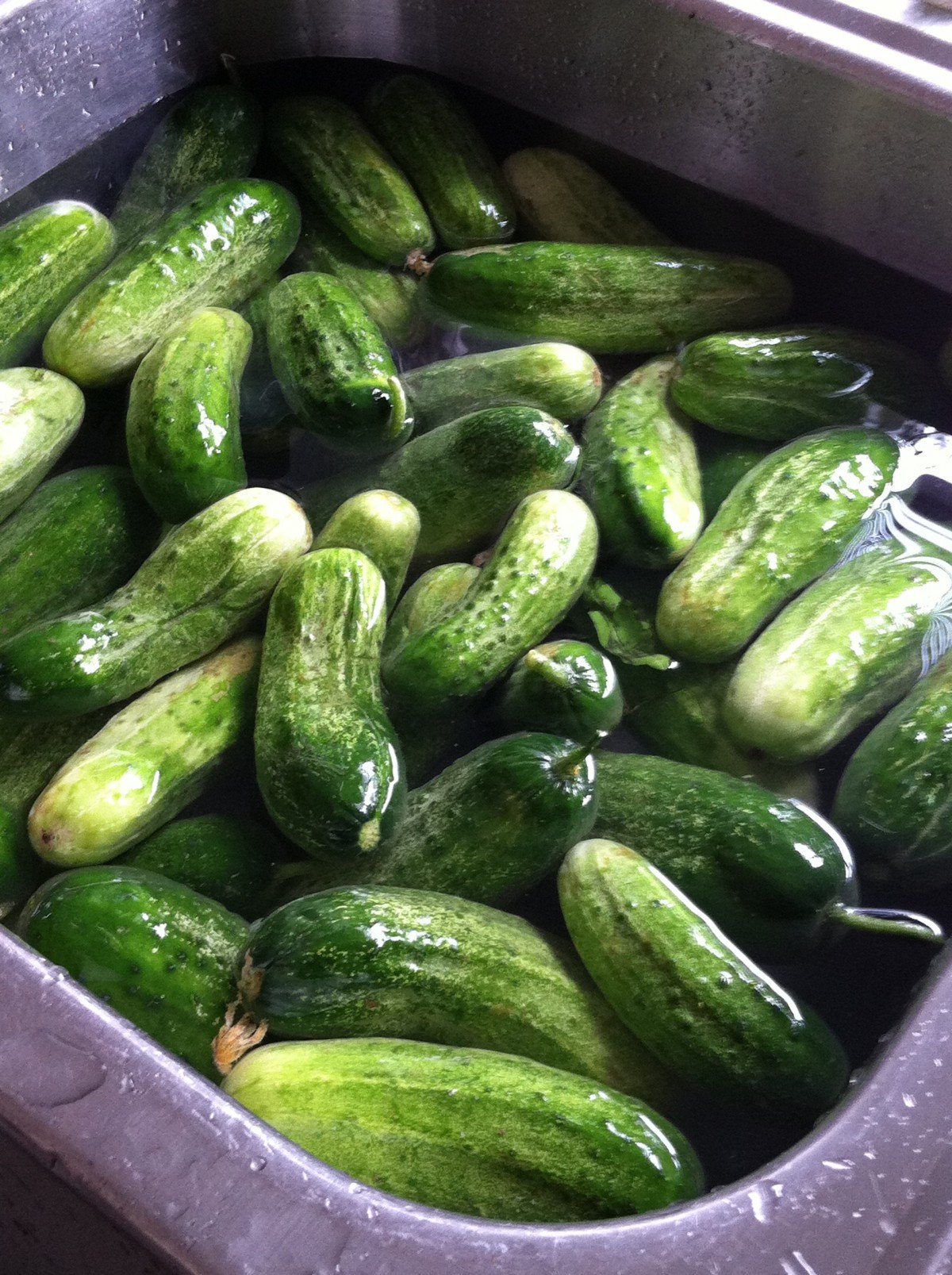 2. Wash your cucumbers.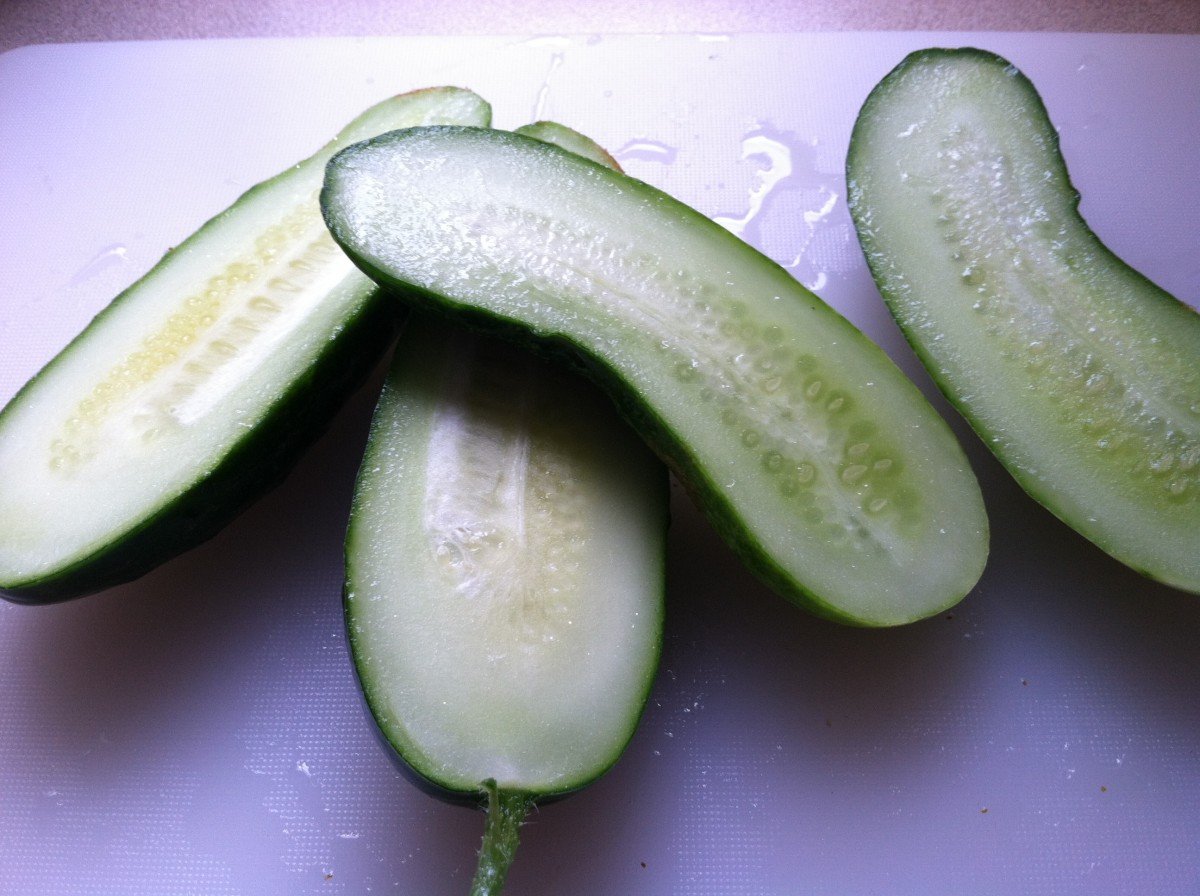 3. I like to slice the cukes in half lengthwise and some into quarters…it really just depends on what size I need them to be so they fit in the jar.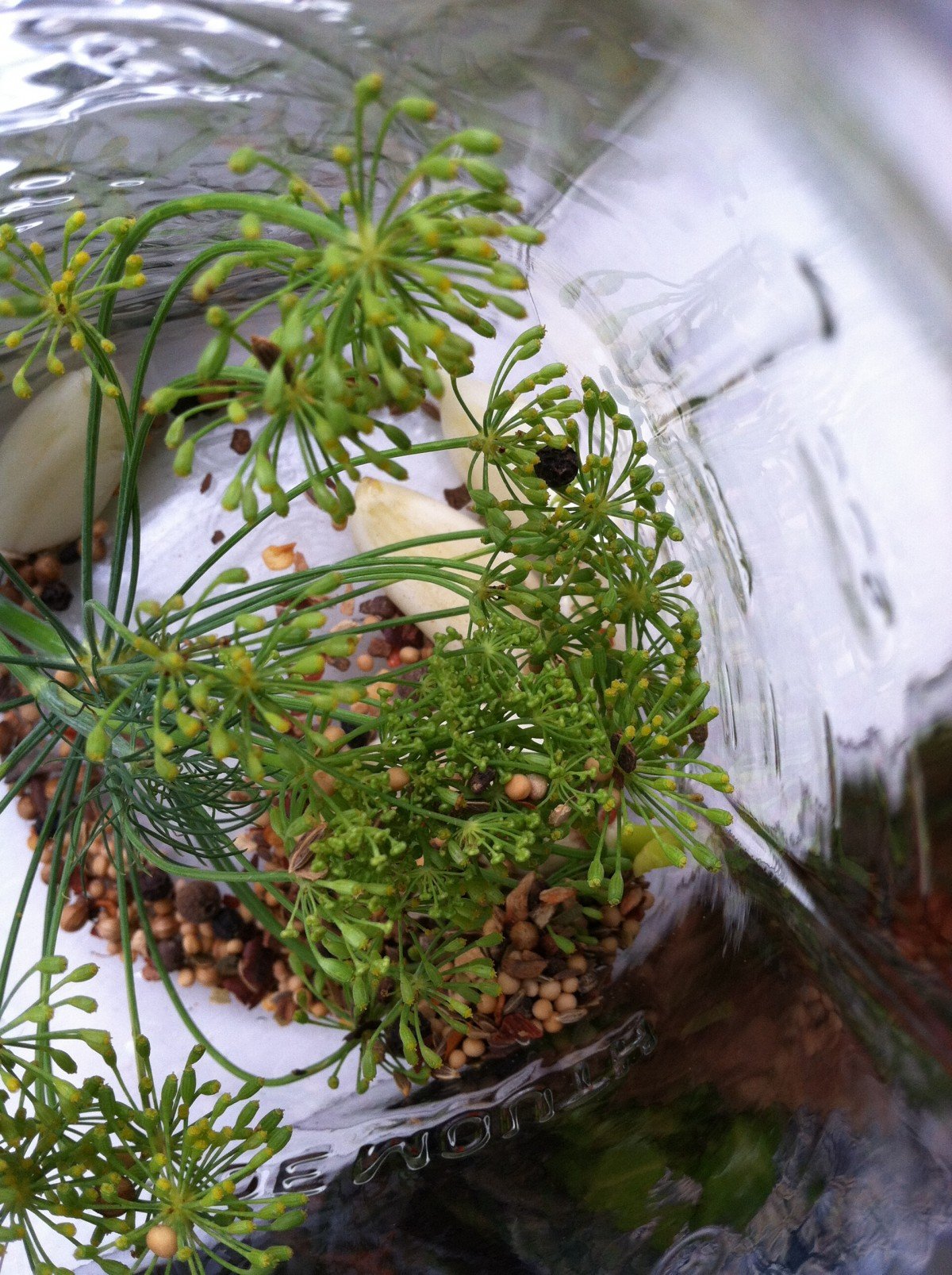 3. In each quart-sized glass canning jar, place 1-2 fresh dill heads, 4-6 cloves of garlic (depending on taste…we like a lot of garlic), 1/2 tablespoon of pickling spices, 1/2 teaspoon of mustard seeds, and sliced cucumbers.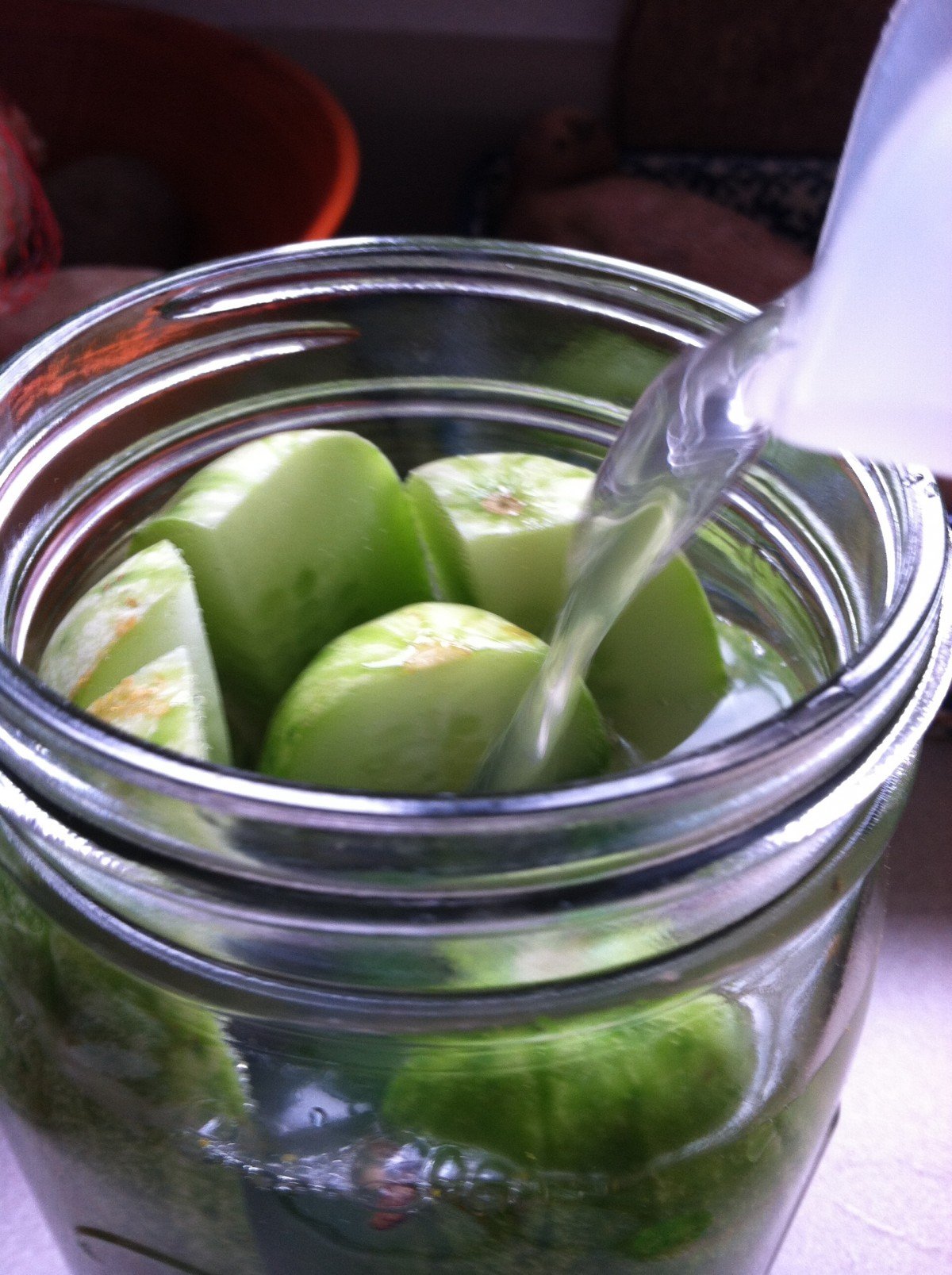 4. Pour the brine over the cucumbers and spices in each of the jars. Be sure that the cucumbers are covered with the liquid. Optional: Use 1/2 an onion to weight down and keep cucumbers submerged in the brine. I also love the flavor the onion adds to the pickles 🙂
5. Cover the jars with either a small piece of cheesecloth or lightly with the lids. Then allow the jars to stay in a cupboard or pantry for 2-3 days. Once the cukes taste like pickles, tighten the lids on the jars and transfer to cold storage (i.e. refrigerator or root cellar). Will keep for up to 6-12 months — if they last that long.
Download and Print: A Recipe for Homemade Refrigerator Dill Pickles pdf (8 KB)
Learning more: If you are interested in learning more about the true and traditional methods of preserving food through fermentation, I highly recommend the eCourses provided by Wardeh over at Gnowfglins. She also has a great book in print titled The Complete Idiot's Guide to Fermenting Foods.
Now it's your turn! What's your favorite pickle recipe?