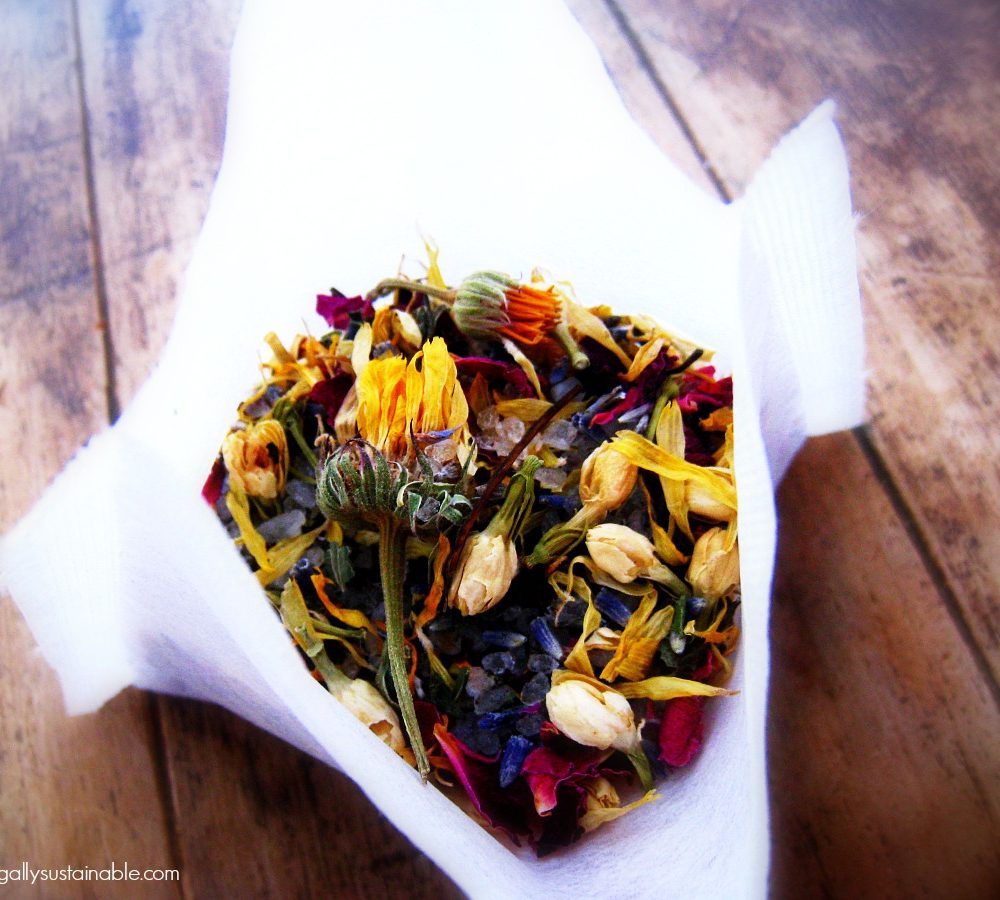 The time of the lunar cycle…
…when the Moon goes dark — not visible in the sky at all — this is the perfect opportunity to discard things in your life you do not want.
The day of the New Moon — the day before and the day after also — is a fortunate, blessed time. A time for ::
+renewal
+making positive changes
+turning inward
+clearing false perceptions
+tapping into our inner knowing
+embracing fresh opportunities
It is the time to set new intentions.
It is ALSO a wonderful time for cleansing.
Because at the time of the New Moon (as well as the Full Moon)…our body's capacity for detoxification and toxin removal is at its best. Just like the oceans' tides — that ebb and flow with the electromagnetic effects of the Moon — our bodies are comprised mostly of water and are also naturally affected by this lunar influence.
Read More :: Cycle of the Moon // Cleanse  
One of the vital elements to cleansing with the New Moon, is the detox bath. And today I want to share with you my herbal salt bath tea recipe. It's a wonderful way to increase the vibrational energy of your New Moon ritual on the night of the New Moon and/or the day(s) before and after.
New Moon Herbal Salt Detox Bath
Yield :: three (3) large tea bags
Ingredients
*Use organic ingredients whenever possible. I have linked to the products I personally use and recommend.
2 tablespoons dead sea salts
2 tablespoons himalayan pink salt
1 tablespoon calendula flowers
1 tablespoon lavender flowers
1 tablespoon lemon balm
1 tablespoon rose petals
1 tablespoon jasmine flowers
essential oils of lavender (3 drops), jasmine (2 drops), and rose absolute (4 drops), optional (for a more budget-friendly option, simply use lavender)
Method 
Add all ingredients to a quart-sized glass jar.
Place lid and shake gently until well combined.
Allow jar to sit overnight (this allows the herbs + oils + salts to steep and interfuse).
Measure 1/4 cup of mixture into one large tea bag (I personally love the large Press 'N Brew Tea Bags from Mountain Rose Herbs) and seal with the use of a household iron or as recommended.
Store tea bags in a glass jar or brown kraft bag.
To Use
Prepare a hot epsom salt bath (2-3 cups epsom salt + hot water + tub).
Add one bath tea bag to the tub.
Dry brush the skin while waiting 2-3 minutes for the bath infusion to prepare (this is the dry brush I use).
Bathe for 20-30 minutes.
Tips
-I like to include things that help me to envision + focus on + manifest my intentions for the new cycle. Things such as ::
-Along with the New Moon herbal tea…be sure to drink plenty of water before, throughout, and after the bath.
Where can I get this stuff?
-Mountain Rose Herbs…they have everything you'll need for this remedy! It's your one-stop-shop!