The time of the lunar cycle…
…when the Moon goes dark — not visible in the sky at all — this is the perfect opportunity to discard things in your life you do not want. This phase supports new beginnings, new relationships, and new ventures.
The day of the New Moon — the day before and the day after also — is a fortunate, blessed time. A time for ::
making positive changes
turning inward
clearing false perceptions
tapping into our inner knowing
embracing fresh opportunities
It is the time to set new intentions.
A wonderful time for cleansing + detoxification.
Read More :: The Power of Timing: Living in Harmony with Natural and Lunar Cycles
How to facilitate the feelings + emotions surrounding the New Moon.
I've forever been aware of my routine need (physically + mentally) to slow and center…it's only been recently that I have become aware of this cyclical connection to the Moon.
Every month, I embrace the New Moon with surrender…it's a time for quite reflection…a time to clear my mind and focus my intentions. Even if it's just for a day or a few hours in the evening. I like to cleanse my body (the New + Full Moons are wonderful times for fasting/juicing or diet changes in general), take a detox bath (See my New Moon detox bath recipe here), and drink lots of herbal tea.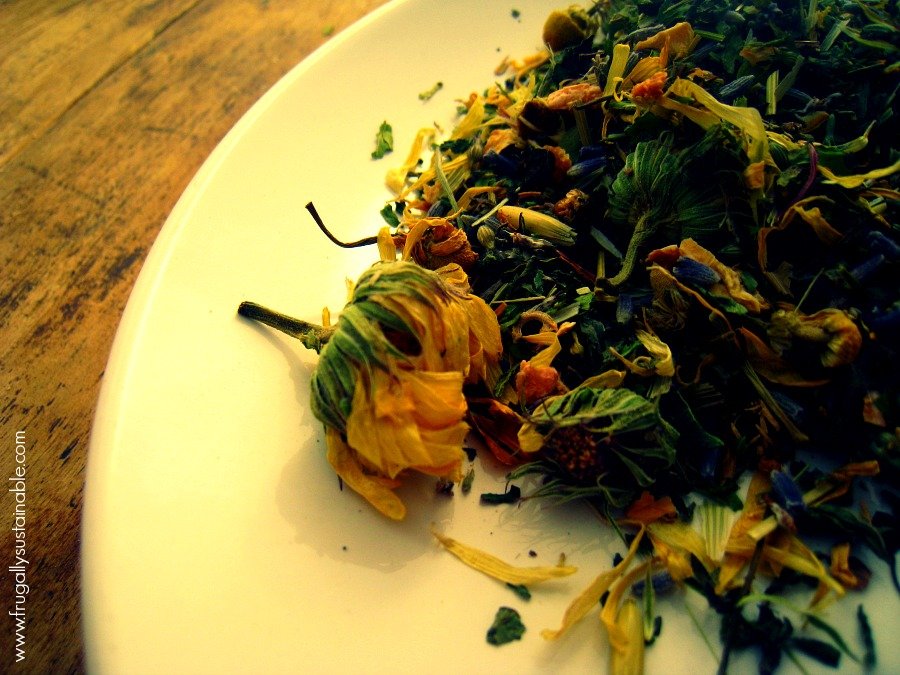 New Moon Herbal Tea Recipe
The entire experience of making and drinking herbal tea is super therapeutic. I read somewhere (and for the life of me can't remember where to quote it here) that making and drinking herbal tea — especially in conjunction with the lunar cycle — is one of the most magical botanical preparations for the body, mind, and soul as it combines the all of the elements.
WATER in the water for the infusion
EARTH in the plants used
FIRE in the heat required to boil the water
AIR in the steam that rises from the cup
Not to mention, each of the herbs used in this New Moon Herbal Tea Blend have been selected for their ability to nourish (with vitamins + minerals), quite (release stress + anxiety), and center (a peaceful return to mindfulness).
Ingredients
*Purchase organically-grown or wildharvested herbs whenever possible.
*Parts are measured by volume not weight.
1 part Calendula Flowers
1 part Red Clover Herb
1 part Skullcap
1 part Chamomile Flowers
1 part Lavender Flowers
1 part Lemon Balm
1 part Catnip
1 part Oatstraw
1 part Lemon Peel
Method
Measure the parts of each of the herbs listed and mix in a large bowl until well combined.
Grab your single serving tea carafe (this is my absolute favorite way to make a quick cup of loose leaf tea), tea infusers, and/or tea pots…and brew a cup! OR make a larger batch by adding 4 tablespoons of the herbal blend to a quart-size glass jar, fill the jar with just boiled water, steep for a few minutes, strain and enjoy. (Note: I get all of my loose leaf tea-making supplies online from Mountain Rose Herbs.)
This herbal tea blend will keep stored in a cool, dark place for approximately 6 months. (Note: I like to store all of my teas in glass jars with tight-fitting lids.)
Usage
-Drink freely as often as needed for desired effect.
Where can I get this stuff?
-Mountain Rose Herbs…they have everything you'll need for this remedy! It's your one-stop-shop!