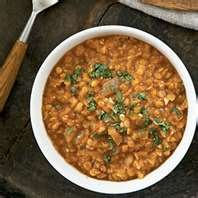 A large part of this whole frugally sustainable thing involves nutrition. In order to sustain ourselves we need to be healthy and physically able to do the work required of us. Yet there is that limiting element of frugality. Food costs constitute a significant percentage of our monthly budget because we are not, at this time, able to produce for all of our nutritional needs.
As many of you know, we have set certain nutritional standards as a family, and we try really hard to hold to them. But let's be honest, I just do not have time for elaborate dinners every night of the week. And let's be even more honest, I just can't afford meat on the table every night (it's the whole single income family thing). Like I've mentioned before, we are committed to eating only pasture, grass-fed meat and that can be very expensive. So my fall back…organic rice and beans. Buying high quality, high protein organic grains and beans in bulk has proven to save me loads of time and money.
Right now in my pantry a few of the bulk items I have include (all organic and grown as local as possible):
•White and brown rice
•Quinoa
•Millet
•Amaranth
•Lentils
•Navy beans
•Chickpeas
•10 Bean Mix
•Popcorn
With these ingredients I can throw together a variety of dishes based on the vegetables in our garden, what's in season at the farmer's market, or what we have put up from seasons past. Of course we get into ruts, eating the same things all the time. But, I'm okay with that. Because I know that I am doing the best I can to provide the necessary foods for the ultimate health of my husband and children; all within the bounds of a slim budget.
Frugal. Simple. Sustainable. That's my meal plan in a nut shell.
With that, I want to share with you one of my favorite one-pot wonder meals.
Lentil and Rice Stew
-olive or coconut oil
-1 large onion, chopped
-1/2 cup rice
-2 cups lentils
-6 cups homemade bone broth or water
-1-2 cups canned tomatoes
-6 cups chopped chard (or any dark green leafy green i.e. kale, spinach)
-salt and pepper to taste
-Apple Cider Vinegar
-yogurt or sour cream (optional)
Saute onion in saucepan until translucent. Add rice, lentils, salt, and broth (or water). Bring to a boil, reduce heat, cover pan, and simmer for about 45 minutes or until rice and lentils are done. If they are not simmer about 20 minutes longer. Add more broth or water if the mixture becomes too thick. When everything is tender add tomatoes and cook 10 minutes longer. Then add chopped greens the last 5 minutes of cooking. Season with salt, pepper, and vinegar, top with yogurt or sour cream.
Notes:
-Remember, the key to sustainable cooking is using what you have on hand. For example, my Swiss chard is amazing right now, so I use Swiss chard in the recipe. But later in the season when the spinach and kale are coming in abundantly, I'll be using them instead.
-You can very easily toss all the ingredients, except the greens, into a crock pot (or sun oven) and cook on low for 4 hours. Add the chard, kale, or whatever you are using the last few minutes before serving. This makes for a super easy meal ready when you are.
-See this post concerning soaking grains and beans prior to cooking.
-Frugally sustainable meal prep does involve a bit of transition. It's really all about forming new routines. But I promise…you can do it!
How are you using sustainable practices in your cooking?