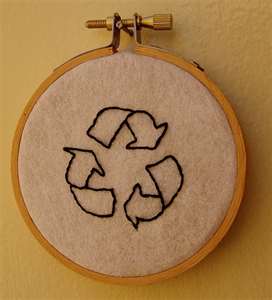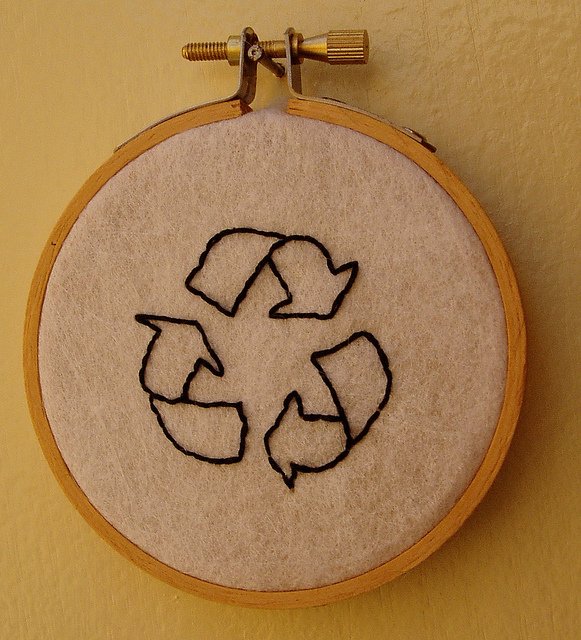 "There must be more to life than having everything."
-Maurice Sendak
Burnt out and beaten from our addiction to consumerism, and the mounting stress coming from the burden of our debt, a few years ago my husband and I finally made a decision to break free. We were just plain tired of the continual pressure to earn a certain level of income to pay for stuff that didn't bring us lasting joy or contentment. So that's when we decided to begin consuming less, downsizing, and decluttering.
That mentality brought a need to weave the principles of reduce, reuse, and recycle into our daily lives. You see, by it's very nature, frugal living creates less waste — however, we're always looking for ways to generate less than we already do.
The Price of Hyper-consumerism
Earlier this week I was very happy to hear that I was the recipient of a drawing held by my favorite raw materials supplier for my soap-making addiction hobby. What I'm sure was to be a quick call in order to notify me of the contest win, thankfully it turned into a 30 minute+ conversation.
We talked about the rate of increase occurring globally on the cost of raw materials. We discussed the effects of the recession on small/micro family owned businesses. But what captivated my attention, was our discussion regarding the rising cost of eco-friendly, recycled paper goods!?!
The United States is one of the most wasteful nations — we know this. In fact, did you know, we produce one of the highest amounts of quality waste paper — did you catch that — our "waste" contains some of the most sought after paper products in all the world.
In other words, countries like China are standing in line to buy our trash!!!
Nearly all of our waste is being shipped overseas. This is sadly forcing small American businesses to pay premiums for what is now considered a scare resource…recycled goods. So instead, we continue to consume newly manufactured products, while the world feasts on our waste.
Learning to Slash Our Trash
Learning to generate less waste is not only good for our environment…it's good for our wallet! To be honest, I've never really focused on recycling for recycling's sake (gasp). It's sort of been a by-product of our frugal lifestyle.
For example, using reusable cloth wipes had nothing to "saving the planet" I just didn't want to pay for baby wipes. In my mind, I thought I might as well clean by sweet baby's bottom with a dollar bill and throw that in the trash — not really, but you get the idea 🙂
However, recently I have felt the need to go deeper — to be more intentional with reusing, recycling, and re-purposing things. And here are a few tips, should you choose to join me:
Buy used. Something many of us try to do, but I'm seriously going to stick to this solely for a month. Nothing new, only secondhand. Secondhand items usually come without packaging…bonus!
Cut out the overly package convenience foods. Tons of wasteful plastic and paper going on when we purchase boxed foodstuff. Not to mention the health benefits we receive from not eating all of that.
Do away with disposables. i.e. diapers, wipes, paper plates, plastic utensils, paper coffee cups, canned shaving creams, etc. We love to camp! And one thing I did a couple years ago was to buy plates and silverware from the thrift store to keep in our camping gear — saved money and saved on waste!
Look for goods in recycled containers. This is increasingly becoming a viable option. And if you must buy pre-packed, try to find items that are packed with recycled papers or plastics.
Buy in Bulk. Buying in bulk has proven to save my family and I a ton of money! Likewise, it has really cut back on the amount of waste we see coming from our home. Instead of buying 25 boxes of 1 pound of quinoa — complete with box and plastic — I buy one 25 pound sack of the stuff and store it in a reusable food grade bucket (for half the price).
Take your own bags to the store. Again, another trendy practice. I remember when I first started doing that and people just looked at me weird. Now, it's hip 🙂 Putting and keeping reusable grocery bags in my car really helps me to remember to use them.
Use the recycle bins. Use them if your town has them, start a recycling program if they don't.
Reuse and re-purpose everything. With the invention of Pinterest there's no excuse for not having an idea for how to re-purpose something. Perhaps there's a lack of time, but there shouldn't be lack of inspiration. People often ask me how I have time to re-purpose things — I say it's because I don't have that much stuff to begin with 🙂
Compost. From balcony style bins for apartment dwellers to large compost piles made of pallets to under the sink worms. Everyone, everywhere can compost a litle bit. We have rabbits and chicken, those guys and girls are my living compost machines!
Buy things to last. Sometimes the frugal zealot is always after the cheap products. This practice, although not all bad, can at times end up costing you more in the long run. It's always the smarter idea to purchase 1 $60 winter coat that will last you 15 years rather than purchasing 3-4 $30 coats within that same time frame.
Cancel subscriptions and stop the junk mail. Click here to read more tips for stopping the junk mail.
Don't just throw it away. When decluttering the closets and garage, don't just throw the stuff away…give it away. Think about the charity in your town, or what about the battered woman shelter, or maybe your church has a benevolent closet?
Try to repair it. I know that we are losing many skills for repairing things, but it's time to revive them. Within reason, learn to hem those socks, jeans and shirts or fix the appliance before you throw it out. You may delay spending if you can learn to repair it.
Garden and preserve. Spring is coming! It's time to begin planning for this year's garden! New to gardening? Plan on growing what your family will eat the most of. Make it a goal to at least learn how to can highly acidic foods like tomatoes (they're really easy to put up). Purchase and preserve seasonal foods from the farmer's at the time of high harvest — when the prices are cheaper.
Wants vs. Needs. Take time to consider…"Do I really need to buy that _______?" Most of the things we "think" we need are in fact creations of the consumer culture. Here's the good news…we need so much less than we think  we do in order to be happy!
Now it's your turn! Share with us what you already do, and what you can do better, to intentionally reduce your consumption and reuse or recycle your waste?
Many thanks to the #CTWW Gang for the inspiration behind this post.