Our CSA (Community Supported Agriculture) farmer — I love you Tonopah Rob — is experiencing what seems to be a bumper crop of cabbage this season and we have been inundated with the sweetest, most delicious tasting cabbage ever! In our efforts to eat seasonally and store as much as possible, I have been learning new and old ways on how to preserve the cabbage harvest.
Each Monday, after our farm share pick up over the weekend, I work to prepare the vegetables for the week's meals. Today I have been elbow deep in shredded cabbage.
We're making kraut!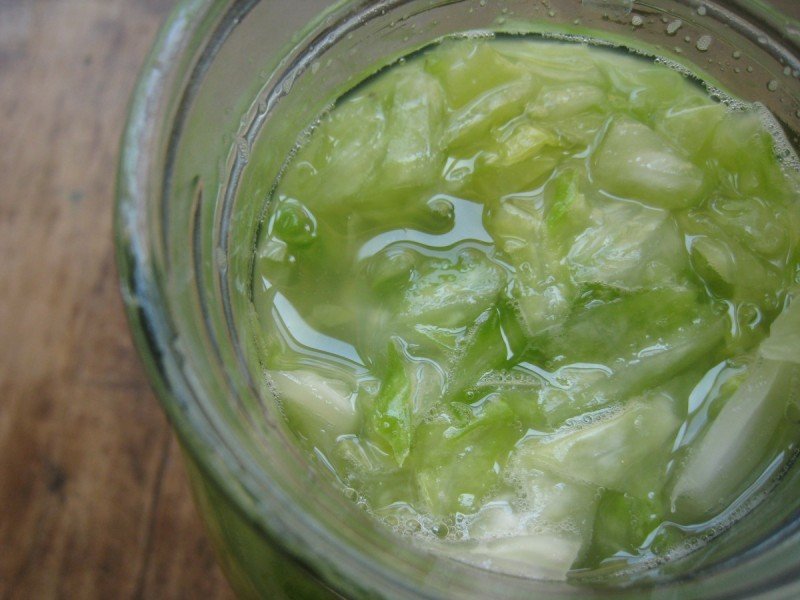 I first learned how to make homemade sauerkraut from taking a Gnowfglins eCourse (which I highly recommend if you are at all interested in learning traditional cooking methods) and reading Nourishing Traditions.
To be honest, in the beginning I was intimidated by the whole thing.
It only requires cabbage, salt, and time…I don't know what my deal was. Nonetheless, I stepped into the unknown for the sake of self-sufficient living, and the results were amazing!
Here's a quick run down of the method I use for preserving cabbage. It's super quick — like in and out of the kitchen in 30-45 minutes with 5 heads of cabbage fermenting quick — and it produces a very yummy and nutritious food that we enjoy for months after the harvest!
Sauerkraut Recipe
Ingredients
-1 large head of green or red cabbage
-1 tablespoon of good quality sea salt
Method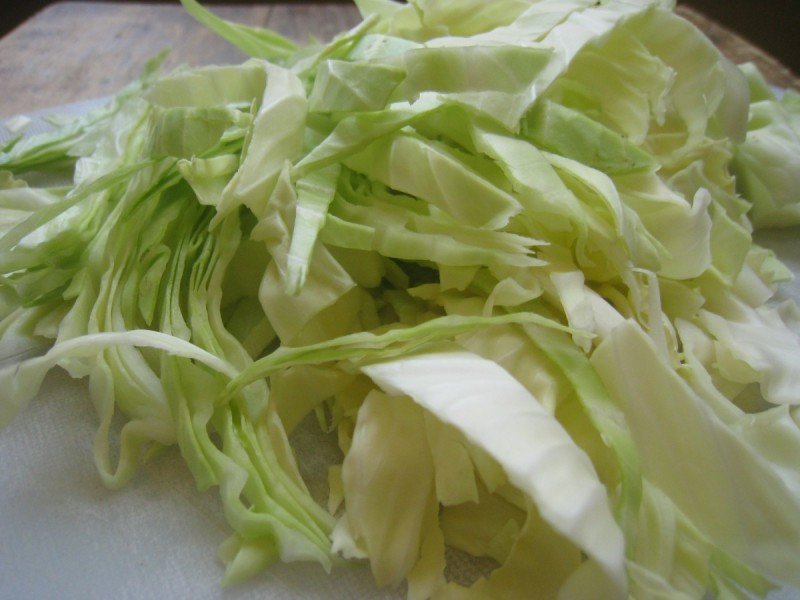 1. Clean the cabbage head and then cut it into chunks. Remove the inner core and compost it — or you can save it for making stock. Thinly slice the cabbage by hand or run it through a food processor.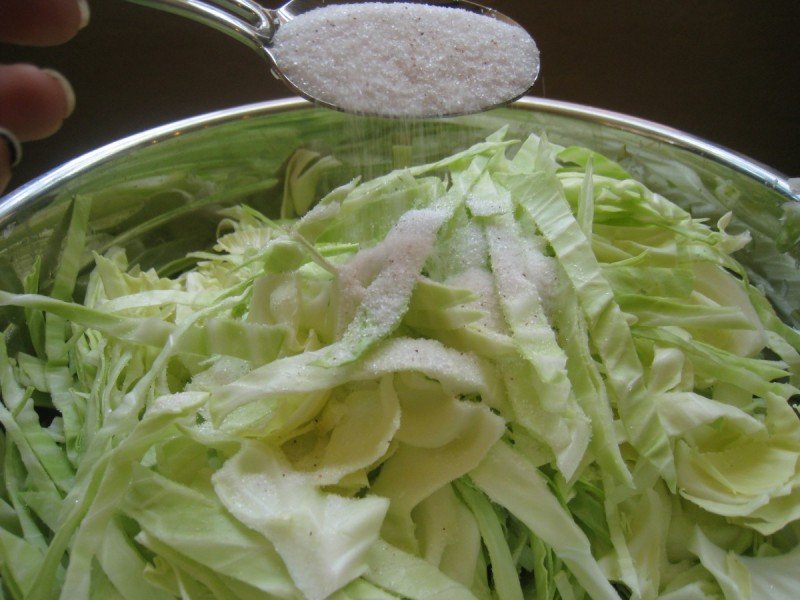 2. In a large bowl place the shredded cabbage and sea salt. Using a wooden kraut pounder or another blunt object, pound the cabbage for approximately 8 minutes until all of the natural juices are released. Tip: I set the kitchen timer for this one.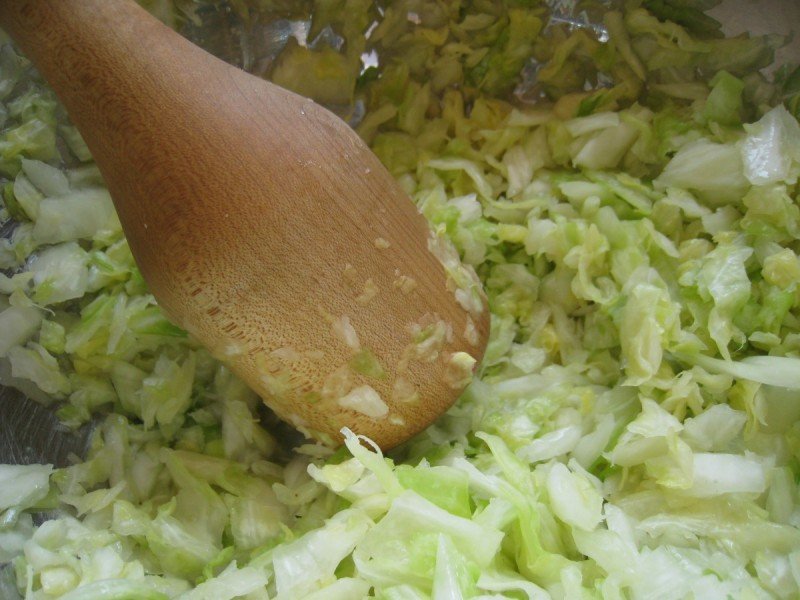 3. Place the cabbage and all of it's juice into a quart-sized glass jar. Press down on the cabbage so that the juices will rise above it. Place the lid on the jar.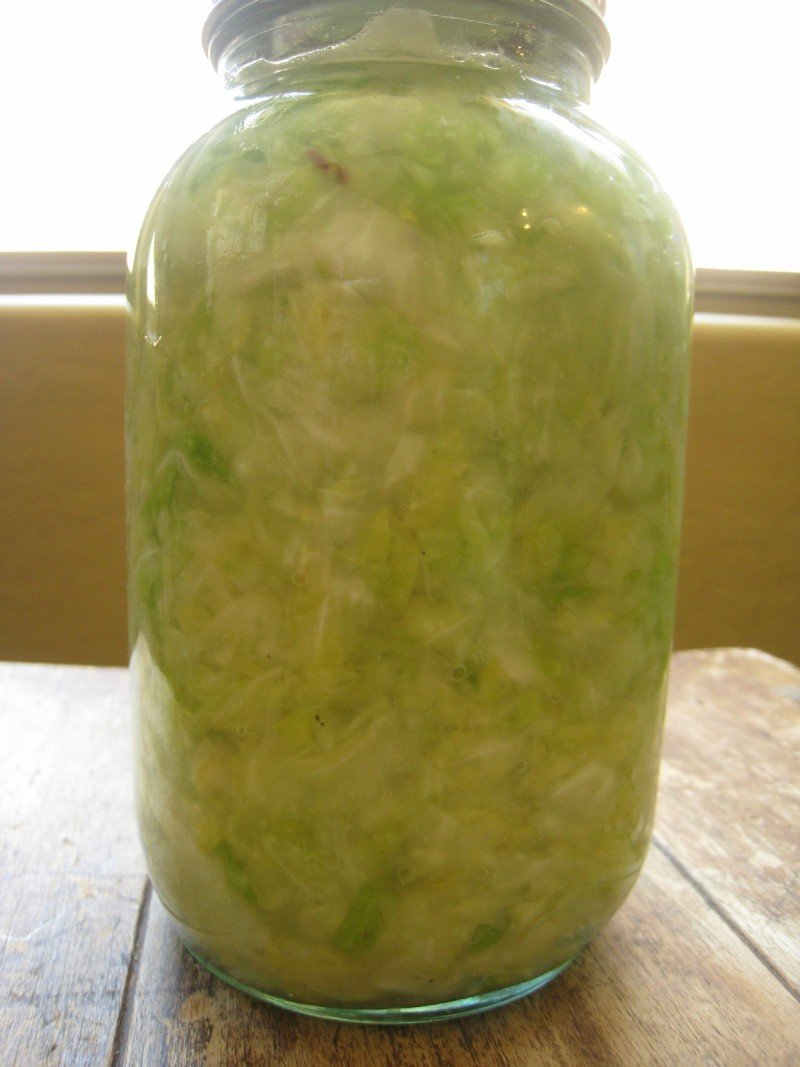 4. Put your jars of fermenting cabbage in the cupboard or on the pantry shelf (just be sure it's somewhere away from heat or light. Let it stay there for 3-5 days before moving to cold storage (i.e. the refrigerator). Tip: Starting on day 3, I like to taste the kraut. Once it has that fermented tang, and tastes like sauerkraut, I know it's done.
Interested to learn more about fermenting foods? Find you answers here…
Other Ways to Preserve Cabbage
Other than fermenting and making saurkraut, you can also freeze or dehydrate your cabbage.
Freezing
To freeze cabbage you process it in the same way you do if you were to make sauerkraut…clean, cut, shred. Once shredded, blanch the cabbage for 3 minutes in boiling water. Strain and cool, then store in a freezer safe container.
You can use frozen cabbage in soup and casserole recipes — I don't recommend it for slaw.
Dehydrating
Dehydrated cabbage is easy to store and use. Like many other veggies, cabbage can be dried outside on drying racks or screens, in a oven set to a very low temperature, by use of a solar sun oven, or in a dehydrator. Dehydrated cabbage can be used medicinally or for culinary purposes. There are several nice dehydrators available on the market; however, why not use the sun…it's free!
When dehydrating cabbage prepare it the same as for fermenting and freezing. You can either shred or grate the cabbage, then you'll want to steam it for a couple of minutes just before spreading it out to dry. Dehydrate on low — 100-110°F — until crisp. Store in a cool, dark place in airtight containers. Tip: We've had great success storing dried fruits and veggies in glass jars, or mylar bags, with oxygen absorbers. This method is great for long-term storage!
So what to do with dried cabbage? Well, it can be eaten as it is — it's actually very nutritious and it provides a tasty treat for snacking. We love to take it backpacking on the trail (it's super lightweight), it's great on camping trips, and we add it to soups and stews in the fall.
How do you preserve cabbage? Share with us your tips and tricks!