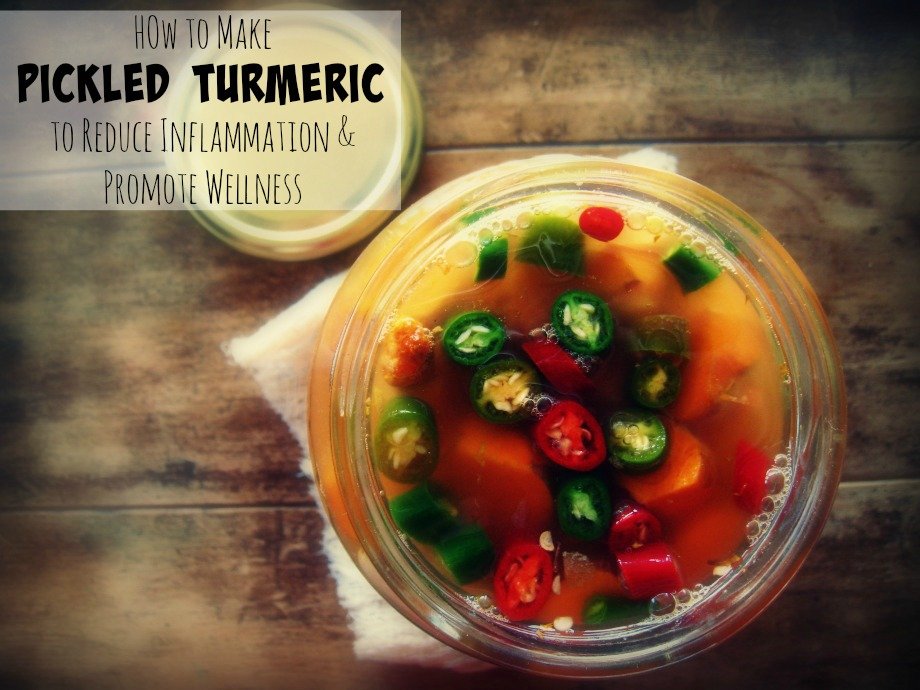 Today I set a few jars of pickled garlic.
Following Rosemary Gladstar's recipe — in her book Medicinal Herbs — garlic is transformed into irresistible "taste morsels" with the power to strengthen the body in its' efforts to maintain health and heal from illness.
All of that to say…
…while I was at the market purchasing what some would consider insane amounts of garlic, I picked up a pound of fresh turmeric root.
Using a similar method to that Rosemary institutes for the garlic…pickled turmeric now sits on my windowsill.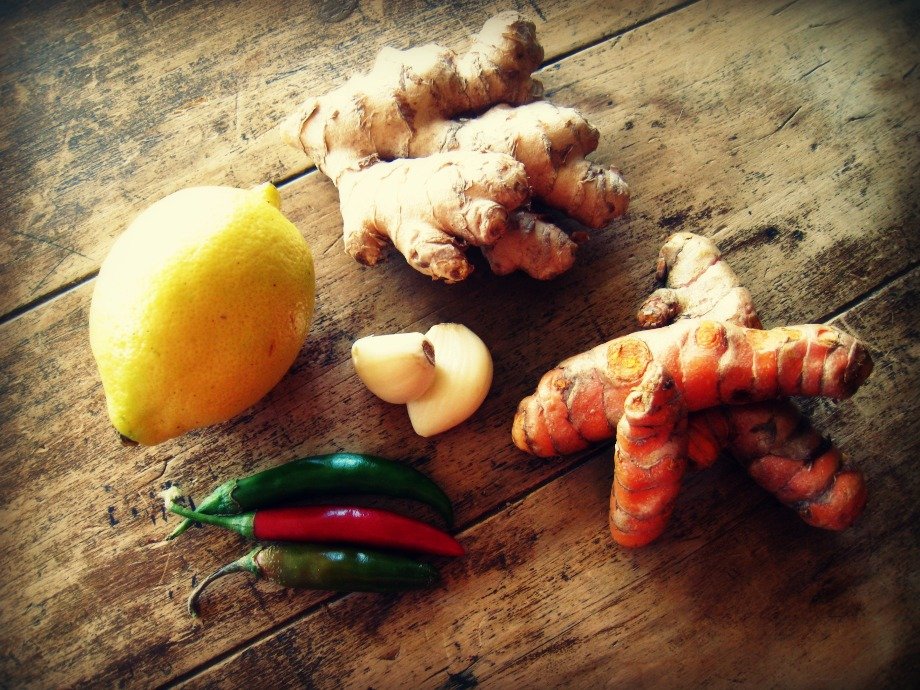 A Bit About Turmeric
Turmeric root is one of the world's most powerful natural healers.
Its' active ingredient curcumin, has been known for centuries to have extremely potent medicinal properties — and is documented as being effective in treating a variety of conditions.
Most notably, Turmeric is used for immune system support and in the treatment of inflammatory disorders (i.e. arthritis)…but that's not all!
Top 10 Reasons to Incorporate Turmeric into your Daily Diet
Turmeric root is an anti-microbial. That means it will attack both bacterial infections and viral infections and destroy both. It is particularly effective in treating illnesses of the respiratory system (this makes it a superb remedy for the cold and flu season).
It has shown to prevent and stop the growth of prostate, breast, skin, lung and colon cancer
Known to reduce the risk of Type 2 diabetes
A natural liver detoxifier.
Research shows it may prevent and slow the progression of Alzheimer's disease.
As a potent natural anti-inflammatory, turmeric may work just as well as many anti-inflammatory drugs. Furthermore, reducing the risks associated with the side effects of those types of medications.
It's a natural painkiller.
Aids in fat metabolism (i.e. helps with weight management)
Trusted for many, many years in other cultures as a treatment for depression.
Skin health! It speeds up wound healing and assists in the treatment of acne, eczema, psoriasis, and uneven pigmentation.
No local source for fresh Turmeric Root?
Purchase raw, organic Turmeric Root here…
With all this goodness…I'm always eager to create ways to incorporate turmeric in my diet!
Read more :: How to Make Herbal Anti-Inflammatory Capsules
Pickled turmeric is a super tasty fix! Ready for the recipe?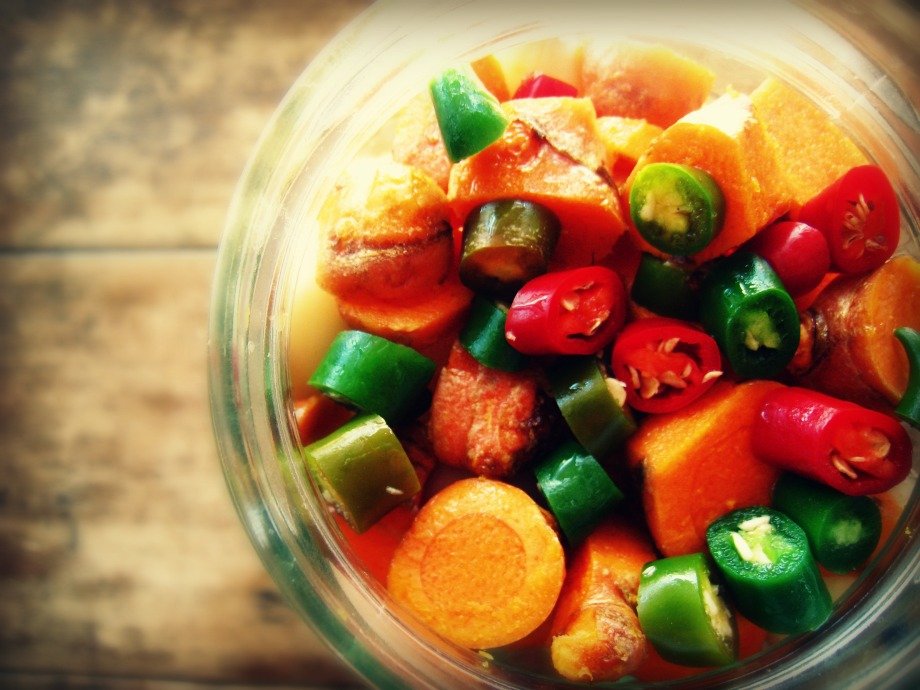 Pickled Turmeric Root
Ingredients
1 lb. raw, organic turmeric root, washed, peeled, and sliced into bite-size pieces
organic apple cider vinegar, enough to cover
juice of one (1) lemon
1-3 peppers, chopped (Peppers such as cayenne, jalapeno, thai, etc. accelerate the absorption of turmeric through the blood stream by relaxing blood vessels down to capillaries allowing the medicinal properties of turmeric to get to the problem areas more efficiently.)
Optional Add-Ins
**Add the following according to availability and taste.
-sliced fresh ginger
-whole fresh garlic
-a true cinnamon (sweet) stick or two
-just a few whole cloves, star anise, and/or cardamon pods
Method
**As according to Rosemary Gladstar's method for Pickled Garlic.
Fill a glass jar (I used a recycled pickle jar, however a pound of turmeric root will fill a quart-size mason jar just fine) with washed, peeled, and sliced into bite-size pieces of fresh turmeric root. Top with the chopped peppers of your choosing. Note: Include any optional add-ins at this time also.
Add juice of one lemon.
Add enough apple cider vinegar to cover the turmeric root. Cap the jar.
Place the jar in a sunny window for 1-2 (up to 4) weeks. Invert jar daily.
Strain off the liquid into a clean bowl.
Reserve half of the liquid to be used in salad dressings, and other kitchen delights (store this liquid in the refrigerator for up to a year).
Place the rest of the liquid in a small sauce pan with equal amounts of honey.
Warm on super low heat, just long enough to incorporate the honey and vinegar mixture completely.
Pour mixture back over the turmeric root in the original jar, cap, and allow to steep another 1-2 (up to 4) weeks.
Store in a cool, dark place. Will keep for up to a year.
Eat freely!
Enjoy especially during phases of acute inflammation or illness (a wonderful remedy for respiratory illness during cold and flu season).
How do you like your turmeric?!?