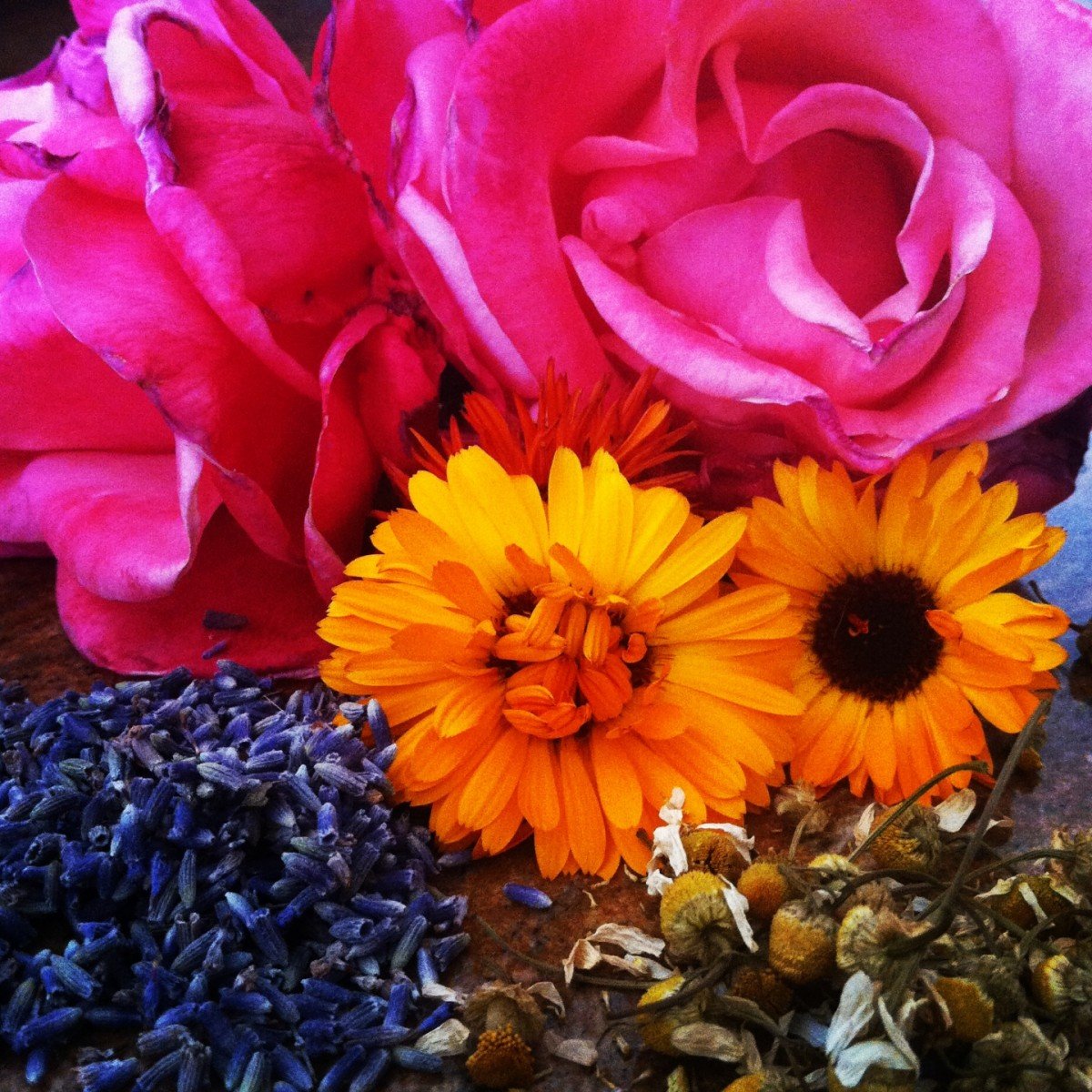 "Flowers always make people better,
happier, and more helpful:
they are sunshine, food and
medicine to the soul."
~Luther Burbank
Just as with all-natural facial cleansers, a good foundation for healthy skin is the use of astringents and toners.
Astringents are primarily used on the skin to penetrate and remove all traces of dirt and oil. Likewise, they contract and tighten the pores — protecting the skin from future blemishes and making the face feel exceptionally clean.
In other words…an astringent is basically something that constricts body tissues when applied.
This is why those suffering from acne — and those looking for natural anti-aging solutions — are often advised to use astringents. Individuals who have a combination or oily skin should use astringents daily as a regular part of their beauty regime.
The down side…many good astringents are costly — as is the case with most all-natural beauty care products and cosmetics — but learning how to make your own can save the bank and empower your creativity!
Herbs with Astringent Properties
Many of our Earth's plants and herbs possess amazing astringent properties — some of the most common botanicals used for this purpose include:
lemon balm
rose petals
elderflowers
calendula
comfrey leaf
witch hazel bark
lemon and orange peel
yarrow
sage
thyme
This time of year my garden is bursting with beautiful roses, calendula, lavender, and countless other fresh flowers!
Note: Read more about the how and why of growing your own calendula here…
I wanted to preserve the goodness and medicinal value of these buds long past their prime…so I concocted a fresh-picked Flower Power Toner…one perfect for all skin types!
Flower Power Herbal Astringent
Base Ingredients
-equal parts of fresh, home-grown (Note: You may use dried if that is what you have on hand.):
rose petals
lavender flowers
calendula flowers
chamomile flower
-organic witch hazel, to cover plant material entirely
Optional Add-Ins
***Please note: I got a little crazy excited with this toner and added a few more skin-loving botanical ingredients. So…please remember these are all optional add-ins.
-lavender hydrosol
-rose hydrosol
–handmade calendula extract
-aloe vera juice
-essential oils of lavender and violet leaf absolute
Method
1. In a quart-sized glass mason jar, combine equal parts of all the herbs you will be using, and based on basic tincturing principles, proceed to prepare the mixture. Note: If using dried herbs, combine equal parts of all of them to total no more than 2 ounces. If using fresh herbs, combine equal parts of all of them and pack the jar.
2. Pour organic witch hazel over the herbs until it covers the plant material entirely.
3. Place a lid on the jar and shake well to combine.
4. The jar should rest in a warm place, near a sunny window, and somewhere that allows you to shake it at least once daily (twice is best).
5. Steep for 2-6 weeks.
6. Strain mixture through a cheesecloth-lined, fine mesh sieve. Reserve the herb-infused witch hazel and compost the plant material.
7. The toner is ready to use at this point…however this is where you will mix in any of the optional add-ins if using. (Note: After straining, I was able to retain 28 ounces of flower-infused witch hazel. To it I added 14 ounces of lavender hydrosol, 14 ounces of rose hydrosol, 10 ounces of aloe vera juice, 2 ounces of handmade calendula extract, and several drops of essential oils. Now this made a HUGE batch…too much most likely for one person…please use your wisdom to adjust the recipe to your specific needs and desires.)
8. This toner will keep in a dark-colored glass bottle or clear glass in a cool, dark place for up to a year.
9. Label each bottle with the name, date, and contents.
10. Flower Power Toner does have a long shelf life and does not require refrigeration. Use as you would any commercially-prepared astringent product.
Where Can I Get This Stuff?
–Mountain Rose Herbs…they have everything you'll need for this remedy! I LOVE the quality of their oils and essential oils. It's your one-stop-shop!
–The Bulk Herb Store also carries a few of these ingredients if you'd like to price check.
–From Nature With Love likewise carries a HUGE selection of high-quality raw materials.
I do have this Flower Power Herbal Astringent
available for purchase in my Etsy Shop.
Click here to visit the Marketplace…