Spring is here and many of us will be knee deep in compost very soon — if you're not already — preparing our gardens for what we pray will be a beautiful harvest. After 4 years of pretty serious gardening, I consider my garden beds mature. By now, I have a good understanding of what I should grow based on what my family eats the most of and I know where and when to sow each seed.
However, when I first started out, I had no idea what I was doing. Moving from Georgia to Arizona required a total change in the way I viewed and practiced gardening. Through the transition, my gardening binder saved me from a great deal of discouragement and inspired me to continue on.
For those of you who want to begin a vegetable garden for the first time — or maybe you'd like to add a new bed this year — why not create a garden binder? I'm sure you'll find it to be an indispensable tool for years to come.
The Purpose for Keeping a Garden Binder
Creating a garden binder — or a garden journal as it is sometimes called — is a super inexpensive and easy way to keep track of your garden.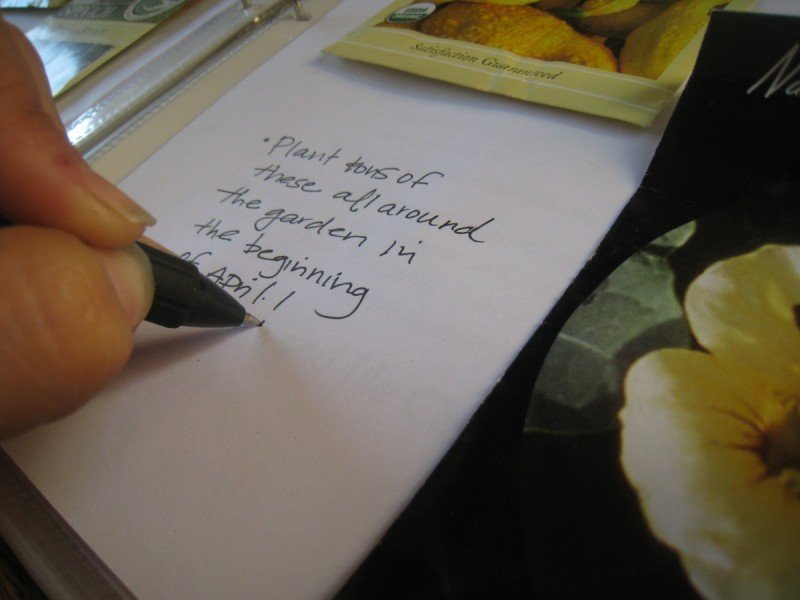 Gardeners keep records and journals for a variety of reasons. I know my need for keeping a garden binder centers around my inability to remember specific details year after year! Not only do I frequently forget the names of plants that did really, really well — even though I swore there was no way I'd forget — but also freeze/frost dates and general garden wins as well as loses.
What to Record
You can record as much or as little as you want. Here are a few things that I am sure to write down each year:
seed start and transplant dates
good local and online sources for plants and seeds
weather trends (i.e. rainfall and freeze/frost dates)
various characteristics of plants; such as, days to seed germination, date of appearance in spring, and the emergence of blossoms
dates of harvest for each variety of vegetable grown
common pests, their date of arrival in the garden, and effective remedies
good companion plants
when and what type of fertilizer were applied to each plant
miscellaneous observations throughout the growing season
How to Organize the Binder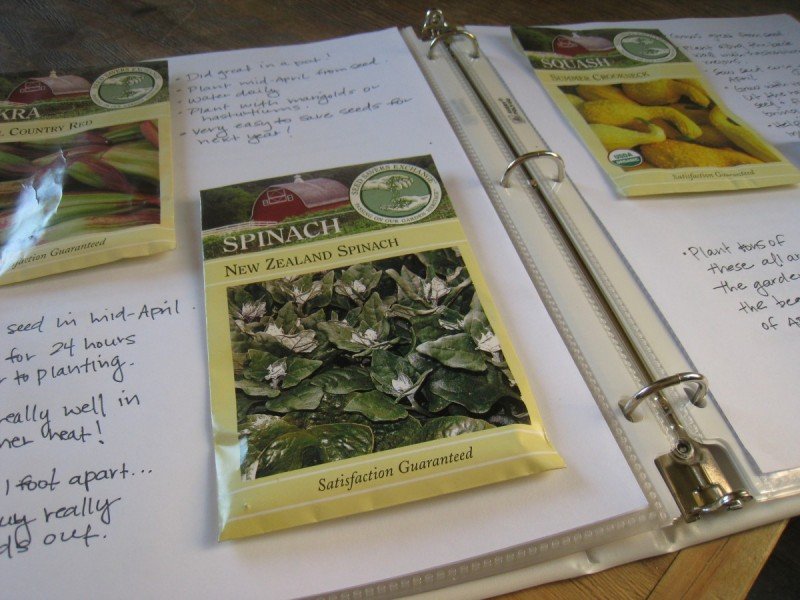 I keep my garden binder very simple. In order to do this, I use clear sheet protectors and have it divided into monthly sections that include elements of the following:
seed packets and plant details — these I place in the month in which they were started
various pictures of crops throughout the months
clips of magazine or printed online articles appropriate for the growing season
In the back of the binder, I also have a few sections that store:
a "Garden by the Moon" calendar
a free-hand drawing of my garden and patio, on plain paper, that shows where each plant was planted and the size of pot used
notes that include plants to consider in the coming years
favorite family recipes for the harvest
a list of suppliers and online websites
the costs associated with growing our own veggies — this one is important to me  because keeping my garden expenses organized holds me accountable and helps me strive for the most savings possible.
When making your own garden binder, of course you can include or exclude any of the ideas that I have listed. Your choice of what to record and how to organize it totally depends on how much information you'd like to keep.
And that's it! I can promise you…creating your own garden binder will help you stay organized and it will give you the confidence to move forward year after year.
Here's to recording a wonderful harvest!
So what about you! Do you keep a garden binder? Share your thoughts/tips with us!