Children today carry some heavy burdens.
It's tough being a child.
Growing up in a world of "always on" technology, untreated mental illness of a parent, increased academic demands, violent television shows/video games, over-emphasized athletic expectations, unhealthy family dynamics, two-earner households, sudden death of a loved one (the list could go on)…
Many children are left to navigate the waters of life with little guidance.
We see this epidemic of troubled youth evidenced by the rise of physical, emotional, and mental disorders of ::
attention deficit hyperactivity disorder
oppositional defiant disorder
conduct disorders
drug and alcohol abuse issues
bi-polar disorder
depression
eating disorders such as anorexia, bulimia, and/or overconsumption of food
obsessive-compulsive disorder
post-traumatic stress disorder
…just to name a few.
Sure, there are those children who seem to thrive in any circumstance and appear to be stable, happy, and secure…but they — unfortunately — are in the minority.
Meanwhile, most of our (our family's, our neighbor's, our city's, our state's…country's…world's) children are struggling with issues that seem so overwhelming to them they not only display physical, emotional, and mental symptoms…but they are pushed into the belief that death provides the only escape.
Hurt.
Anger.
Frustration.
Is there a solution?
I'm not sure.
However, I would beg the argument that a part of the problem is caused by a lack of dirt in their nails, grass between their toes, scraped elbows and bruised knees that has led our children to be labeled "troubled."
Lord knows I'm not a perfect parent…and for goodness sake, I make mistakes everyday raising these kids of mine.
Yet, I do believe for everything I have done, do, and will do in the future wrong, raising my children here on this ranch– close to the land — in the middle of the Arizona desert is giving them a level of health and happiness unbeknownst to many of their peers.
Children (not just mine, but ALL children) need crave the outdoors.
They need to ::
connect with nature, life-cycles, and seasonal rhythms.
engage DAILY in physically strenuous activity.
make the connection between food and its original source.
learn how to contribute to the life force of a family.
discover the power of self-control within the freedom of creativity.
acquire the knowledge of discipline, hard-work, and "grace under fire" through the modeling (mentorship) of wiser adults whom they respect (a.k.a. Dad, Mom, Uncle, Aunt, Grandpa, Grandma, etc.).
Whether it be in the urban or rural setting — all children need to live close to the land in some way.
My eyes were opened to this truth just yesterday (therefore, I now sit writing these thoughts before they leave me).
The children and I had the opportunity to visit our neighbors earlier in the week.
Dear Lynn, ever so graciously, offered to sell us one of her prize Nigerian Dwarf goats…a freshener who had just weaned twins. (You see, I have been desperate for a goat in milk as our nearly year old little does aren't quite ready for breeding. Thankfully Lynn was willing to part with Coco!)
Meet Coco…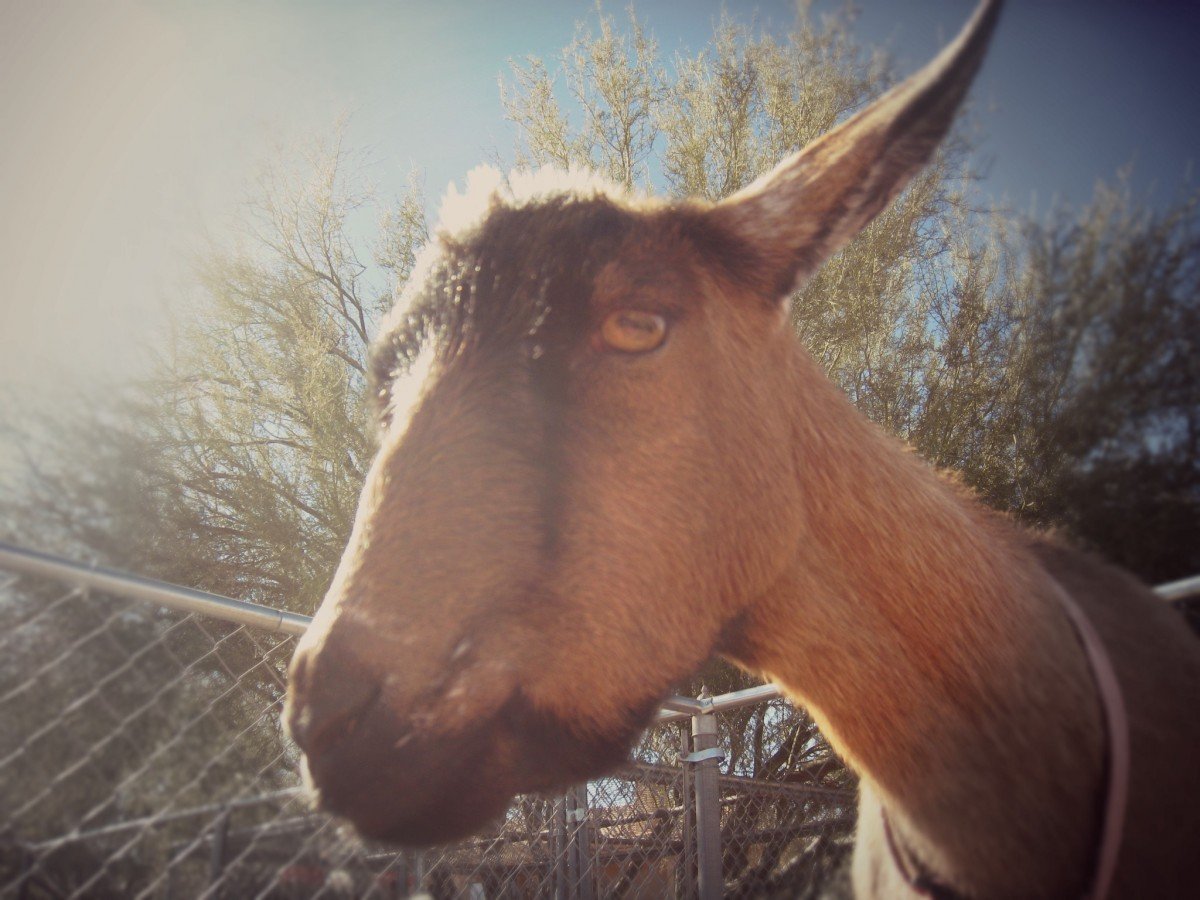 Anyhow, each child — from 5 to 15 — was bursting with excitement as we all had a quick lesson in hand milking (Okay, in all honesty the two teenage girls initially acted like they were "better than milking a goat," but once their willingness to try kicked in…they quickly became pros and milked several of the goats at Lynn's ranch.)
What's my point of this story? Well, it's two-fold (more than that really, but I'll spare you the details) ::
There's an incomparable happiness that is found in the connection to nature. I'll never forget the pure happiness displayed on the faces of my children as they milked our Coco for the first time. They know Coco will provide us with milk that we will use to create sustenance (i.e. butter, cheese, yogurt) and income (i.e. soaps and lotions) for our family…just as the chickens give us eggs and the plants in the garden give us vegetables. Each child has a responsibility in caring for the variety of life on that exists on our ranch.
We all need someone willing to transfer wisdom. I'm so thankful Lynn was willing to sell Coco and for the time she took to teach us all how to hand milk…that's stuff ya just can't get from YouTube!
Transitioning to life on this ranch has taught me many things.
Today, it is that homesteading brings health and happiness to my children.
How has homesteading (urban or rural) brought health and happiness to your children?
Disclaimer: I trust you hear my heart in and between these words. By no means am I judging anyone, nor am I saying "nanny-nanny-boo-boo I'm a better parent than you-you." I'm just saying that children need to experience life intertwined with nature in some way for their ultimate health & happiness. No matter where you live or how much money you have…you can give your children meaningful connections with the Earth. And that alone has the power to heal a multitude of hurts, fears, and frustrations.