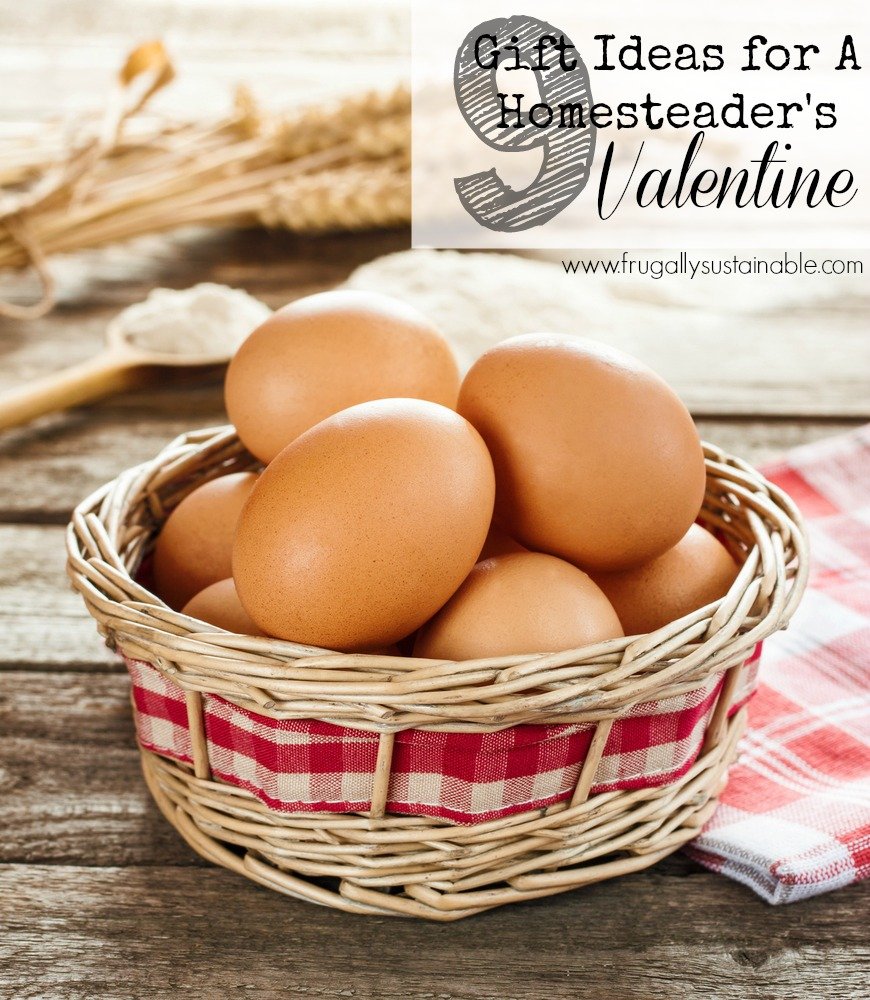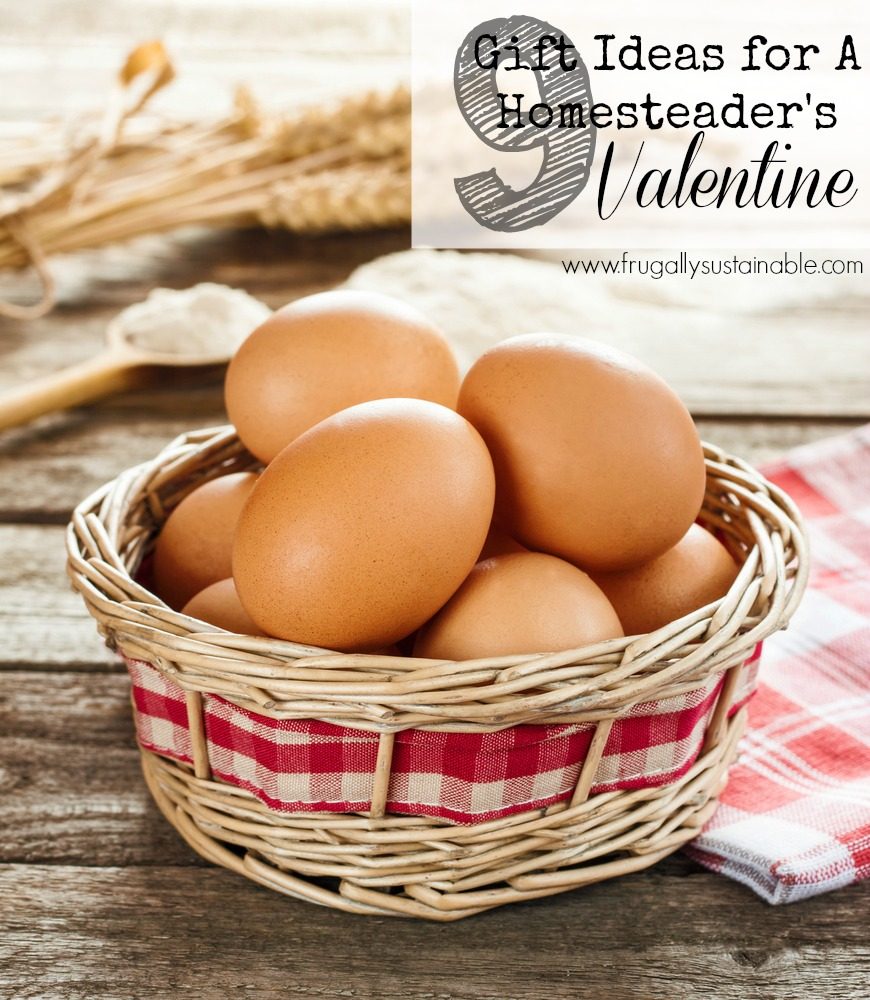 Believe me when I say that there are a lot of things a girl (I) would rather receive from a man (my love) than a dozen roses on Valentine's Day.
Don't get me wrong…
…I love a bouquet of fresh picked wildflowers in season just as much as anyone! The colorful, fragrant, and cheerful addition they give to my home makes me so happy!!
But when it comes to the day our culture has set aside to demonstrate love for our partner in this life…it truly is the thought that counts, it isn't the flowers.
Not to mention, with the price of a Valentine's Day arrangement, this frugal homesteader would much prefer her husband spend the money on something a bit more useful to show his affection.
So, here's my Homesteader's Valentine wish list ::
*Honey, I hope you're reading this (wink)*  
1. Homestead Blessings DVD Set.
Show her you support her dreams of homesteading/homemaking!
These instructional DVDs are a breath of fresh air! Learn homemaking skills from these down-home sisters (who have families of their own) and their mother as they work together in their homestead. Watch them demonstrate how to do just about everything needed to keep your family fed, clothed and cared for!
These DVDs are entertaining and friendly and easy to learn from! Not to mention, they would make a fabulous homemaking course for children too! It is so very helpful to see something done, rather than just read instructions on how to do it. These ladies live close to the land and have a lot to share that would make your life better.
This series is highly recommended!
This 11 disks-set included…
…but any ONE of these DVDs would make a great gift!
2. EcoZoom Zoom Versa Rocket Stove.
The EcoZoom Zoom Versa is the most popular emergency preparedness rocket stove model in the United States and is also great for camping.
The Versa ::
is designed to burn biomass (twigs, leaves, branches and organic materials) as well as charcoal…all that is needed to get things going is a lighter, a pocket fire-starter, or waterproof/windproof matches (these are the ones we keep in our emergency supplies kit)
reduces fuel needed by 60%
emits 70% less smoke and emissions than a three stone fire
stays cool to the touch while in use, reducing burns and preventing injury
brings 5L of water to boil in approx. 20 minutes
comes with an adjustable pot skirt which wraps around your pot to hold in the heat for FAST, hot cooking
A PERFECT gift for the prepper, survivalist, or outdoor enthusiast!
3. The Online Intermediate Herbal Course offered by Herbal Academy of New England (HANE).
Give the gift of knowledge! Through my studies at the Herbal Academy of New England, I am learning that health doesn't come from plastic bottles. Vitality grows naturally from the way you live your life.
If you think your Valentine wants to learn more about herbs as medicine and as food, and if he/she is just too busy to enroll in an in-person program, join myself and others from around the world at the Herbal Academy of New England (HANE) for a comprehensive and convenient online herbal course you can complete anywhere and anytime!
4. Essential Oils.
Essential oils and plant-based medicine (as I am learning more formally in my studies through HANE) has transformed the way I stock my first-aid kit and medicine cabinet, clean my home, and care for the animals here at the ranch!
In my arsenal of essential oils, I keep an array of "brands" that I would recommend for anyone!
They include ::
5. High Mowing Organic Garden Seeds.
High Mowing Organic Seeds is committed to providing the highest quality non-GMO, 100% organic seed to backyard growers.
When you buy organic seed from High Mowing Seeds, you have the assurance that the seed was grown without synthetic chemicals and you are supporting farms and companies that are committed to organic agriculture with your purchase.
I had the BEST garden EVER using these seeds and highly recommend them for any homesteader — rural or urban with large or small garden space!!!
6. Duo 10 Piece Pressure Cooking / Canning Set.
Home Canning is a healthy way to fill your pantry with home cooked, preservative-free recipes such as soups, vegetables, baby food and so much more!
This all-in-one kit includes the tools, instructions and recipes necessary for any aspiring homesteader to begin pressure cooking & canning at home (I'd be lost without mine!).
The Duo Pressure Cooker/Canner can be used for both pressure cooking and pressure canning. It works on all domestic cooking surfaces such as gas, electric, ceramic, and induction.
10-piece set includes:
10-quart 18/10 Stainless Steel Pressure Cooker & Canner
Canning rack
Jar lifter
Jar wrench
BPA-free wide mouth funnel
Magnetic lid lifter
BPA-free ladle
BPA-free bubble freer
Home canning cookbook with recipes
Pressure cooking recipe booklet
Instructional manual
7. Raised Garden Beds Kits.
Raised garden beds are great for those who want to provide high-quality, better-than-organic food for their families — but have limited garden space.
Any number of these garden bed kits would make an outstanding gift!
8. Coconut Oil.
I know…coconut oil for Valentine's!?! Yep! I LOVE this stuff and don't know what I would do without it in my home!
I only purchase what I consider to be the BEST coconut oil on the planet through Tropical Traditions.
This is a must-have — and highly desirable — ingredient for any homestead!
Almost all that I know about homesteading I learned from books.
Without my home library, I would be lost!
If you're looking to buy the love of your life a few books he/she would love…take advantage of the books that The Bulk Herb Store offers!
They've done all the hard work and eliminated the guessing game! These books are awesome!
In conclusion, I give you this list to say…forget the flowers – they'll die in a few days anyway – and invest your time and money into something that has staying power! And make a Homesteader's Valentine!