A good foundation for healthy skin includes the use of astringents and toners.
Their objective is to…
penetrate and remove all traces of dirt, perspiration, and oil
hydrate the skin
contract and tighten the pores
balance the pH level
…making blemished skin feel exceptionally clean.
Many commercially-prepared astringents contain strong — often times synthetic — solvents such as isopropyl alcohol and/or acetone. These ingredients can have a very drying effect and further damage acne-prone skin.
On the other hand handcrafted, herbal astringents are gentle and restorative.
And the good news…they can easily be made from the bounty of our garden.
Benefits of Thyme in the Treatment of Acne
Thyme…
…it is much more than a spice for use in the kitchen!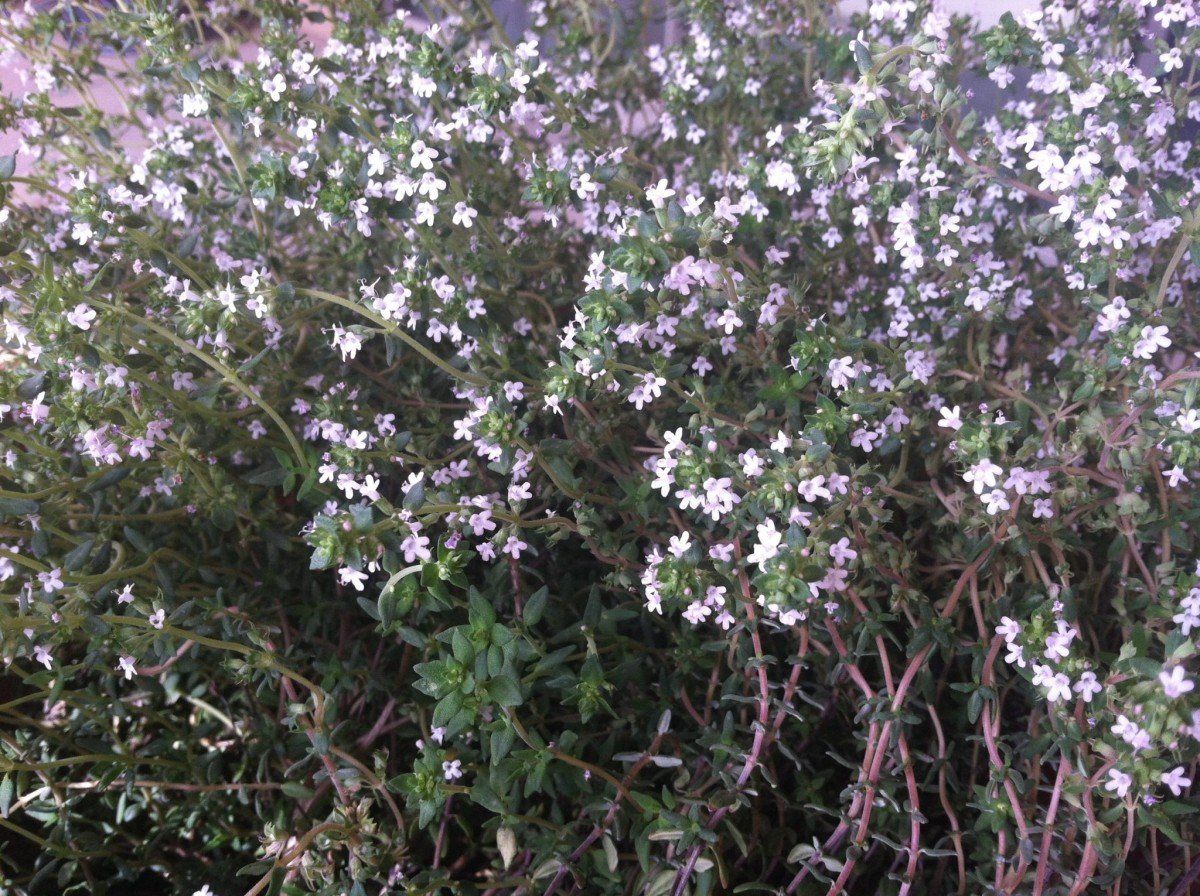 According to an article published on March 27, 2012 by Society for General Microbiology titled Thyme may be better for acne than prescription creams,
Researchers from Leeds Metropolitan University tested the effect of thyme, marigold and myrrh tinctures on Propionibacterium acnes – the bacterium that causes acne by infecting skin pores and forming spots, which range from white heads through to puss-filled cysts. The group found that while all the preparations were able to kill the bacterium after five minutes exposure, thyme was the most effective of the three. What's more, they discovered that thyme tincture had a greater antibacterial effect than standard concentrations of benzoyl peroxide – the active ingredient in most anti-acne creams or washes.
Additionally, thyme's primary actions include — but are not limited to:
anti-septic
anti-viral
astringent
antioxidant
In the garden it is fairly hardy and grows well in a multitude of climates.
Read more about growing, harvesting, and using thyme in this Thyme Growing Guide…
Blemish: An Herbal Astringent for Acne-Prone Skin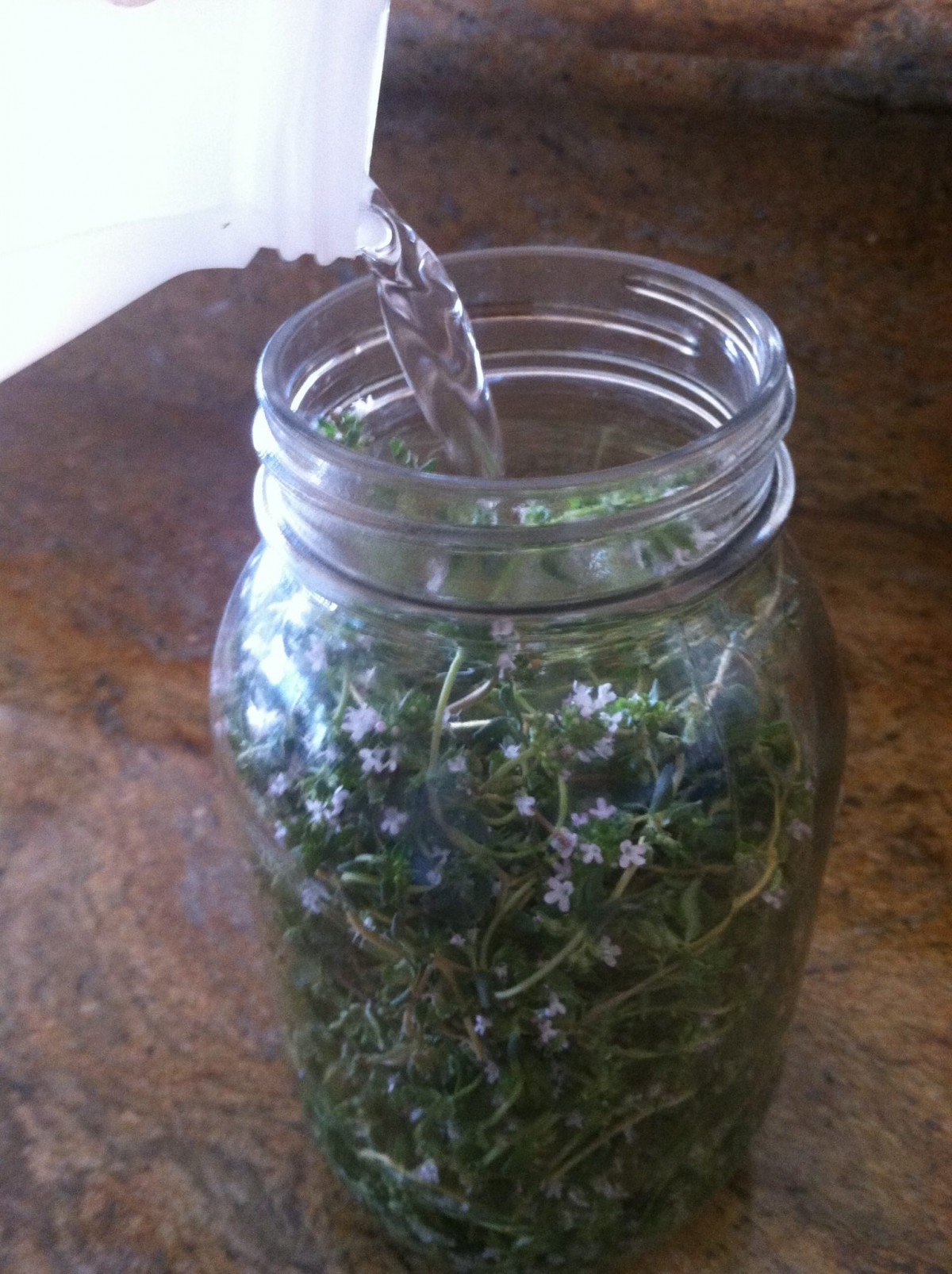 Basic Ingredients
2 cups witch hazel extract
fresh thyme leaves and flowers
Optional Add-ins
1/4 cup (60 ml) rosemary hydrosol
1/4 cup (60 ml) peppermint hydrosol
1 cup (240 ml) tea tree hydrosol
1 cup (240 ml) thyme hydrosol
1 tablespoon (15 ml) calendula extract
1 tablespoon (15 ml) thyme extract
15 drops essential oils blend: tea tree, juniper berry, thyme, rosemary, and/or peppermint
Method
Pack a pint-sized mason jar with fresh cut thyme leaves and flowers, and based on basic tincturing principles, proceed to prepare the tincture. (Note: If using dried herbs, fill jar with no more than 1 ounce of dried thyme.)
Pour organic witch hazel over the thyme until it covers the plant material entirely.
Place a lid on the jar and shake well to combine.
The jar should rest in a warm place, near a sunny window, and somewhere that allows you to shake it at least once daily (twice is best).
Steep for 2-6 weeks.
Strain mixture through a cheesecloth-lined, fine mesh sieve. Reserve the herb-infused witch hazel and compost the plant material.
The astringent is ready to use at this point…however this is where you will mix in any of the optional add-ins if using.
This astringent will keep in a dark-colored glass bottle or clear glass in a cool, dark place for approximately 2-3 years.
Label each bottle with the name, date, and contents.
This Blemish Herbal Astringent does have a long shelf life and does not require refrigeration. Use as you would any commercially-prepared astringent product.
Where Can I Get This Stuff?
–Mountain Rose Herbs…they have everything you'll need for this remedy! I LOVE the quality of their oils and essential oils. Including strictly medicinal, non-GMO herbal seeds for your home herb garden. It's your one-stop-shop!
–The Bulk Herb Store also carries a few of these ingredients if you'd like to price check.
–From Nature With Love likewise carries a HUGE selection of high-quality raw materials.