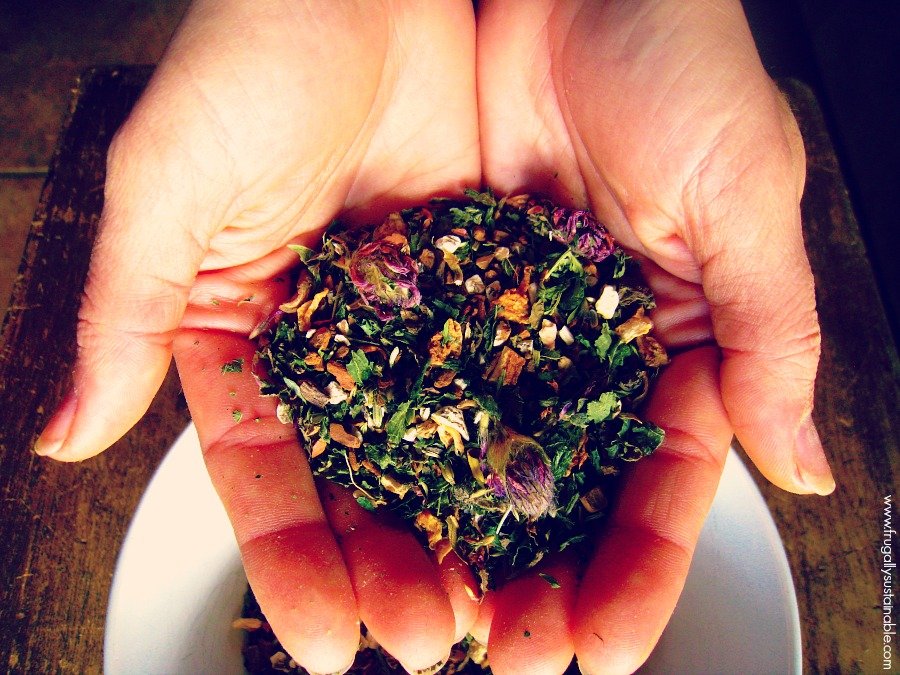 We can all admit that in this modern, super polluted, and chemically contaminated world — the control we have over our exposure to toxins is limited basically to how we live (i.e. what we put in our mouth/garden soil, put on our skin, or use in the home).
Likewise, in an effort to maintain centering — through deeply aligning myself with the ebbs and flows of nature — I have made an intentional effort to focus on the effects of the lunar cycle as it relates to diet + detox (among other things).
I wrote a bit about cleansing with the Moon here…
Now, I look to the day(s) of and surrounding the New + Full Moons with great anticipation as they provide the perfect opportunity to guide my body through a gentle cleanse.
Part of my cleansing ritual involves the consumption of lots of herbal tea — and the herbs I use to create my custom cleanse tea are allies to our bodies by ::
supporting proper thyroid function
combating adrenal fatigue
aiding in healthy weight loss
improving the clarity of the skin
reducing the effects of Fibromyalgia
removing food cravings
lessening stress + anxiety + depression + mood swings
increasing libido
boosting focus
diminishing headaches/migraines
Green Gypsy Detox Tea
Ingredients
*Purchase organically-grown or wild-harvested herbs whenever possible.
*Parts are measured by volume not weight.
2 parts Nettle leaf
1 part Red Clover blossoms
1 part Red Clover herb
1 part True (sweet) Cinnamon chips
1 part Dandelion leaf
1/2 part Dandelion root
1/2 part Burdock root
1/2 part Orange peel
1/2 part Ginger root
1/4 part Lemon peel
1/4 part Fennel seeds
Method
Measure the parts of each of the herbs listed and mix in a large bowl until well combined.
Grab your single serving tea carafe (this is my absolute favorite way to make a quick cup of loose leaf tea), tea infusers, and/or tea pots…and brew a cup! OR make a larger batch by adding 4 tablespoons of the herbal blend to a quart-size glass jar, fill the jar with just boiled water, steep for a few minutes, strain and enjoy. (Note: I get all of my loose leaf tea-making supplies online from Mountain Rose Herbs.)
This herbal tea blend will keep stored in a cool, dark place for approximately 6 months. (Note: I like to store all of my teas in glass jars with tight-fitting lids.)
Usage
-Drink 3-4 cups of tea daily for up to 7 days, then stop for 3. Repeat cycle until desire results are achieved.
Where can I get this stuff?
-Mountain Rose Herbs…they have everything you'll need for this remedy! It's your one-stop-shop!