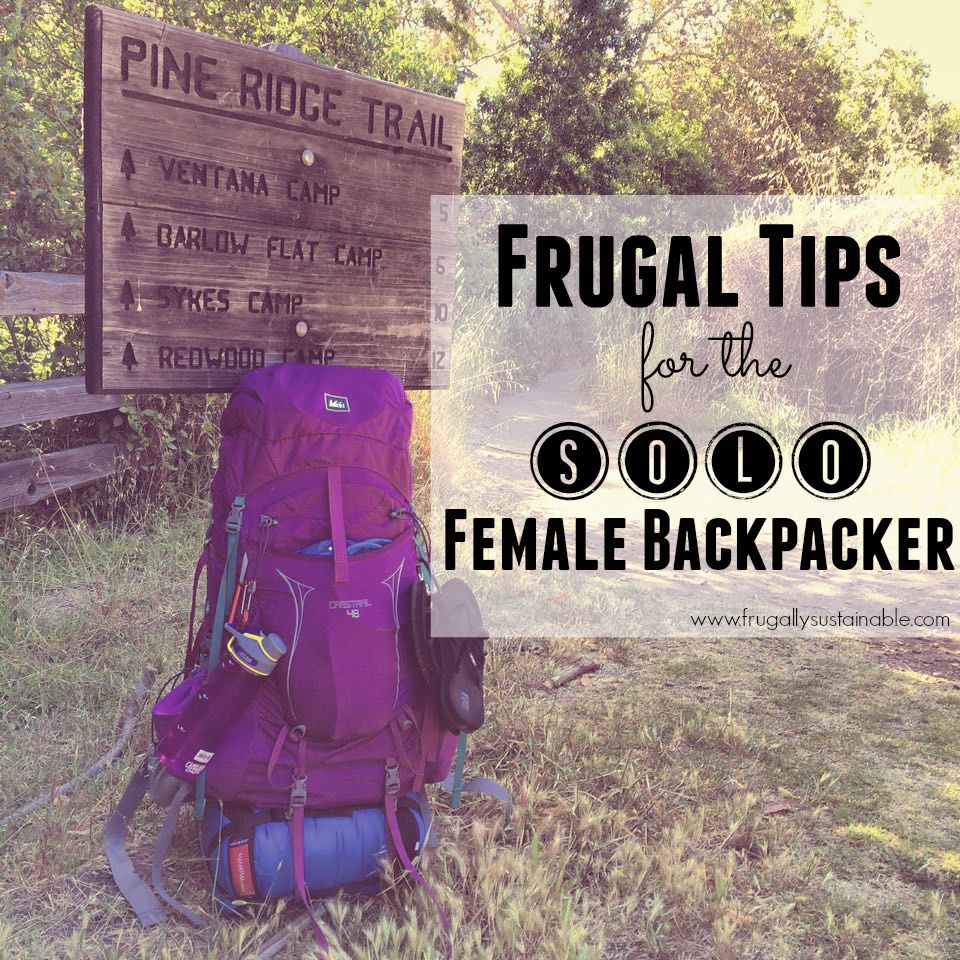 Take a course in good water and air; and in the eternal youth of Nature you may renew your own. Go quietly, alone; no harm will befall you.
-John Muir
I have become what some would call a bona-fide solo female backpacker.
My journey began months ago when the draw of solitude — and the desire for a raw connection to the source — reignited my love for life on the trail.
The act of backpacking solo, especially as a female, is often met with concerns of danger, risk, and difficulty…but it certainly doesn't have to be.
While doubt, fear, and insecurity are legitimate concerns for some — I have found that a woman who hikes alone…
enjoys experiences most people only dream of
gains deep insight into self
renews/restores/maintains physical + mental + spiritual health
builds self-confidence + a healthy sense of empowerment
learns the rhythms of nature and how they influence her
…in the words of Georgia O'Keeffe, "I've been absolutely terrified every moment of my life and I've never let it keep me from doing a single thing that I wanted to do." 
The fact that you are reading this article, indicates a longing to share in these experiences, so let's get to it!
Here are a few of my frugal tips for the novice solo female backpacker. They include tips for trip planning, gear essentials, and safety. It is by no means an exhaustive list; however, I hope it motivates you with confidence and encourages you to pursue your own radical adventures!
Trip Planning
Excellent trip planning — especially as a novice — minimizes the "risk" and dramatically increases the potential for a life-changing experience.
Gathering Information
Thorough research and information gathering is the key to success! And there are a multitude of good sources that I personally use and recommend ::
Google It. Googling your questions/interests reveals a plethora of websites + articles that can be used as good resources. We all know, the reliability piece isn't always there; however, I find benefit in cross referencing.
Pinterest. Using the same logic as googling information, I love to plan trips using Pinterest. It's a great way to find trails that lead to destinations I have a itch for.
Guidebooks. Guidebooks (my fave) are very helpful when it comes to picking a well-marked, well-traveled trail (not always the best in terms of solitude, but sorta beneficial for the novice).
Experienced friends + reviews. I love talking to friends, and friends of friends (thank you Instagram + FB), who get out more than I do! They are always able to point me toward destinations I would have never thought of. Likewise, reading trail reviews is a favorite pastime of mine.
Location, Location, Location
Keep it close, keep it simple.
Enough said.
Seriously though…as a novice, plan your first few trips close to home and stick with well-marked, well-traveled trails. This one act works beautifully with your psyche to build confidence. (Frugal Tip :: Not to mention, keeping close to home saves on the $$$ of gas.)
Go the Distance
Due to adult responsibilities i.e. motherhood, career, domestic duties…most of my backpacking trips are usually limited to one-nighters. Finding trails with a round-trip distance of 10-20 miles makes the most logical sense.
Gear Essentials
In my opinion, this is where most people loose it…
G E A R!
When it comes to gear, I recommend sticking to the frugal basics. You don't need the best, most expensive, top of the line equipment to gather from Nature all that you seek.
Reading this story and learning about the life of Emma Rowena Gatewood helped to shape my perspective on necessary gear as a solo female backpacker.
The following is a list of frugal gear that I have found essential (Note :: I have linked to products I personally use and recommend.) ::
Backpack. A comfortable and functional pack makes all the difference! This is the backpack I use for overnight trips (this is a much cheaper one I bought for my daughter and she love it) and this is the backpack I use for day hikes (this is a much cheaper option). REI has a great article, click here to read more, regarding guidelines for choosing the right pack.
Tent. In order to provide security, a bit of privacy, and protection from the elements…a tent is a necessity in my book. Even as a solo backpacker, I appreciate the extra space — and don't mind the extra weight — provided by a 2-person tent. This is the tent I use. It's light enough, super easy to set up, and has stood the test of time.
Sleeping Bag + Pad. The main goal when choosing a sleeping bag, in my opinion, is temperature rating. Your sleeping bag needs to reflect the weather of the region you plan to venture into. I have found a 30 degree rated bag to be the best in all of my adventures. This is the sleeping bag I use. And a word about sleeping pads, I went on 4-5 backpacking trips before I finally purchased a sleeping pad. I thought it excessive and hesitated to spend the money, but I was loosing sleep over the issue…like literally. My sleeping pad has made all the difference in the quality of sleep while on the trail, a must if you ask me. This is the sleeping pad I use.
Food. Dehydrated trail food is stupid expensive. Sure, I've purchased a few meals out of the need for convienence, but by and large I make my own. All of my trail food is of the "1. ready to eat OR 2. no cooking required, only add boiling water" variety. Feel free to follow my Hiking.Backpacking.Walking in the Woods. Pinterest Board for inspiration. These are the recipes and methods I follow nearly 100% of the time ::
Water. Water is vital, we know this. Backpacking in my home state of Arizona is tricky when it comes to water supply on the trail. Therefore, I always carry a couple 3L Camelbak bladders (get them here) along with a water bottle (like this one). I also ALWAYS have a water purification system (this is the one I use).
Cooking Needs. This is an area where you can unnecessarily spend a lot of money! Don't get caught up in the hype. This little $10 stove (along with this fuel), this $10 cook set, these utensils, and boom…cooking needs met!
Clothing + Footwear. This a another area where you can unnecessarily spend a lot of money and likewise over-pack. For overnight trips I generally have the clothes I wear on the first day, a pull-over and leggings for the cooler evening/night, a clean shirt for day 2 (I usually re-wear my shorts), and a clean pair of undergarments + socks…easy breezy. As for footwear, my hiking shoes and a pair of sandals for camp is all I need.
Lighting. A head lamp…I highly recommend it. This is the one I use.
First-Aid Kit. An adventure medical kit like this one stays in my pack at all times! While I haven't had much use for it to date (glory be), it provides peace of mind. On the other hand, my kit of essential oils and herbal pain relief liniment gets used all.the.time. I always carry these lavender and tea tree essential oils and you can click here for my herbal pain relief liniment recipe (it's a life-saver). Note :: Lavender essential oils have soothed campfire burns on more than one occasion!
Knife + Bear Spray. The Leatherman Multi-Tool is just awesome! I couldn't be without it…And a good fixed blade knife like this one. And bear spray, its a must! Not only for wildlife concerns, but ill-meaning human concerns as well. This high-powered pepper spray gives this solo female backpacker lots of peace.
Fire Starter + Matches. I love ending the day with a fire! There's just something magical about it. So to assist me in my efforts I bring along simple fire starter sticks (like these) and there's always a pocket lighter and waterproof matches in the mix as well.
Toiletries + Vitamins. My little bag of basic toiletries includes the following :: sunscreen, tampons, vitamins/supplements, biodegradable wipes, castile soap, a nail file, and tweezers. Note :: Obviously, if you are on any medications those would be included here as well.
Electronics. Electronics on the trail for me are limited to my phone. And then, it's primarily only used for photography. There are a multitude of gadgets suggested for backpacking…I can't get into it, nor do I see the need. The only piece of gear I recommend here is a portable battery charger for your phone. This is the one I use.
Safety
Safety…
…as a solo female backpacker, the #1 question I am constantly asked by well-meaning friends and family is, "Aren't you afraid to go alone? What if something happens to you?"
It's a legit question.
The the honest answer is, "not really." Sure there is an element of fear (more of a nervous feeling, rather than fear actually) but nothing strong enough to paralyze my passion. Here are a few of the safety guidelines I follow and recommend for the novice ::
always tell 2-3 people where + when you are going and when you plan to be home
if it's available, self-register at the trailhead, or ranger station, to document your presence on the trail
keep a knife (like the Leatherman tool) and bear spray on your person at all times
as a novice, stick to well-marked, well-traveled trails
Basically, when it comes to safety…I echo the words of John Muir "Go quietly, alone; no harm will befall you." Don't be paranoid, simply use good judgement and common sense.
Now…the mountains are calling and I must go!