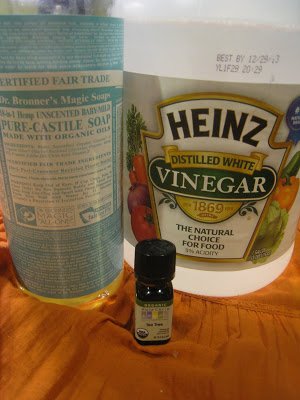 There is just something really cool about cleaning the house when I know I am using something that I made! It certainly doesn't make the job easier, but it does add an element of fun and creativity. And, it's a perfect way to bring the children into mix. I find that by allowing them to measure and combine the ingredients they have ownership of the "product" and are usually a little more apt to help with the chores!
Today I want to share with you my recipes for cleaning windows and mirrors. But first, I want to review the toxic hazards that are lurking in those readily available commercially prepared products.
If you go to FAQ page for Windex you will find a list of the few products that are ammonia-free. Otherwise, most of the products available for use on glass contain the chemical ammonia. Ammonia is known as an eye irritant that may cause headaches and even respiratory system/lung irritation.
Ammonia in your glass cleaner isn't something to take lightly nor should it be left around children. It is in fact, a very serious hazard. Inhalation, absorption, or ingestion of this product can cause harmful effects.
The effects of these toxic chemicals can be reduced and/or even eliminated by first learning about the chemicals and then by educating yourself on the variety of choices that are available as safe and effective alternatives.
The first objective is to determine where the toxic chemicals are; next, is to replace them with safe products. And for the frugally sustainable minded individual, homemade is the best option!
Here are a couple quick, easy, and extremely affordable recipes to whip up. The best part is…you may even have the ingredients hiding in your cabinets!
Window Cleaner
– ½ cup white vinegar
– 2 teaspoons liquid castile soap
– 2 cups pure or distilled warm water
– 3-5 drops tea tree oil (optional)
Directions: Add all ingredients to spray bottle, shake to blend, spray on glass, and clean with newspaper.

Mirror Cleaner
– 1 part white vinegar
– 1 part 70% Isopropyl Alcohol (a.k.a. rubbing alcohol)
– 1 part pure or distilled water
Directions: Combine ingredients and spray on mirrors. Wipe clean with microfiber cloth or newspaper. Note: The smell of this cleaner is kind of strong. I really like to add a few drops of either lemon or orange essential oils.
Tips:
-Reduce spending and waste by finishing the window cleaner you have now. Save the spray bottle. Wash it out and reload it with these products.
-The Mirror Cleaner recipe is an excellent cleaner for granite counter tops! I usually clean my counter tops with All-Purpose Cleaner and then go over them with the Mirror Cleaner. Amazing clean and shine!
-If you have a microfiber cloth, that is the best thing to clean windows and mirrors with. Newspaper is the next best thing. Never use paper towels. They leave lint and are super wasteful.
What are your favorite ways to clean windows and mirrors?