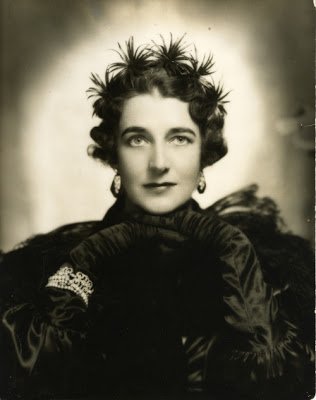 I'm always looking for inspiring ways to transform what I already have or purchase small, inexpensive items to make a big impact. I do this for dressing and for my home.
So when I came across a vintage Good Housekeeping column written in 1941 by Dorothy Draper, the first female interior designer with her own independent design company, I had to share it with Frugally Sustainable readers.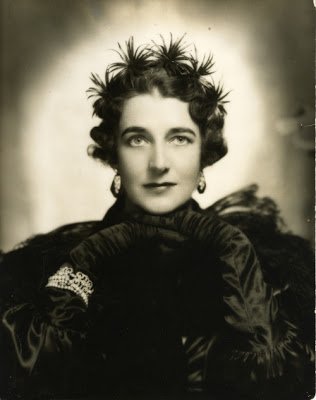 Ms. Draper offers seven easy redecorating ideas to implement on your terms and according to your taste and preferences. Genius, in my opinion! No right or wrong, just classic techniques to try.
She begins, "Summer is over. The children are back in school, and house begins to show the ravages left by a relaxed summer schedule. Why not try some of these suggestions, to put your home in a cheerful winter mood? Remember, it is the little ideas, little changes that make a big difference in the family morale!"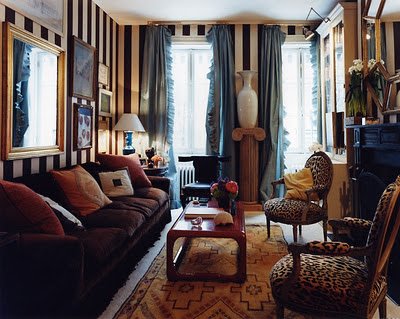 1. Regrouping of Furniture
Rethink how your furniture is arranged in your room and try new ways of positioning all the pieces in a fresh configuration.
2. Paint and Wallpaper
Paint is an easy, affordable way to change the entire look and feel of your room in a dramatic way. The same is true of wallpaper. Yes, it's making a huge comeback, but in an updated, glamorous way! Both options are best for the non-committal among us. Test a corner. You'll be happy you took a risk.
3. Fabrics
Change out curtains and pillows and replace with a new style or pattern. Fabric add interest and drama in the same way paint and wallpaper can. I love stripes and velvets and quirky pillows. And how easy is it to make your own curtains, pillows, fabric napkins, and furniture covers?
4. Regrouping of Pictures
I've mentioned before how much I love a house filled with a museum wall of family photos and artwork. Why not bring that museum feel into your living room to create a prominent display of beautiful photos above your couch. Uniform and mismatched frames, it doesn't matter. It will have a huge impact.
5. Repetition of One Theme
There are endless ways to create a theme in your room and repeat throughout. Whether it's a color, pattern or the items you collect, repetition will give coherence to a room and thread different rooms together.
6. Accessories
This is my favorite tip from Ms. Draper. I love accessories to wear so it goes without saying that I love them in my home as well. It's the small details, candles, lamps, and flowers, that give life and personality to a room.
7. Greens and Flowers
Speaking of flowers, adding plants and flowers is like garnishing a plate of food. It has a warming effect. As we well know, anything organic and natural has the ability to add richness and depth. Easy enough!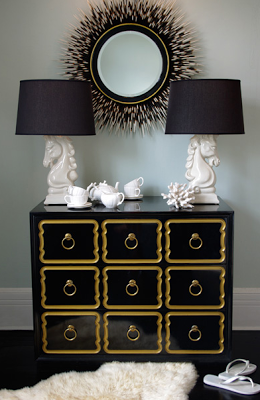 So be inspired to try new, inexpensive ways to give life and add distinctive drama to your home. Inject it with color, add accessories, bring the outdoors inside and create repetitions through patterns and objects.
And as always, we encourage you to please share your own ideas and successes!