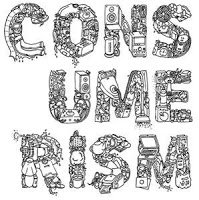 Ah…Black Friday! Does it seem strange to anyone else that we celebrate consumerism the day after we remember all the things we have to be thankful for? It almost seems like a slap in the face, doesn't it?
I like to talk about consumerism, and how we as a family are moving away from it. But, I'd be the first to admit that we are in no way immune from it. In fact, the unfortunate truth is we are a part of it, it surrounds us, and it is difficult to escape. We are not 100% self-sufficient, therefore when I speak on the topic I do so not as one on the outside looking in but as one on the inside.
The Problem.
How do I define consumerism? Consumerism is the antithesis of production. It's equating happiness with material possessions. It's buying stuff in hopes of finding peace and solving problems. It's working, earning, and spending more and more in order to achieve a status sold to us by the culture.
Consumerism, is "good for the economy". However, it's unsustainable for the family as it places us into the bondage of consumption and debt pushing our dreams of self-sufficency further way.
It all seems to highten during the holidays, lead by a big Black Friday kick-off. It's like super scary, mass hystaria! I realize that not everyone will go deeply into debt over the course of these next few weeks. Some people are careful to save throughout the year for this spending spree. But what for? So that everyone ends up with a massive amount of stuff that they don't need! Even children, who just love opening presents more than anyone, don't have time to even enjoy all of their new toys! My children, by many other U.S. household standards, don't really have that much but they have more than most of the other children in the world; and, they are struggling this year to come up with a wish list.
The Solution.
So where do we go from here? We resist spending and save. See how simple that is (wink). Or at least we can try finding other ways to give gifts. I have mentioned before, that this often means changes to traditions and discussions with friends and family. It means doing things different and going against popular culture. But, if you've been walking this frugally sustainable life for any period of time you know that this just goes with the territory.
We CAN resist and save! All it takes is a realization that this season is not about buying things.
The Response…Your Response.
So what is this season about? I want to hear from you. Let's start a comment frenzy! In an effort to encourage and inspire one another, answer any of these questions in the comment section below:
What does this time of year mean to you?
How will you celebrate in new ways?
Are there discussions that need to take place with friends and family
What will you do to reduce corporate consumption?
Do you have money-saving tips to share with others who may be stuggling?